Kiara Advani gears up for Shershaah
'Dimple Cheema is an unsung hero'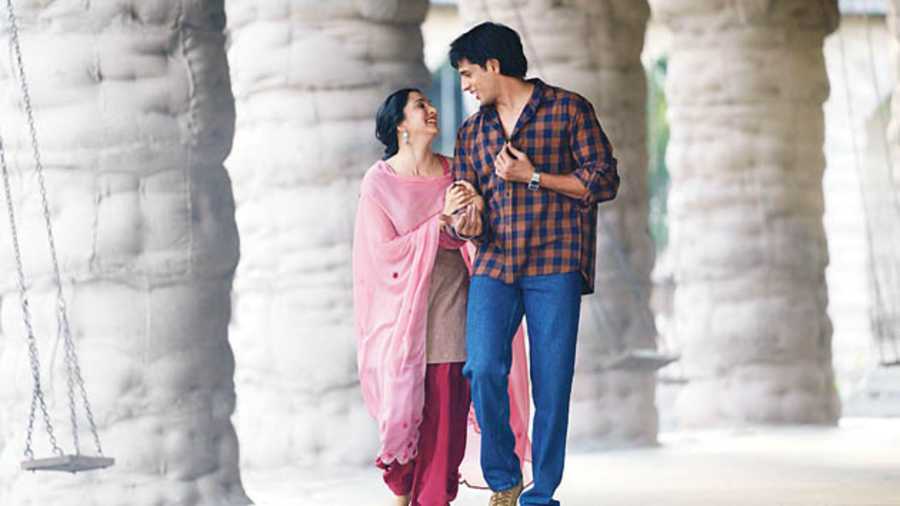 Kiara Advani with Sidharth Malhotra in Shershaah
Sourced by the correspondent
---
Published 12.08.21, 02:16 AM
|
---
Ahead of Shershaah streaming on Amazon Prime Video today, The Telegraph chatted with Kiara on being Dimple, her purple patch and how she's evolved as an actor. We have all known and heard about Vikram Batra's heroics in the Kargil War, but there is very little about his personal life. Where do you and your character Dimple Cheema fit in in Shershaah?
Over the years, there have been so many articles on Dimple Cheema and their love story and the fact that she is still not married. There is a lot of intrigue about Vikram Batra's personal life, and that is exactly what I felt when I first read the script of Shershaah. I wanted to know who this woman is and what that side of Vikram Batra's life was like.
As you said, we have all known about the Kargil War. I knew a little bit about Captain Vikram Batra, but not in as much detail. That is what the film gave me and which is what the narration really did for me. It impacted me in a way that I really wanted to know more about Dimple. So yes, 'Yeh dil maange more' is what our tagline says! (Laughs)
Now that you have played her, what's been your understanding of Dimple? We all are aware of the fact those who have their loved ones battling on enemy lines have a different kind of psyche and mental strength...
Yes, it's completely different from what would be that of a civilian, if I may use that word. In any relationship, one has the liberty to pick up the phone and speak to your partner and find out how their day went. You can make plans to meet and see each other regularly. But when you are the partner of a person who is on the war front and whose duty is for the country, every time you communicate is valued and not taken for granted because you don't know if that next time is going to come. You have to have the mental strength to be extremely supportive of a partner who is going into what is one of the most high-risk jobs in the world. To be okay to support that dream of theirs and also to hold fort back at home... it takes a lot of courage and strength. It takes a different breed of a woman to have that kind of strength and mental make-up. Dimple is that person... she is an unsung hero.
Did you have to do anything different from the usual to get into the emotional mindset of Dimple?
To be very honest, I don't feel I needed to do anything special to get the emotional mindset right. When I read the script, on paper itself, I could feel those emotions. And so it came very naturally when I had to portray it on screen. But what did help me was meeting Dimple Cheema before we started shooting. Just sitting with her, observing her and listening to her talk about her relationship and the memories she had of him... in the few hours that we sat — just the two of us — I could organically connect with her, and that was all I really needed to pick up those emotions. I just went for it, honestly.
There are very few love stories of the kind that Vikram Batra and Dimple Cheema had that really make you believe in the purity of love. She and Captain Batra were in a relationship technically for four years, of which they spent less than 12 months together physically. Imagine what those moments must have been like! The rest of the time he was away on duty and they would only write letters to each other.
Just based on that, for a woman to feel that she can't ever love anyone as much and that he would be the only love of her life... to choose to remain unmarried because she felt she couldn't love like that again... that, in itself, is so endearing and inspiring. That's what's stayed with me.
Would you ever be able to love someone with such intensity and selflessness?
I really, really hope to. Then you know it's the purest form of love (smiles).
Is there a greater responsibility to play someone who you know will watch you on screen?
For sure. The one person whose reaction I am waiting for the most is Dimple. I am most eager to know how she feels about the film. Then the rest is for the world, of course.
Is there something about her that resonated with you and made you say, 'This is what makes me like Dimple'...
I think love was the main reason (smiles). She had to fight all the odds and she was a pillar of strength to him throughout. She told him, 'Focus on your duty and not on me'. The kind of conflicts she went through to keep her love alive resonated a lot. Her entire love story would resonate with everybody.
Guilty to Laxmii to Indoo Ki Jawaani, you have had quite a few releases in the last one year, with the last film even releasing in theatres. How important has it been for you to keep the ball rolling in a world where everything has practically come to a standstill?
I never planned for it to be that way, the timing just matched magically (smiles). I remember when Guilty released, we had just got into the pandemic. Everybody was at home, so most people ended up watching the film. Anyway, it was a film which we had made for a streaming platform. Thereafter, the films that I had shot for were ready to be released, and calls were taken by the producers to release them, digitally and in theatres. We realised that the show had to go on... how much could one wait with a ready film in hand? Through these two years, I have been in touch with the audience through my work and I am lucky to have been in that position. Shershaah is again a film that we have been waiting to share and finally being able to release it is a blessing.
When we had spoken after Guilty, you had mentioned that playing Nanki in that film made you dig into parts of yourself that you hadn't explored before. Has any other role made you feel the same way?
I think Lust Stories was the one that set it rolling. Of course, Kabir Singh came in and then Guilty. But I always say that every film has been a learning and helped me explore. My first film (Fugly, 2014) gave me wings to fly and it gave me more work. And every film after that has only made me grow, both professionally and personally. I don't think I can put one above the other.
How have you evolved as an actor in the seven years that you have been in the business?
I have definitely evolved. I feel that now I am able to completely detach my own personality when I am getting into a character. I don't bring any judgment as Kiara into my character... I have begun performing through the mind of the people I play... I have started thinking like them. That's very important as an actor because then that makes you constantly alert in scenes, you can improvise better, you are more there and you are more alive. I am now also more open to making riskier choices.