Karan Arjun are back: Salman Khan-Shah Rukh Khan's chemistry in Pathaan is just off the charts
Part of the YRF Spy Universe, Salman shows up as Tiger to help out Shah Rukh's Pathaan in the Siddharth Anand-directed spy thriller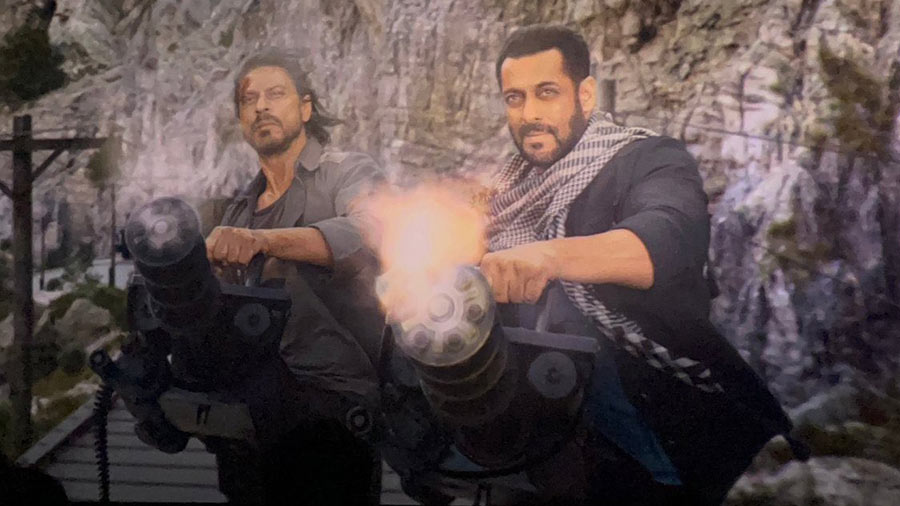 A Still from Pathaan
Twitter
---
Calcutta
|
Published 26.01.23, 08:55 AM
|
---
You know how there are some things you like that you could never explain? And most of those things you would be embarrassed to mention to people mostly because you can't answer why. 
For me, one of those things is Salman Khan movies. Yep, guilty. I have watched every single Salman Khan action movie first day, first show. For the longest time I watched in standalone cinema halls, because what is the fun in watching Salman Khan films in the sanitised atmosphere of a multiplex? Until the day I couldn't get tickets for Tiger Zinda Hai and went to INOX South City, and realised that Salman can turn even multiplexes into single-screen experiences.
And whatever the magic, it clearly works whether he is the lead in a movie or has a 10-minute cameo, as proved by the eardrum-splitting hollering and cheering from fans at a 9am show of Shah Rukh Khan-starrer Pathaan. 
King Khan himself was drawing tremendous cheers from the audience every time he was on screen but the decibel levels increased by leaps as soon as that black-and-white keffiyeh made its appearance through the hole in the roof of a train. Salman as Tiger drops into the train with a to-go coffee cup and some painkillers for Shah Rukh's Pathaan, and proceeds to bash up goons while Pathaan sips his coffee. Salman's "bahut aaram kar liya ab thoda kaam karle?" to Shah Rukh only stoked the audiences' excitement as the decibel kept rising. 
What followed was something we have waited to see forever. They fight the baddies together, jump hurdles and fly through the air in slow motion as they come down on hapless goons on top of the train. Someone in the audience screamed "mere Karan Arjun aa gaye." (Okay fine, it was me.) By the time they escape a plunging train and leap mid-air to grab the rail line, it already feels epic. Shah Rukh and Salman's chemistry is off the charts. If Pathaan is out-and-out entertainment without Salman, with him it is full paisa vasool and more.
Then there is that exchange about Tiger going on a mission and needing Pathaan's help and the audience couldn't contain themselves. When is the next Tiger movie up? I am sure that is what everyone in the audience was wondering. I certainly was.
The hall settled back into its usual (by Pathaan standards) noise level, which meant cheers every time Shah Rukh even changed outfits, for the rest of the film. Till the post-song credit scene, where we are back to Karan Arjun on that railway track. They are stretching sore muscles and ruminating about how they are too old for this, but what can one do? They can't leave the country's future in the hands of young people now, can they? The crowd breaks into deafening cheers and laughter. The Khans still rule. And we hope they rule much longer.