Jotugriho throws light on our inner demons, delivers a strong moral lesson
The movie is headlined by Parambrata Chattopadhyay, Bonny Sengupta and Piyali Chattopadhyay along with a cameo by Paayel Sarkar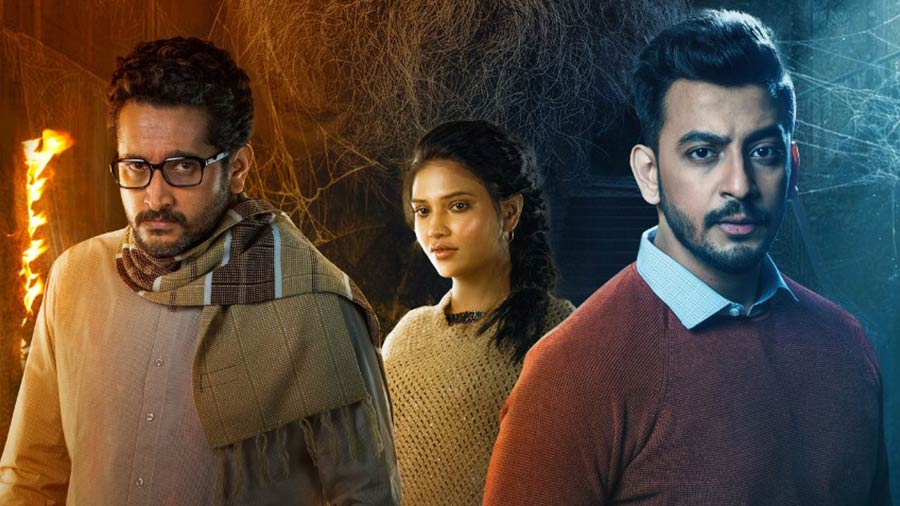 Saptaswa Basu's Jotugriho is a tale of greed and treachery
Facebook
---
Calcutta
|
Published 05.11.22, 01:07 PM
|
---
More than a conventional horror film, Saptaswa Basu's Jotugriho is a modern-day fable that throws light on our inner demons. Headlined by Parambrata Chattopadhyay, Bonny Sengupta and Piyali Chattopadhyay, this tale of greed and treachery delivers a moral lesson, showing the eternal battle between good and evil. 
Rehan Mukherjee (played by Bonny) lands a job as the manager of a lodge in a small village in the hills. Upon his arrival, Rehan meets and befriends a charming young girl, Meghna (played by Piyali). But he soon senses that all is not well in the sleepy hamlet and learns that a demon haunts the village. He is helped by Father Joseph (played Parambrata), the priest at the local church, in his pursuit of vanquishing the evil spirit.
Jotugriho has its share of classic horror elements — the eerie atmosphere keeps you on the edge of your seats. Cinematographer Manas Ganguly uses top shots and drone-views to capture the mood of the mist-shrouded small village to good effect. The scenes have been framed in a way as if someone is watching over you. The background score, too, aids this impression and leaves you with a feeling of unease.
However, the movie is not without its obvious flaws. Despite a solid foundation, the screenplay slips at places, hampering the pace of the thriller. The romantic angle between Rehan and Meghna is overcooked. Some of the songs, in spite of sounding nice, impede the flow of the story, which picks up momentum in the second half as the puzzle begins to unravel. Writers Arnab Bhaumik and Robi Shankar Chowdhury deserve praise for coming up with quite a twist at the end. 
Bonny puts in a solid performance as Rehan, while Parambrata's Father Joseph has been portrayed with elan. Despite her best efforts, Piyali, however, fails to make an impact in some of the crucial scenes. Paayel Sarkar's cameo adds to the mood, as well as the star quotient of this horror thriller.