Jo Jeeta Wohi Sikandar at the finish line
The film, which released in 1992, is mint-fresh, unlike its wannabe 2019 version, SOTY2, already so last season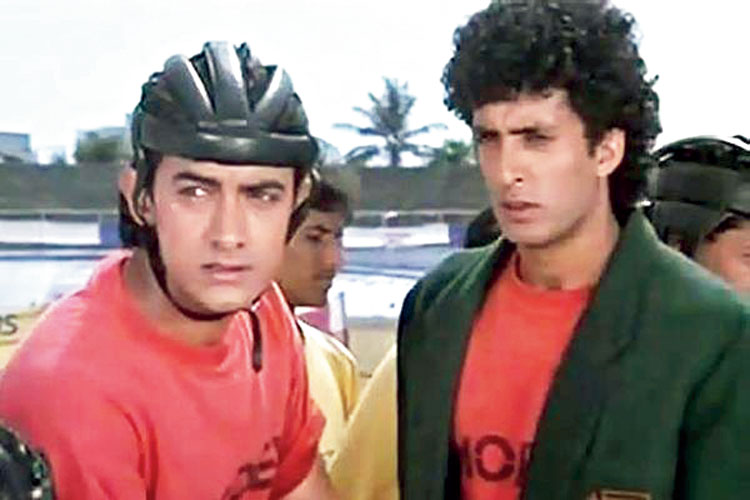 Amir Khan and Mamik Singh in a scene from Jo Jeeta Wohi Sikandar
A still from the film
---
Published 16.05.19, 05:51 PM
|
---
Nahi samjhe hain wo hamein to kya jaata hai, haari baazi ko jeetna humein aata hai
Youth is volatile and droll, edgy and carefree, passionate and playful — all at once. Youth is also the time to boo status quo, which is why class conflicts matter. The pyjama chhap Ratan Lals and Sanjay Lals of Model School must make their way among the Shekhar Malhotras of the world, the karoron ke waaris from Rajput School who zip around in fancy cars with fancy girls.
Mansoor Khan's Jo Jeeta Wohi Sikandar, which released in May 1992, is mint-fresh, unlike its wannabe May 2019 version, Student of the Year 2, already so last season.
Like the first-love anthem Pehla Nasha (written by then-septuagenarian Majrooh Sultanpuri, composed by Jatin-Lalit, choreographed tenderly by Farah Khan), the class clash between Rajput and Model is so here and now. Rich kids sneer at humble ones, who fight back or fawn. Brothers Ratan (a devastatingly handsome Mamik Singh) and Sanju (a young, roguish Aamir Khan) fight back, not before Sanju has made a few false moves, as is legit for every coming-of-age hero. Ultimately, Sanju fulfils the dream of Ratan and father Ramlal (a pitch-perfect Kulbhushan Kharbanda) to beat Shekhar (a smirking Deepak Tijori) in the cycle race.
Sports is a great leveller when the odds are unfairly stacked up. All good sports dramas from Bollywood, Jo Jeeta..., Lagaan, Iqbal, Chak De! India, to name a few, are about the underdog. But Jo Jeeta... is more than a sports drama. It's a youth film that neither idealises youth nor its trappings, the bro code, the buddies, the friend-zoned girl, the hot girl, the rich bullies. Sanju's classmate Anjali (Ayesha Jhulka's career-best) loves him spinelessly when he is undeserving but makes a man of him when he goes too far, becoming his moral compass and cycling trainer. To be fair, Devika (an uninhibited Pooja Bedi who gets her dress-billowing-up Marilyn Monroe moment) from the posh Queens is no wicked gold-digger; like Sanju, she's a teen trapped in her notions of cool. Sanju redeems himself with a dream ride. Devika is just taken for a ride.