Music composer Jeet Gannguli marked a momentous return with his chartbuster music for Abar Bibaho Obhijaan and enthralled audiences with his compositions for the Bengali film franchise at the music launch held at Diamond Plaza. The event witnessed the presence of actors Ankush Hazra, Anirban Bhattacharya, Sohini Sarkar, Priyanka Sarkar, Rudranil Ghosh, and Saurav Das.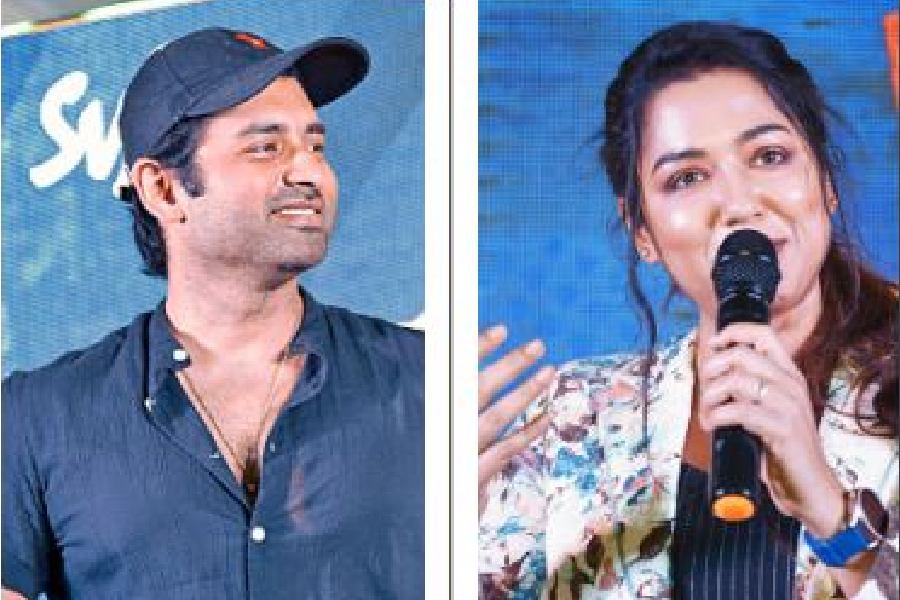 (L-R) Ankush, Sohini Sarkar
Known for his melodious compositions, Jeet Gannguli cast a spell on the audience with his soul-stirring renditions. The crowd swayed to the beats of his popular tracks. Among the standout moments of the evening, Jeet Gannguli wowed the audience with renditions of Mon bajare and Shob e maya.
The camaraderie between Jeet Gannguli and Anirban Bhattacharya specially added an extra layer of meaning to the evening. The track resonated deeply with the audience.
The event also offered a glimpse of an unreleased track called Pala by the talented child singer Rohan Dey. Speaking at the event, Jeet Gannguli expressed his gratitude for the overwhelming support and appreciation from his fans. "It feels incredible to make a comeback after such a prolonged interval. Abar Bibaho Obhijaan holds a special place in my heart, and I am thrilled to have the opportunity to create music for this film. I sincerely hope that my compositions touch the hearts of the audience and bring joy to their lives," he said.
"I am truly honoured to be a part of such a mesmerising event where Jeet Gannguli made his grand comeback. His music has the power to touch souls, and witnessing his captivating live performance was a surreal experience. It was an absolute treat to witness the vibrant energy and infectious enthusiasm on stage," said Anirban Bhattacharya, one of the leads of Abar Bibaho Obhijaan.
"The evening was nothing short of magical. Jeet Gannguli's compositions have always held a special place in my heart, and tonight, he proved once again why he is a musical genius. It was a privilege to be present and witness his soulful renditions and his music made our film reach an unprecedented height," said Sohini Sarkar.
Abar Bibaho Obhijaan, helmed by Soumik Haldar, releases in theatres on May 25. The film is a comedy caper that follows the escapades of three couples who are eager to get away from their loving partners for a brief period. The men craft a story and embark on a journey out of the city, which leads to hilarious adventures in Thailand.