Jaya Prada: From Rajahmundry to Rampur
Glamour in polls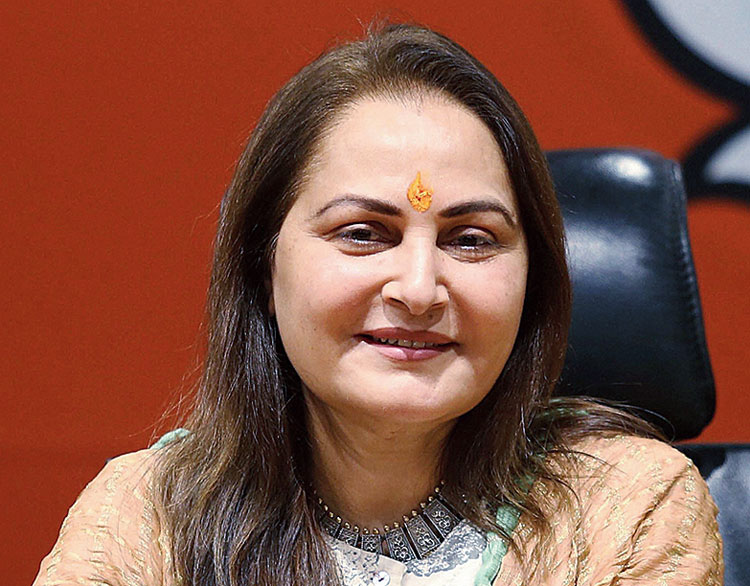 Jaya Prada
Picture by PTI
---
Published 30.03.19, 06:36 PM
---
When Navika Kumar asked Jaya Prada why BJP should have chosen her for elections from Rampur, the answer was embedded in the question itself. TV channels should ask themselves, do we interview a political candidate on prime time because her presence guarantees viewership? When an honest answer is "Yes", it is obvious why parties too pick candidates who can bring in the crowds. Otherwise, does anybody seriously think glamour faces across the board — Jaya Prada, Hema Malini, Urmila Matondkar, Khushboo, Nagma — are chosen because they seem like great policymakers? Jaya Prada is not even a celebrity who can stand on her own feet without the support of a man who makes the decisions for her. And, unfortunately for the really talented dancer-actress, all the three important men who've figured in her life have been married, with families of their own. But each has played a wholesome part in making her the woman she is today.
When Jaya Prada was introduced to Hindi films with the Rishi Kapoor-starrer, Sargam, the attractive girl from undivided Andhra Pradesh was a reluctant conversationalist. The comparisons to Hema were obvious — a beautiful face from the South and a dancer too. But she'd told me then that she aspired to be an actress like Jaya Bhaduri Bachchan. In those days, she was comfortable talking to me only because I could converse with her in Tamil. Hindi was new to her (her earlier films used to be dubbed) and English wasn't a language she was familiar with. In fact, her brother, Raja, used to do most of the talking on her behalf until Shrikant Nahata, a businessman with a lovely wife and three kids, stepped into her life. Shrikant was a man who spoke well and with confidence, the kind she looked up to and needed to rely on. When she "married" him and began to call herself Jaya Prada Nahata, she had lamented that actresses like her didn't get an opportunity to meet people from outside their little world of films and studios.
That changed after Chandrababu Naidu and his Telugu Desam Party plucked her out of the cocoon and plonked her amongst ministers, netas and political rallies. She gained confidence and began to hold her own in English too. She speaks the same brand of English, which may be grammatically bizarre, but with confidence. On TV, now that she's in the electoral fray again, she's unfazed by any question, speaking without a stutter, no sign of diffidence. The Naidu phase did that to her.
From Rajahmundry (where she was born) to Rampur, where she landed with a new man called Amar Singh piloting her life, was quite a leap. From 2004 to 2019, she deftly shifted political loyalties, moving from TDP to Samajwadi Party (when Singh was the blue-eyed boy of Mulayam Singh Yadav), thence to Rashtriya Lok Manch floated by the man in her life before joining Rashtriya Lok Dal. They weren't the wisest of moves, especially after she lost from Bijnor on an RLD ticket in 2014. But what has remained consistent over the years is her loyalty to Singh, who has now guided her into BJP and back to Rampur to face his bete noire, Azam Khan.
You've sure come a long way, Ms.
While BJP found the now-politically-seasoned Jaya Prada to take on SP, Congress gave birth to a new politician. Even if Urmila Matondkar wasn't known for airing any political views, she is tailormade for electoral purposes. After she married businessman and model Mohsin Akhtar Mir, she presents the perfect vision of secularism as pictures of husband and wife at the Golden Temple in Amritsar are splashed on the Net. In any case, where else would you find a candidate who can jabber in Marathi, speak fluently in English and Hindi, appeal across the board with a Kashmiri Muslim husband by her side and be glamorous too? The summer polls just got more colourful.
Bharathi S. Pradhan is a senior journalist and author