Jabariya Jodi is a jumbled mess
The film intends to be a satire and a social commentary in equal measure but ends up being a yawn fest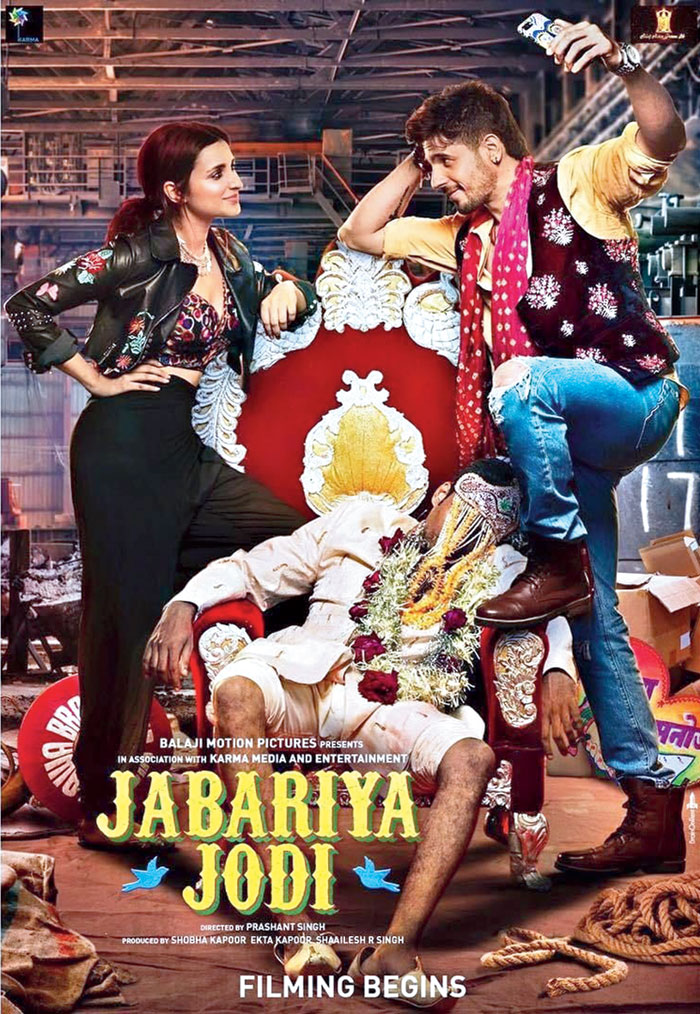 ---
---
Jabariya kuch bhi achha nahin hota… naa jabariya pyaar, naa jabariya shaadi," goes an oft-repeated line in Jabariya Jodi. Well, spare a thought for the audience that is made to sit 'jabariya' through this yawn fest? Jabariya Jodi — whose ho-hum trailer gives way to an even more ho-hum film — is non-offensive for the most part but is so criminally boring that you would want to willingly put yourself in front of the barrel of a gun every time one is whipped out in this film. And how many times would that be? Well, it's safe to say that if you took a sip of tequila every time someone pointed a gun in Jabariya Jodi, you will be drunk at least for the next 365 days. And then some more.
Essentially a story of a couple of kidnappings giving way to a few weddings which, in turn, lead to some more kidnappings, Jabariya Jodi intends to be a satire and a social commentary in equal measure — throwing in a hackneyed romance in the mix — but ends up being nothing more than a jumbled mess. It's based on the bizarre real-life practice of groom kidnapping — where men who demand dowry are kidnapped and forcefully married into families who can't afford dowry — that's prevalent in Bihar. But apart from the flimsy central premise, there's nothing in this film that reflects the milieu it's set in.
First, there is the usual problem — one that we saw a few weeks back in Super 30 — with Bihari accents. Yes, this is the kind of film where the characters speak chaste Hindi but choose to end every sentence, mostly unnecessarily, with a "bey" or a "ka". Parineeti Chopra — playing a feisty small-town girl for the 166th time in her career — waltzes around in crop tops and bustiers in hastily done-up sets that are meant to resemble a street in Patna, with food stalls screaming out 'Murgh Donald' and 'KCC'. It requires a large dose of suspension of belief to imagine Sidharth Malhotra as a rugged, countryside yokel, and while the man gets it right with his body, there's nothing in the body language to justify why he was signed on for the part. When his Abhay Singh isn't using his fists to do all the talking, his predilection to wear every colour in a paint brochure — sometimes all in the same outfit — will guarantee an appointment with your optician pronto. Sidharth and Parineeti shared a sweet chemistry in Hasee Toh Phasee. But that was a well-made film. This one is anything but.
It's almost impossible to make sense of Jabariya Jodi, but let's give it a shot. Parineeti's Babli and Sidharth's Abhay were childhood sweethearts who got separated when she shifted cities. She grows up to be this motor mouth, who seems to have wandered onto the sets of Jabariya Jodi from the frames of Ishaqzaade, Shuddh Desi Romance and Ladies vs Ricky Bahl, and has posters of Kill Bill with the words 'Maar Bill-wa ko" on the walls of her candy-coloured room. The first few moments of the film have Babli being ditched by her boyfriend after she plans to elope with him.
(Now where have we seen that again? Oh yes, Parineeti in Ishaqzaade, Shuddh Desi Romance and Ladies vs Ricky Bahl). Abhay, on the other hand, is the poster boy of groom kidnapping, which his politician dad (a one-note Jaaved Jaaferi) brands as "samaj seva". Abhay's daddy issues have turned him into a commitment phobe, a situation which makes him fight shy of professing his love to Babli and also leads to some inadvertently funny lines throughout the film. Like when Abhay tearfully confesses to Babli that he doesn't want to marry her because he's his dad's son and will "naturally" treat her as badly as his father treats his mother, she straight-faced mutters, "Tumhare ragon mein baap ka khoon hai lekin ma ka doodh bhi hain". This scene plays out in front of Abhay's jeep where the windshield screams out, "Hum toh hai hi kaminey… uske upar single".
In fact, the whole of Jabariya Jodi is a goldmine of meme-worthy material. Speaking of goldmine, there's at least one well-done joke — involving Bappi Lahiri — but that's not enough to make you sit through this 143-minute bore. At another instance, someone looks at a would-be groom smeared with haldi and says, "Ram jaise ladke ko Haldiram banaa diya". Thankfully, the camera doesn't cut to a packet of Haldiram bhujia after this. But hey, there's ample product placement for Gas-o-Fast throughout. Heartburn, this film….