Sidharth Malhotra's Jabariya journey
Sidharth Malhotra has fun 'doing something far from (him) in reality' & recalls 'white pillow in parcel'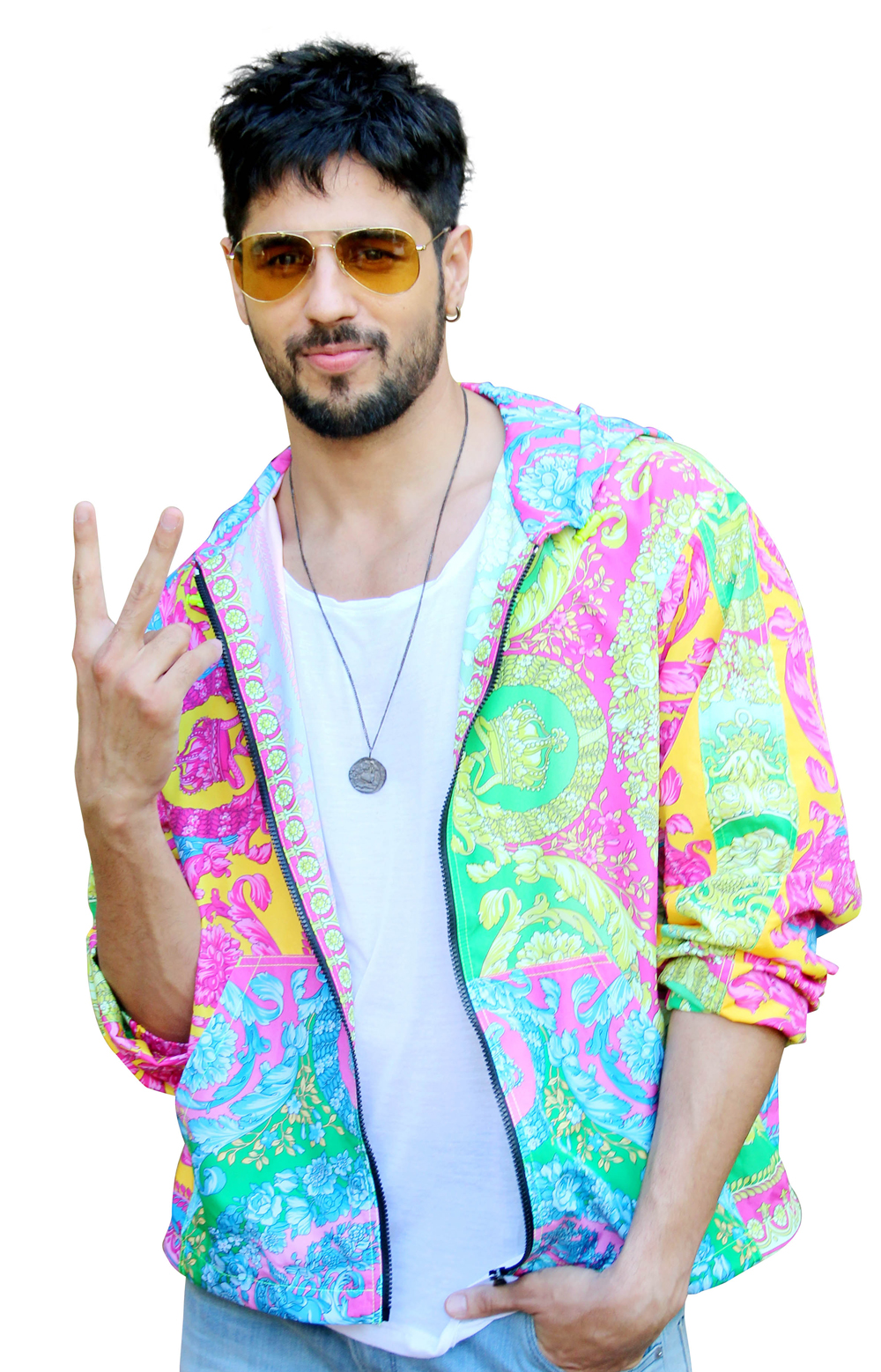 ---
---
From a dream candyfloss debut with Student of the Year (2012) to the nuanced Kapoor & Sons (2016), Sidharth Malhotra has come a long way in seven years. His next, Prashant Singh's Jabariya Jodi where he plays a Bihari goon, brings him back with his Hasee Toh Phasee (2014) co-star Parineeti Chopra. The Woods caught up with him for an exclusive chat before the rom-com releases on August 2.
The Woods: You play a Bihari character for the first time in a film. How did you prepare for the dialect and look?
Sidharth: A lot of prep went into this character (Abhay Singh). This is a boy who's in Patna and speaks in that accent and does forced marriages. I think the base started in getting the accent right, that is speaking in Patnaiyya, which is Patna ki Hindi — it's a mix of Maithili, Bhojpuri and Magahi. Three months of prep went on with the team, that is the director and the writer. Also, I had workshops with my private tutor to keep working on it during my free time, whenever I had time. Then a lot of time went into the styling of this character, whether it was giving him earrings, giving him tattoos or colouring hair. Or even giving him colourful, brighter clothes... he is a strong character who is equally colourful and entertaining at the same time! I think the prep needed in this film was much more and I'm happy that I really prepared myself for this character.
The team apparently shot for the film in intense Lucknow heat. How difficult was it?
Haan, bohot! It was sweaty... the film was mostly outdoors. The film is based in real locations, whether it's the house, whether it's the streets. The maximum sweat we felt was when we had to dance in a baraat in Lucknow. The film is based on groom kidnapping, so we used to have a baraat with every groom. Dancing out on the street with a live band was actually a lot of fun as well, it's one of my favourite moments in the film where I could dance with my co-actors who are playing my friends. We did freestyle, we did how it'd be like at a real wedding... we were profusely sweating and dehydrating ourselves. But it's all worth it as long as it looks good on camera.
The film portrays how grooms get kidnapped and are forced to get married when they demand dowry in Bihar. Do you think somewhere it's going to make a social statement on the practice of dowry?
See definitely it addresses a serious issue, which is presently happening in some of our states and cities. And I'd like to say that ours is a unique country because this is the only country that it happens in — where people pick up grooms for dowry! They are both illegal — asking for dowry or kidnapping somebody. But I think this is first and foremost an entertaining love story, so we definitely address this serious issue, but in a light-hearted way, where the characters are real but loud. So I think you will take away something about this issue in our country but you'll also take away a love story by the end of it, which is between Parineeti and me. So I think you'll have a nice mix of both in a very entertaining, energetic way. So it's a one-of-a-kind film that way.
After Hasee Toh Phasee, you'll again be seen with Parineeti. How has the working equation changed since then?
Yeah, Parineeti and I have come back after many years. I think the best part about working with somebody for the second time is that you don't need to waste time in breaking the ice, you know? You start from where you left off. Pari and I have a lot of love for Hasee Toh Phasee, my third film. We decided that let's do something newer, different, fresher and Jabariya Jodi gave us that. While working, we shared a great amount of bond and friendship where none of us had to think while improvising or while doing our lines or when it came to comfort. And I think that'll show in the film. Also, I think both of us have grown a lot, as people, as personalities and as actors. I think Pari has done a fabulous job in the film, she is a fabulous actress. People will see both of us in a new avatar and hopefully this jodi gets, if not the same, but more amount of love than Hasee Toh Phasee.
What is the best part about Parineeti as a co-star?
Definitely her nature. I think she is somebody who is quite candid. I connect with her because maybe somewhere our backgrounds match. Both of us are Punjabis playing these Patna characters. I think it's the comfort and the friendship, you know? Pari is somebody I can relate to because her background and my background are quite similar.
The audience generally associates you as a sober, sincere guy and you're mostly seen in such roles too. How was it playing such an out and out uncouth goon, a complete departure from your usual persona?
Well yeah, I think because I have not done something like this, people have assumed that I could not. I think the fun was in doing something that is so far from me in reality or what my so-called impression might be. I really had fun with the language and the look of the character. I genuinely have a lot of fun acting in such films where there are a lot of lines that you can improvise. The whole world of it excited me a lot... reacting to actors. I was lucky to have a wonderful set of co-actors, the ensemble cast is great. Javed Jaffrey, Sanjay Mishra, Aparshakti (Khurana)... these are great actors to react to. I think people will see a completely new colourful side to me which is what actors are here to do, I am here to do. It's to keep providing you with new characters and entertain you at the same time. I am really enjoying the response to the trailer and I am pretty excited about August 2.
Did you know about this concept of "pakadwa vivah" before reading the script?
Yes, I had read one article on this in the newspaper by coincidence. I found it so bizarre that in 2017 or 2018 there were 100+ cases. In the state of Bihar, people were saying how grooms were getting kidnapped or their boys were getting kidnapped for forced marriages. If you research today as well, you'll see this still exists.
Do you think that acting in the comedy genre was actually tougher than the rest?
Definitely. To make people laugh or to make people cry, I think both these extremes are very difficult. I won't take away from all the intense characters that I have done. But once I had the language sorted, I could let myself lose in this character. The film was as such and the character was such... I generally improvise a lot and had fun on set. I did masti with the body language, did some throwaway line in the film. I genuinely had a lot of fun and hopefully people would see it.
So, next you have Marjaavaan with Tara Sutaria and Shershaah with Kiara Advani. What can you tell us about these projects?
Yes, next film is Marjaavaan, that will come out this year. It's an action love story based in Bombay but it's made for a certain mass sensibility. It's heroic and larger-than-life. It has Tara, me and Riteish Deshmukh as the villain, where we are coming together after Ek Villain. It also has Rakul Preet (Singh), Naseer sir (Naseeruddin Shah), Ravi Kishan... it's a great ensemble again. It's a commercial massy package and I'm excited about that, it is something new for me. I'm currently shooting for a biopic called Shershaah which is based on the life of Captain Vikram Batra, a soldier who gave his life for the country during the Kargil war. It has Kiara (Advani) opposite me as a my love interest. It's an amazing mix of being inspired by real characters but yet, since the subject is relevant to the country that it automatically makes for a larger audience, so it's a pan-India film. So far, I'm very happy with the characters and the line-up of films. I'm going all guns blazing for Jabariya Jodi and then Marjaavaan.
You've been linked with both your current co stars, Kiara and Tara... how do you deal with these rumours?
(Laughs) I think these are all jabariya rumours and jabariya kuch bhi achha nahi hota hai, sivaye humare picture ke!
Your grandfather was in the army and your dad was in merchant navy. Do you think that background is helping you in playing Kargil martyr Captain Vikram Batra in Shershaah?
We are currently in the midst of shooting that film and yes definitely you need a certain kind of lifestyle to understand what an army family goes through. My father has seen it since his father was in the army, my dad was in the merchant navy and is retired now. It definitely helped, there was a hint of that lifestyle even in my childhood because of my father. But there is much more to that film than the army life. When it comes out next year, people will see a complete life story of this amazing real-life hero.
What's the craziest fan encounter you've ever had?
I don't know if you've heard this or not but earlier in my career, a parcel came to my house. When I opened it, it was from a girl and it had a white pillow in it. She had written a card that said, 'Oh this is the pillow I sleep on every night. If you use it, it'd be like we are sharing the same bed.' It also had a PS that read: 'Yes, it is mine, please check carefully, my hair is on the pillow!' It was very sweet and I appreciate all the love, it was quite innovative but it was pretty unhygienic because she left her hair on it (laughs). It was sweet and funny at the same time.
How does your family view your success now after seven years of you being in the industry?
They definitely have become more immune to all the things that are written, not everything written is true. I respect the time spent with them because sometimes it gets difficult to give that much time. I think they're getting a hang of it after seven years and they just keep worrying because I stay by myself in Bombay. But I know they're there with me in spirit and give me their blessings. They'd actually be coming down at the end of the month (July) to watch Jabariya Jodi and I'm very excited to show it to them.
You've had your ups and downs in Bollywood, some films have worked and some haven't. How do you look at failure now?
I have gone through various emotions in the last seven years — be it an amazing launch, did good box-office in the third film, got appreciation for Kapoor & Sons. And then there are some films that have not gone the way I had expected them to. So I think it's a complete experience in the last seven years. When I look at careers of big superstars — we have all grown up watching and are still working — none of them had all films working for them. They've all gone through films that haven't worked at the box-office or for them. We cannot run away from films that don't work. Today because of the media or social media, so much content is out and every second person wants to know the box-office and reviews. So that isn't something that I, or anybody, can be God and prevent that. But I feel lucky and blessed that in every generation, there have been a handful of actors and actresses that are accepted. And I'm happy to be a part of this generation of actors or heroes, who can do main lead characters and give the audience different characters every time, whether some work or some don't, that's something very difficult to predict. But I want to appreciate being in this position because I came with a lot of dreams to this city and today I feel blessed all the time when I do films like these, like Jabariya Jodi, Marjaavaan and Shershaah — different varieties. I've always tried to do different things for the audience, to break certain moulds of what a hero can do — whether it was doing grey characters, whether it was an ensemble or playing hero characters. I'm happy and lucky that I've been accepted in this generation and now am hoping to entertain them further.