Rasika Dugal on her current state of mind and returning with season 2 of Out of Love
The Disney+Hotstar series, which dropped its first two episodes on Friday and will follow up with an episodic release over the next three Fridays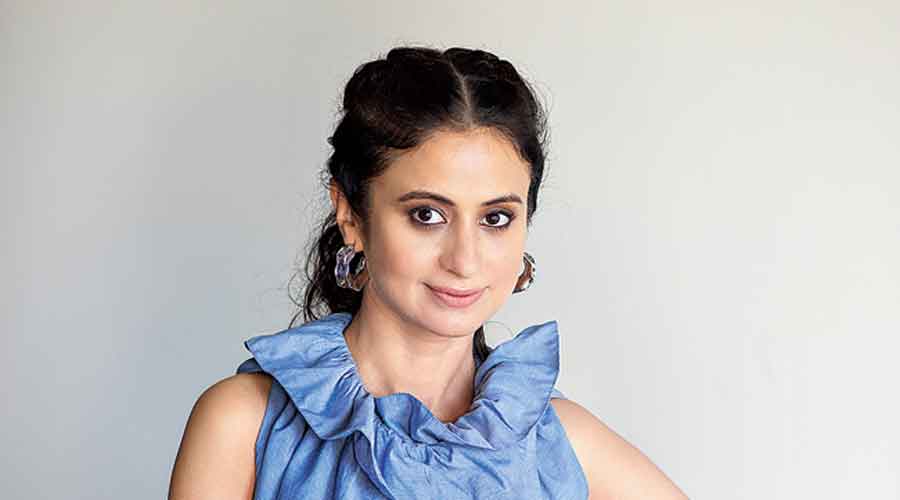 ---
|
Calcutta
|
Published 01.05.21, 12:10 AM
---
A Suitable Boy to Season 2 of Mirzapur, Lootcase to OK Computer, Rasika Dugal has had some diverse work coming out in the last one year. The actor now returns as Meera Kapoor in the second season of Out of Love.
The Disney+Hotstar series, which dropped its first two episodes on Friday and will follow up with an episodic release over the next three Fridays, has Meera trying to pick up the pieces of her life after her husband Akarsh (played by Purab Kohli) cheats on her with a much younger woman. In Season 2, Akarsh returns, with his new wife and baby daughter, after three years, to wreak havoc in Meera's life. t2 caught up with Rasika to chit-chat and know more.
In the first season of Out of Love, Meera was this fine balance of vulnerability and grit. How has she evolved in Season 2?
You will see a very different Meera at the beginning of Season 2. At the end of the first season, she's still vulnerable and she's still finding her way around with respect to what's happened to her. She's still trying to deal with what not having Akarsh (played by Purab Kohli) in her life means.
She's trying to find a life for herself without him, and also deal with the humiliation she's had to suffer.
The beginning of Season 2 shows a Meera who's put a lot of that behind her and is very comfortable in the space that she's in. She has made some meaningful relationships with people who live around her. I have largely seen her as a very quiet person. She's sort of changed a little bit and realises she needs meaningful relationships. She's happy to be a single mother.
But then, Akarsh comes back to Coonoor. And then it kind of transitions into a psychological warfare between the two. His entry disturbs her in a way that makes her realise that what she thought she had already dealt with, in reality, she had not really dealt with. That she's not put it behind her, and in some sense, you can never, especially when a relationship breaks in the way it did for Meera and Akarsh. You might feel that there has been resolution and closure. But all the wounds are reopened when you are forced to confront the person again. There is no closure in a situation like this, actually. Meera finds herself doing some things that she would have never dreamt she could do, and the same is true for Akarsh. Both of them make some very erratic decisions and do ugly things to each other.
Was it more emotionally taxing to play her this time around?
There are sides of Meera that I understand and then there are some sides that I don't. There is a side of her that doesn't easily ask for help, she doesn't exhibit vulnerability... and that's an aspect I don't relate to. I am the kind of person who will pick up the phone and say, 'Listen, I am having a really hard day. I need to talk'. Meera is not like that... she believes that finding her own way in a difficult situation is a mark of strength. I remember reading the script and wondering, 'Why isn't she asking for help? Why is she trying to manage this all on her own?' That is a side of her I had to work towards understanding. I am not like that, but I do have the sensitivity to understand why she's like this.
The side of her that I do understand is the one that's evoked many times in Season 2. She makes a lot of instinctive decisions, but maybe because of the way it turns out, one can call them erratic. It stems from a kind of person who suddenly behaves uncharacteristically. I do understand that because I don't find it hard to be that way.
The part that I really emotionally connected with in Season 2 was the kind of love that you feel for your child and your need to protect your child. I am not a parent in real life, but the events of Season 2 made me understand the difficulties of parenting, and how vulnerable you are when you are a parent. That really moved me. I remember someone telling me once, 'You only understand fear when you become a parent'. As a reasonably sensitive human being, I can understand that logically, but to truly experience what that makes you feel is something that happened to me while shooting this season. It also made me realise that your children can be your whole world, but they are their own people and they will make decisions that can often conflict with what you feel is good for them. And being a parent also means letting go.
Given the original British series, Doctor Foster, had two seasons, did you know all along that Out of Love would have a second season?
I didn't know whether they would make it, because that's something that's determined by the business side of things, which is something I like to keep myself distanced from! (Laughs) But they commissioned Season 2 pretty quickly. That encouraged me because it made me realise that Season 1 had done well for the platform. But as an actor, I try not to get influenced by these things because I want my decision regarding a project to be based purely on my instincts as an actor.
You have done some impactful work over the last one year. What's been the most fulfilling and creatively satisfying bit about that journey?
I think the most satisfying bit would have to be the diversity of the work that came out. The thrill was having A Suitable Boy and Mirzapur 2 come out on the same day (October 23 last year). The variety of two different pieces of work coming out on two big platforms (Netflix and Amazon Prime Video, respectively), in which I played dramatically different characters, gave me a big thrill as an actor. It gave me a lot of confidence in my own range as an actor. That meant a lot to me.
During the lockdown of 2020, when we spoke just before the release of your film Lootcase, you were raring to get to Coonoor to shoot Out of Love, but also chilling at home making a short film and listening to podcasts. It's lockdown again, but the scenario outside is far from grim now. What's the mood been like?
It's psychologically more taxing this time around. Last time, we were still trying to understand what it really means to be living in a pandemic. Between October and January, the cases came down and with the vaccine coming in, we all hoped that this would be behind us soon. Now, of course, it's come back stronger. There is a sense of complete loss of hope and a feeling of despondency, which I think everyone is going through.
I have never been the kind of person to say, 'Let's not listen to the news'. Because I have believed that is always a cop-out. But right now, I am honestly trying to balance it because I don't want to not know what's happening around me, but at the same time, sometimes it becomes very overwhelming. I think many of us are struggling with that. A very interesting article in The New York Times, which has been shared a lot because of its relatability, talks about what we are feeling and calls it 'languishing', which is the space between flourishing and depression. And it's okay to accept that there are some days when I am 'languishing' (smiles).
What's keeping you going?
The idea that work is coming out and the satisfaction that I have been a part of creating something. I was recently speaking to a friend who is part of a voluntary health task force in Delhi. I watched an interview of hers and called her and said, 'You are doing such phenomenal work. I wish I had the expertise to contribute also'. And she said, 'Wait, listen all of us need a show to watch!' (Laughs)
As artistes, we often tend to devalue what we bring to the table and I find asking myself these days, 'What am I doing? How am I contributing?' But I guess what I am doing is something people turn to to distract themselves from all that's happening out there.
I was recently speaking to a friend who is part of a voluntary health task force in Delhi. I watched an interview of hers and called her and said, 'You are doing such phenomenal work. I wish I had the expertise to contribute also'. And she said, 'Wait, listen all of us need a show to watch!'
There are sides of Meera that I understand and then there are some sides that I don't. There is a side of her that doesn't easily ask for help, she doesn't exhibit vulnerability... and that's an aspect I don't relate to. The side of her that I do understand is the one that's evoked many times in Season 2. She makes a lot of instinctive decisions, but maybe because of the way it turns out, one can call them erratic