Barun goes dark
Heart-throb chases serial killer in new web show Asur, waits for good TV content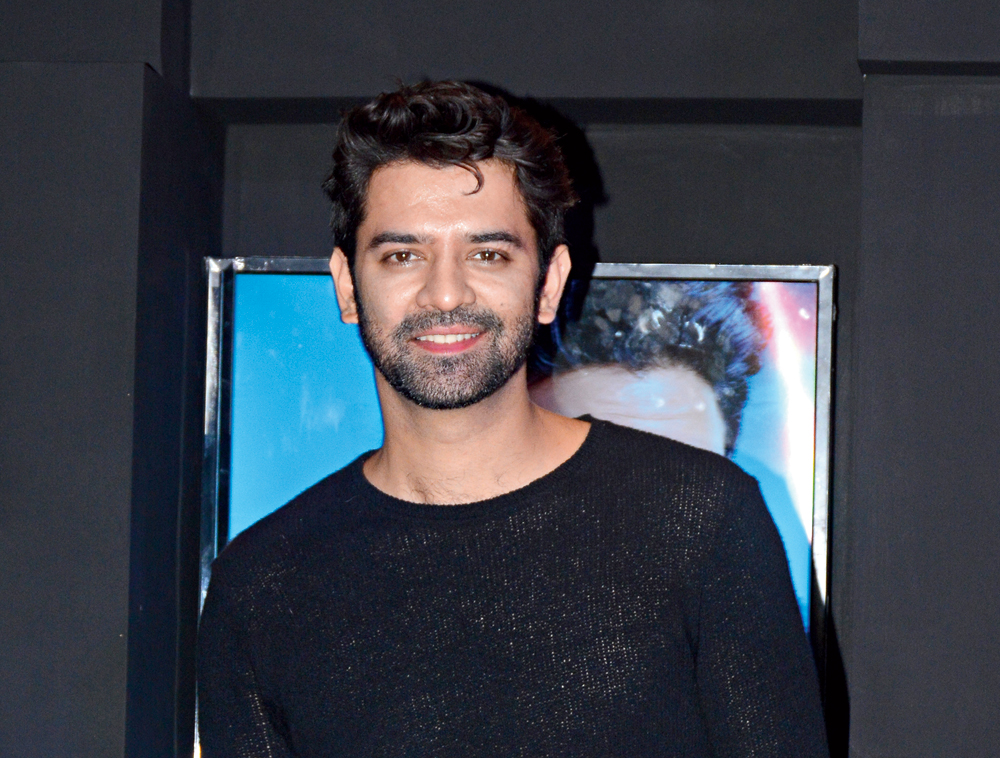 Barun Sobti at the media conference for Voot Select's Asur
(The Telegraph)
---
Published 18.03.20, 12:09 PM
|
---
On screen since 2009, actor Barun Sobti turned TV heart- throb with his portrayal of Arnav Singh Raizada on the show Iss Pyaar Ko Kya Naam Doon? Although he hasn't been on TV since 2017, Barun hopped on to the web bandwagon around the same time.
Currently, audiences can catch him on Voot Select in the psychological crime thriller Asur, playing Nikhil Nair. The eight-part web series that combines the world of forensic science with the mysticism of Indian mythology also stars Arshad Warsi, Ridhi Dogra and Anupriya Goenka. The Telegraph caught up with Barun for an exclusive chat…
Was it emotionally difficult to shoot such a dark, psychological thriller?
Yes, it was. In fact, there were few days on the set when I didn't speak to anyone. When I had read the script, I realised there was one portion that was extremely intense and I didn't think I was well-equipped to shoot that kind of stuff. I thought I got lucky and I should make the most of the opportunity. It was very intense… I had to keep thinking about exactly what I was going to do in every scene.
How did you prepare yourself to play a forensic expert?
It's not so much about the job that he does... I'm playing a human being. He's a curious guy and the only thing he wants to basically do is to solve crimes. He's a father and a husband, plus a forensic expert. He's also chasing after a serial killer, he's a lot of things! I thought that I really had to understand the psychology of the character. Besides, I also read a lot on serial killers, so I was very well prepared for anything that was incorrectly done on the show. Thankfully, there was nothing wrong. When I was offered Asur, I was reading these books called The Swastika Killer and The Front Page Murders. I was reading all this stuff, so when I was offered this, I kind of used that thought process for the character.
What interested you about Asur?
Like I said, I read a lot of true crime, fiction and watch a lot of documentaries. You can go deep into the psychology of a serial killer and understand that the serial killers are not the menace, there's a reason why anyone becomes what s/he becomes. When I was approached and given the one-liner, I was interested. But at the same time, I was not very sure how well it'd be written because it was actually a genre that's non-existent in India and nothing has been written well. A few films that have happened have been terribly surface level according to me. I went with no expectations but the narration that I got was phenomenal and I was sold.
How was it shooting in Varanasi?
It was lovely and cold! Initially the plan was to finish the shoot in two months but it went on for three. It was a tight schedule overall.
You've worked in the digital space like The Great Indian Dysfunctional Family. Are you enjoying this space now?
Yes, of course. I'm loving the work that is happening on the web. It becomes difficult sometimes to perform something that you don't agree with intellectually. So, the work that is happening on the web now is great.
Any plans of coming back on television?
If they write something good, then definitely. I really wish that a few years down the line, I can write something good for television and do it myself.
So, what's next?
I actually have another web series called Halahal, based on the Vyapam scam, coming up for Eros Now.
And what are you streaming right now?
I watched the documentary Unabomber: In His Own Words on Netflix. It's Ted Kaczynski's interview, the Unabomber guy!