Is Kangana a female Salman?
They both have the ability to fearlessly take on people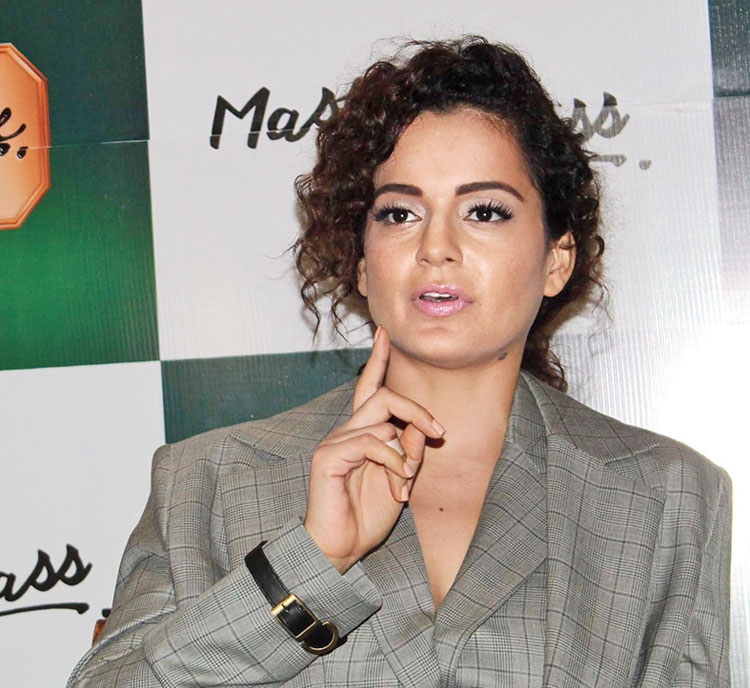 Kangana Ranaut
(Telegraph file picture)
---
Published 13.07.19, 08:55 PM
---
Both actors will react to this with a mortified, "Crazy hai kya?" But honestly, they have so much in common that most times Kangana Ranaut comes off like a female Salman Khan.
Straightaway, it's their ability to fearlessly take on people that's one similarity. Kangana, as we all know, has made pulling-down-a-name-a-day her calling card. She does it either directly during interviews and press interactions or through her sister Rangoli's Twitter account.
A direct one: At an India Today conclave this year, she talked of Karan Johar dismissing her on an IIFA awards platform as a jobless actress looking for work from him. "Look at my talent and look at your movies. Really?" Kangana quipped to much applause. Through Rangoli's Twitter account, she took on Varun Dhawan for not specifically mentioning Kangana's name in a tweet when he heaped praise on the trailer of the new film Judgemental Hai Kya, and then went on to call Taapsee Pannu a sasti (cheap) copy of Kangana. Frizzy hair competition, anybody?
The list got topped with Kangana going to war with the media as well. Amusingly, all the feminists in the media and the men who jump to support a woman only because of her gender, had blindly sided with Kangana when she took on Hrithik (ho hum, we won't go there). She became the favourite of every channel and TV show as a "feminist" voice.
Then Kangana began to train her guns on the media itself. As long as she was firing at her colleagues, they lapped it up. But the minute she attacked scribes, "boycott-Kangana" and "say-sorry-Kangana", the media fumed. Rangoli tweeted in Hindi, "You're asking the wrong person to apologise. You ain't getting a 'sorry' from her." She went on to call the media bikau (on sale) and desh drohis.
Down the years, Salman has also "unfriended" many including John Abraham, Shahid Kapoor, Arijit Singh, Priyanka Chopra and Vivek Oberoi, he doesn't work with Bachchan anymore, and he has refused to apologise to people like the Women's Commission. But his first and longest-standing tiff was with the media.
The Salman who plants interviews about how big a blockbuster he has delivered, is not the Salman we know. The one who didn't entertain journalists or interviews for the first 15 years of his career was the real Salman, immature but immensely gutsy. It is to his credit that he got his stardom without any magazine covers, or photo shoots or exclusive interviews. It was only after he'd become a name that he thawed, turned mature enough to handle any sort of question without breathing fire and began to have friends in the media, on his terms.
Salman and Kangana have also built their respective careers without the crutch of big names. Kangana did it without a single film with the three Khans or without any big banner support. Salman stumbled around and climbed up without being the favourite of filmmakers like Yash Chopra, Mahesh Bhatt or Karan Johar. Those who were around before Maine Pyar Kiya (1989) remember Salman, then known only as Sangeeta Bijlani's boyfriend, going for auditions and picking up what he got. Like that tiny role in a box-office failure called Biwi Ho Toh Aisi, opposite a girl called Renu Arya. With that kind of "break" he could well have become as obscure as Renu Arya.
Of course, Kangana had it tougher. Salman didn't have to get entangled with an Aditya Pancholi or drop his clothes to pose for Pahlaj Nihalani. He didn't have Sonam Kapoor making fun of his English or have to acquire a fashion sense. Most of all, Salman always had the sane and sensible Salim Khan to pilot him out of every tight corner he flew into. On the other hand, Kangana has Rangoli who's even more of a spitfire than the actress.
It would be interesting to have Salman and Kangana thrown together in a film. And watch the fireworks.
Bharathi S. Pradhan is a senior journalist and author