Vikrant Massey on playing Rishu in 'Hassen Dilruba'
'In the world of storytelling, nobody is right or wrong, to be honest. It's all about perspectives'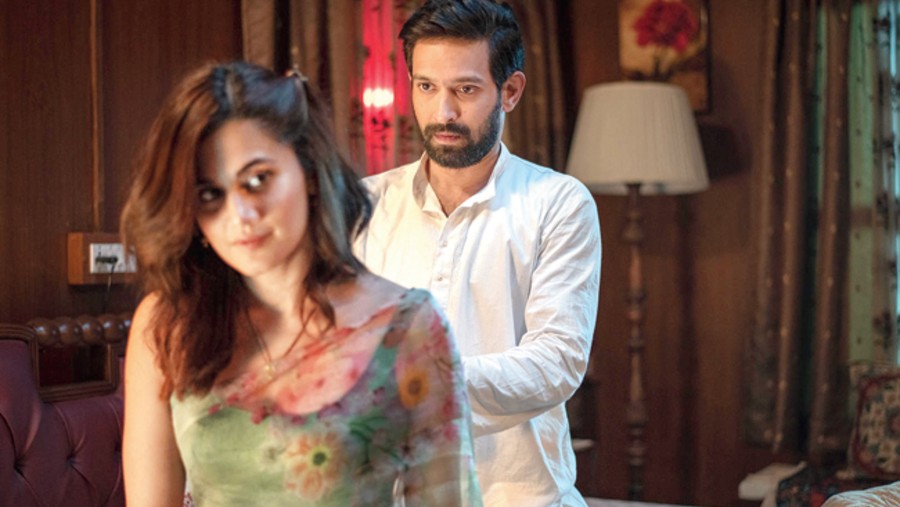 ---
---
Haseen Dillruba may have come in for both positive and negative reactions, but everyone is unanimous in the thought that Vikrant Massey, as usual, has nailed his part of a small-town man with shades of grey. The Telegraph caught up with Vikrant for a chat on the conversations around the film, his consistent release run in a world on pause and his progression to protagonist parts.
Rishu in Haseen Dillruba is one of the most intriguing characters you have played, even though both the film and the character have come in for reactions both good and bad. The film's romanticisation of toxic masculinity and domestic violence has come in for criticism. What would you say to that?
There are so many people who have loved both Rishu and Haseen Dillruba. Of course, there have been various conversations around the film. But I would rather focus on the positives, on the love and adulation and not on the other things that are being said. In a democracy, we are all free to have different opinions and that is absolutely okay. I just want to say that we all worked very, very hard on this film for the last two years, and then we waited very patiently for it to release. All of us want to think about the good things that are being said about the film and not the other conversations around it.
But conversations are always good, right? It's better than the audience being totally inert and indifferent to a film...
Absolutely, absolutely! Any form of conversation is always welcome. I am an out-and-out libertarian and I accept all kinds of views, without being condescending about it. Opinions are always welcome, and with social media around today, a lot of things are far more easily accessible and I definitely believe we are living in a healthy society. As a responsible citizen, I would like the conversation to continue. We make films for our audiences and if they are engaging in multiple types of conversations, then it's a healthy sign.
While you were playing him, were there any aspects of Rishu that you found difficult to reconcile with? Or do you, as an actor, operate from a standpoint of not judging the men you play?
I think all of us just need to stop judging. Period. And when we as actors pick a part, the first thing that we need to do is disconnect our own sense of morality from those of who we play. We don't live in a utopian world. We make cinema... we don't make public service announcements! There are millions and millions of kinds of people out there, with different mindsets and aspirations. And I really didn't want to limit or box myself... I want to go out there and play a part which is reflective of what a part of society is.
Cinema and other forms of art are reflective of the society we live in, and the day I start judging my characters... the day I start bringing in my own sense of morality... I think that day will be the beginning of the end of me as an actor.
I would like to believe I am a realist. And as I said earlier, I would also like to believe that I am a libertarian. In the world of storytelling, nobody is right or wrong, to be honest. It's all about perspectives. You agree with a perspective, you don't agree with a perspective... you are welcome to it.
Haseen Dillruba has been your fifth movie release ever since the world went into pandemic pause in March 2020, and you have 14 Phere coming up this month. How important has it been for you to consistently churn out releases at a time when not much has been happening out there?
It's very important for us to keep rolling and keep moving forward, and not just as an actor. All of us have had a very, very tough time in the last 18 months. I am fairly new in the world of cinema and I really want to be out there and tell different kinds of stories. I also want to showcase myself as an actor, my talent, my thoughts, my aspirations....
As an actor, I can only do my work. But when a film comes out, how it's marketed or where it's shown is not in my hands. My job is only to act. If I have four films coming out in a year, a lot of it is also dependent on the audiences. The audience perhaps wants to see me, and that's why my producers and writers and directors are backing my projects and releasing them.
Does it rankle somewhere that some of them could have easily been theatrical releases?
Absolutely! But there are so many things that are beyond my control. My job is to act and engage the viewer. I don't get into areas that I don't specialise in. Also, we have to understand that we are in the business of box office and it's the producer who takes the call regarding a film. If they feel a film needs to be shown in a theatre, they will wait. If they feel it can be shown on OTT, they will use that avenue. My job is to do my job with utmost conviction and sincerity.
Do you think we will slowly move past the system where actors are judged solely on the basis of their box-office pull?
I think that's already started, in some way or the other. Today, it's no longer about a film being big or small... it's now about how good or bad a film is. It's an incredible time to be a creative artiste, especially in the world of cinema. We have multiple mediums to tell our stories and if they resonate, people will welcome more such stories. And the world has shrunk...  we have access to information through word-of-mouth. You and I now have access to African, Scandinavian, European content.... We are far more seamless, there are no boundaries involved. We have adapted well to the changing times.
As someone who is an integral part of the business, how do you see the patterns of movie exhibition changing over the next one year?
Honestly, I am not qualified to talk about this because I haven't been exposed to the exhibition side of the business. But one thing I can say for sure is that consumption patterns have changed. People are now watching content on all kinds of screens, irrespective of their size.
Talking about your next release 14 Phere, that opens on Zee5 on July 23, the trailer is quite a riot!
I love the world it's set in. I am really blessed with great scripts. People say, 'Vikrant bahut achhe scripts chunta hain'. With all humility, I would like to say that a lot of the times, the script chooses me. Such is the case with 14 Phere as well. It's a social comedy. I resonate a lot with what the film says. It's an out-and-out entertainer, and that's what people need now.
How would you trace your progression from supporting roles to leading-man parts in the last two years?
It's been a mix of organic and by design. I would be lying if I say I didn't aspire to play central characters. I always wanted to, like any other actor. The progression has been conscious, and it's also been a result of how I have performed. If I hadn't done well on TV, I wouldn't have got parts in movies and if I didn't perform well in the smaller parts, I wouldn't have been considered for lead roles. Everything has a domino effect. But I want to keep my basics simple.