Talking 'Mafia' with Birsa Dasgupta
'Beneath the racy psychological thriller, Mafia is a social satire too'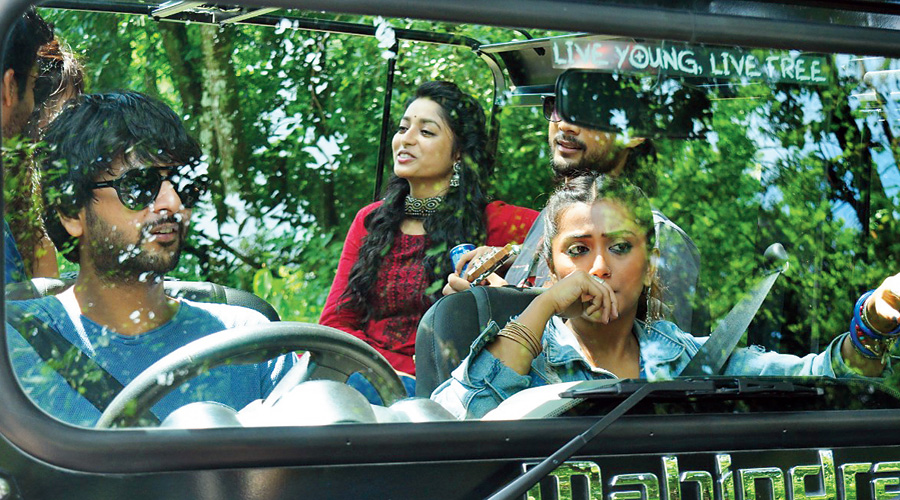 A scene from 'Mafia'.
Sourced by The Telegraph
---
Published 30.06.20, 10:21 PM
|
---
For film-maker Birsa Dasgupta, venturing into the world of the web was always on the cards. Having directed 10 feature films, Birsa started work on his web directorial debut in 2019. Now, the web series Mafia, directed by Birsa, starts streaming on Zee5 from July 10. 

We chat with Birsa...  
Why did you decide to direct the Zee5 Original series Mafia, which is a psychological thriller, after the film Bibaho Obhijaan?
Venturing into the world of the web was always on the cards. It is the future, rather the future is here already, and I am someone who always tries to flow with the time, I perpetually want to do the new. With 10 released feature films in my kitty, I felt it is now the right time.
What is the genesis of Mafia?

For over a year, Aritra Sen and Aniruddha Dasgupta, two friends, had been pondering over the idea of forming a story based on their favourite college life and house party game 'Mafia'. Their initial story found meat and shape when Rohan Ghose joined them to helm the scripting along with his team of writers. It finally took off when I, with my associate Shaket Banerjee and his team, DoP Gairik Sarkar, production designer Riddhie Basak and Co. came together to form a formidable squad.
How was the experience of directing your first web series?

Wow! That's the word to describe the experience. Directing Mafia has been my best film-making experience till date. I have learned so much, from the actors, the crew, and from the art form itself.
What were some of the challenges you faced while directing it?

Long format is always a challenge. Mafia is 300 minutes long and the bilingual double version obviously sums it up to 600 minutes of final content. Now that is like making five movies at one go! It is not easy to keep your focus and ensure everyone else's too for that long a period. Reason why more often than not in the West there are multiple directors for one show. But honestly, if I am directing a show, I do not want too many cooks to spoil the broth. Weather was a huge challenge, the lashing monsoon and the sapping heat. Eighty per cent of the series has been shot from sunset to sunrise. To top it all, wild elephants and a king cobra visited our sets!

Have you played the game Mafia?

I played Mafia for the first time while prepping for Mafia. And then many a time while shooting. The experience is thrilling I must say. It brings out the best and the worst in a person.
The classic memory game sequence in Satyajit Ray's Aranyer Din Ratri is etched in memory. One gets to know so much about each character. Does the game Mafia operate on a similar level — and then triggers something — in the series?

Yes, it does. Thank you for asking this question. The game exposes one and all. The game life becomes their real life. Mafia in some way is also a sarcastic take on the rash urban rich youth who indulge in sex and drugs at will; their privilege makes them reckless. They go to the rural outskirts and create a ruckus, as if they own it all because they are from the city and they have the power of money. Beneath the racy psychological thriller, Mafia is a social satire too.

The plot line revolves around "six college friends who reunite after five years for a bachelorette party in the jungles of Madhupur, where their horrifying past comes back to haunt them". The premise reminds one of Konkona Sensharma's A Death In The Gunj. Would you agree? 

I agree about the reuniting part, but Mafia takes off from there simply because it always runs on two separate timelines and at times blurring the transition from one time zone to the other. A Death In The Gunj is one of my all-time favourite movies.

A lot has been said about censorship in web series, which is more relaxed. Did you find it liberating when shooting certain scenes or handling themes or using language?
I mean I felt like I was capturing life like it is, not bothering about the regular dos and don'ts I face while making movies. So yes, I felt free and could express myself better, but I was always conscious of not using the opportunity to go overboard with anything. We wanted the make-out scenes to be filmed as aesthetically as possible, not making them vulgar or teasing.

There are a couple of graphic sex crime scenes in the series, and credit goes to Gairik, editor Sumit Choudhury, music director Nabarun Bose and sound designer Shomi Chatterjee for presenting them as tastefully as possible.
Tell us about the cast?

Zee5 and  Roadshow Films were already casting when I joined the team. Of course, I had my suggestions and inputs and we eventually succeeded in amalgamating a superlative cast. I am using the world 'superlative' not because of how famous which actor is, but because all of them can act, and that is such a delight for a film-making unit. How good the actors actually are is for the audience to experience when they watch Mafia, so let me tell you what other roles they played while working on set. Namit Das and Tanmay Dhanania took the responsibility of keeping everybody in sync. They would help the newer ones in the lot like Aditya Bakshi and Shaili Bhattacharya. Anindita Bose was the resolute one, she ensured everyone rehearsed the scenes before filming. Ridhima Ghosh was literally my assistant on set. Saurabh Saraswat and Ankitaa Chakraborty were chilled out, on their own, never fussing about anything, but always ready before "action". Ishaa Saha and Madhurima Roy were the two who had loads of queries but honestly all of it helped us.
How was it like working with Gairik, and how did you arrive at the tone, treatment, visual style?

I knew Gairik from my brother Ribhu Dasgupta's film TE3N where he was the second unit DoP. But Gairik and I became friends while making Shob Bhooturey. And now we are the coolest drinking buddies too. The tone, the treatment, the visual style and the mounting discussion was pretty simple, because when we both heard the narration for the first time, Gairik looked at me and said "Ki, reference Big Little Lies toh?" and I gave a smiling nod. Rest of it fell into place. We understand each other so well that we don't even talk too much on set. At times that's a little problematic for the rest because they too need to know how we are planning to shoot a certain scene, but here is where my associate Shaket Banerjee comes in... he understands both us to the T, and the three of us make a lethal combo.
Your first film 033 came out in 2010. So it's been a decade for you...

Two decades to be precise. I first directed in 1998; it was a documentary series named Khela o Dhulo based on the lives of successful but neglected sportspersons in Bengal. I made my first work of fiction Ekti Romohorshok Dakatir Goppo in 2006. Yes, my career as a moviemaker kicked off with the release of my debut feature film 033 in 2010. I am 40 now, and I feel as fresh as a daisy, ready to spread my wings, hobnob with the young and do the new!
The whole team was together outdoors shooting for an entire month. How was the experience? Was it liberating or did it get claustrophobic?

You said it! It was 'liberating' indeed. The best team ever, period. Can't tell you how peaceful it was. Yes, it was stressful but it was all so smooth. Thanks to the production team, thanks to the HoDs, thanks to the actors, thanks to all the technicians, this was my best shooting experience ever! I miss our jungle camp lodge, the drive to the bungalow, the tea gardens, the flowing stream... I miss the green and the smell of the rain. And I miss the company of all the beautiful people I had the privilege of mingling with.