'It's all about honouring the body'
Vidya Balan on her love for her self and saris, and how faith can move mountains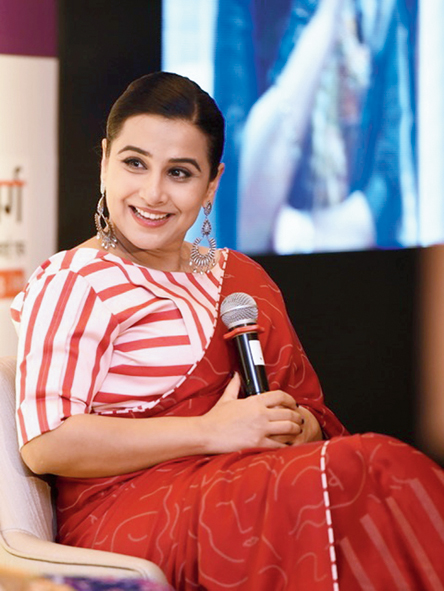 Ficci Flo president Jyoti Jain helmed the discussion with Vidya Balan at Vivanta Kolkata EM Bypass
B. Halder
---
Published 11.05.20, 08:01 PM
|
---
With a twinkle in her eyes and her usual infectious laugh, Vidya Balan wowed a group of lucky Ficci Flo audience members gathered at Vivanta Kolkata EM Bypass, earlier this year. In a chat with Ficci Flo president Jyoti Jain, Vidya shared her thoughts on loving one's body and acing the sari game. We took notes. Excerpts:

Believing in the universe
I have never approached anybody for work though there isn't anything wrong in that. But I think when you have that strong desire in you for anything at all, things happen. I did not even have a portfolio because I found the idea lame. But I trust in the universe and slowly but surely, I progressed in life. I have to thank my parents also because they taught me that people are trustworthy and angels appear from somewhere to guide you.
Overcoming obstacles
I was working on a Malayali film back in the day and it was stalled because of internal problems within the crew. My "energies" were blamed and I was termed ominous. That resulted in a lot of cancellations of projects and even I started believing that I was ominous. Even Euphoria's video (Kabhi aana tu meri gali) ran into trouble! That was my first project with Pradeep Sarkar and after that, I took off. So I think all of the setbacks happened so that I learnt how to value myself. And for me, in my life there's nothing bigger than faith.
Waiting for another The Dirty Picture
The Dirty Picture is all our secret dream and I am waiting for another one! That was a part of me that hadn't found expression until the film — it liberated me! I have always been a big girl and have grown up with body issues. I used to hate my body but The Dirty Picture made me fall in love with it. It happened when I had just lost a lot of weight with a lot of difficulty and then I had to put it all back on again. But people began to tell me that I was looking sexy and then even I started looking at myself in a new light — also, I had just met Siddharth (Roy Kapur).
Honouring the body
Until a few years ago, I was working out like a beast but due to some hormonal issues, I was still putting on a lot of weight. I love gajar ka halwa but I would deprive myself. However, last year I decided to just eat it and I ended up eating it more than 20 times during the season and I actually lost weight! So I have realised that it's all about honouring the body and not treating it with guilt. Put in the work required but don't punish yourself either. I also turned 40 last year and that has brought about some change in my mind too, which has helped me accept myself the way I am.
Substantial roles
I have always wanted to play substantial roles and invariably that wasn't happening with the commercial films that were being made. But at that time, I got offered the right kind of roles and I grabbed the opportunities. So it is my greed as an actor, my love for myself as a woman and the timing — all of it came together! And look around us na — more and more women are leading their lives on their own terms.
Sari love
It looks good on everyone. I haven't seen a single person on whom it does not look good! It was Sabyasachi (Mukherjee) who pushed me into owning the sari and told me to wear it if I loved it so much. You always look good in things that you feel good in and that changed something in me. And now, wherever I go, people gift me saris. And the range of saris we have in this country is astounding! Now, a lot of designers are contemporarising the traditional weave — like Gaurang Shah and Sanjay Garg, who are doing a great job. Saris are also very cool now and I hope they wear it more often though. It may not be a great sight but honestly, I feel like I can somersault in a sari!