'I have not done anything, people have rediscovered me': Milind Soman
Milind Soman on marriage, fitness and holidays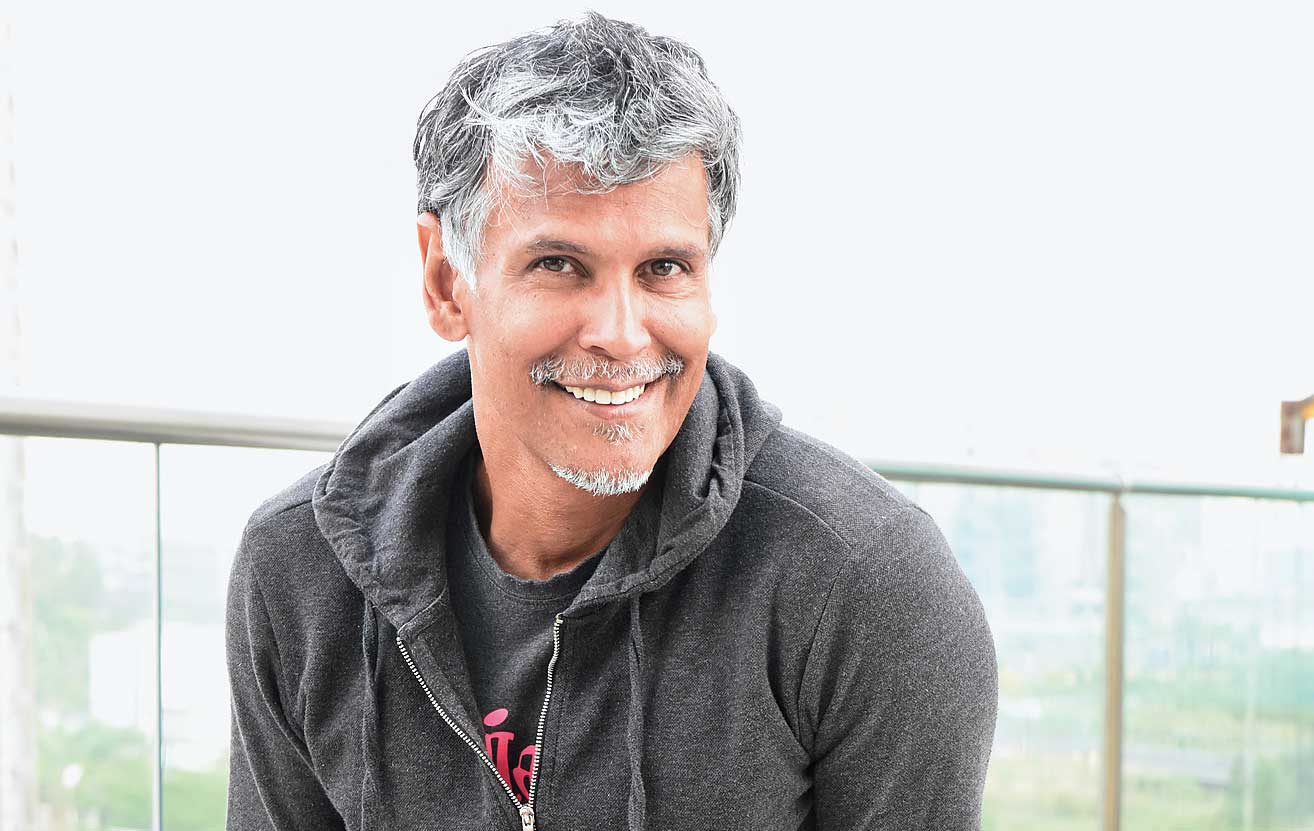 Milind Soman at The Westin Kolkata Rajarhat
Picture: Pabitra Das
---
Published 01.04.19, 05:20 PM
|
---
Distressed denims, grey hoodie, slippers, salt-and-pepper hair. Milind Soman sauntered into The Westin Kolkata Rajarhat lobby on a Wednesday afternoon recently, with a smile on his lips. The 54-year-old was in town to talk about the third edition of the Calcutta leg of Pinkathon — India's biggest women's run that he organises — on April 7. Over the next hour, t2 chatted with Milind on everything from marriage to fitness to holidays.
How is marriage (to Ankita Konwar) treating you?
Good! Very fast (smiles)… one year. But we were already together for five years, so it didn't seem that different.
So, no change really?
No, there is a big change.
Like what?
Hmm… basically you cannot think for yourself, you have to think about somebody else. So anything I do or anywhere I want to go, anybody I want to talk to… (laughs out loud), I discuss it with her.
And you have been travelling a lot too!
Now I travel a little bit more because my wife likes to travel for a holiday. I never used to travel for a holiday. Now I travel for pleasure which is different, which is also good in a way, relaxing. I just came back from Maldives and I have always wanted to go there, but there is no work in the Maldives for me to do, so I never went. Actually, they asked me to come and run in the marathon, but lots of people ask me. I wouldn't have said 'yes', unless she said: "It's really nice, we should go'.
Also, she wanted to learn how to swim and the reason she doesn't swim is because she is scared of water. So, scuba diving is a good way to overcome your fear of water because you are under water, 20-30ft, and you don't need to be a swimmer to be a scuba diver. The fear of drowning is not there. It is actually an unreasonable fear. Why would you be afraid of drowning? You are always on the surface. So, however deep the water is, it doesn't matter and swimming is a natural activity. It is only fear that stops you. I have been to beaches in many parts of the world, but Maldives is amazing. The country is very small, people are simple, each island is so tiny and the food is good.
What did you eat?
Fish. They export tuna (smiles)… there are 20 different things made only from tuna. They have a tuna curry they eat with chapatti which they call roshi. I just ate that all the time.
In the last one year, where all did you go?
Rewinding… so Maldives in March, Greece around my birthday where we also ran the marathon, Sri Lanka for New Year's. We run the Last Long Run every year where we go to a different place every year and run 150km on December 30 and 31 and then we have a party. This was the sixth year of that. Last year we had run in Dharamsala, before that it was from Goa to Gokarna…. This year it's going to be Japan. We went to Portugal and Spain. We did a 400km trek from Lisbon to Santiago.
So, you are picking adventure holidays?
There are certain dates now I have to do something for, like my birthday, her birthday, wedding anniversary, first meeting anniversary…. I have to plan. Now, I have told her for the one-year anniversary of the wedding (April 22), she has to choose.
No chilling-eating-shopping holidays for you?
For my birthday when we went to Greece, it was like that. She always wanted to go to Greece. We were supposed to come back on the 7th (November), my birthday is on the 4th. A friend of mine who is also a runner messaged asking if I was participating in the Athens marathon. It was on the 11th… so we changed all our tickets and ran the marathon. She was not even ready. So I trained her in five days. She runs regularly, but had never done a full marathon. This was her first full marathon. I ran with her throughout. After that she has done three.
For me, a holiday is doing something else apart from what I normally do. Diving for example, which I love. I cannot dive anywhere in India but in Lakshadweep and the Andamans.
Do you have a wish list of places you want to go to?
We are going to Zanzibar which also has really good diving. We'll climb Mt. Kilimanjaro first and then we'll go diving and then may be a park, which is very relaxed because you are sitting in a jeep.
Your life sounds amazing!
It's quite amazing, I must admit. It's beautiful.
So, are you enjoying the most now?
I have always enjoyed myself. Sometimes I feel guilty about enjoying myself so much. I was allowed to do what I wanted and I was always able to identify the things that interested me. Nobody wants to sit in an office and work… I have never met a person who says that 'Oh! It's my dream to sit in an office from nine to five!' (Laughs out loud) I find it very easy to say no. To me it is important that you have to be able to say no. It's not your fault that you don't want to do something. Today we have a lot of choices, but we don't see it because of the conditioning we have. I never say no to an opportunity that I know nothing about.
I am not interested in clothes but I like fabrics, so I worked with Madhu Jain for sometime to develop some weaves. That's why she made our wedding outfits because there was a particular weave that we had worked on and a particular motif… running bulls. I had told her I wanted to wear that. She wove the sari, the dhoti and kurta.
I was never interested in being an actor. Mansoor Khan was the person who asked me to do a film. I worked for Jo Jeeta Wohi Sikandar for a few months. Then we had a kind of fight and I left and then they cast Deepak (Tijori). I liked the film… very nice film…. I am doing a biopic next.
What kind of things do you like watching?
I watch only Marvel, DC… X-Men… superheroes only… fantasy, The Lord of the Rings, Game of Thrones.
Who is your favourite superhero?
Superman.
Now tell us about Milind Soman 2.0, post your reinvention as a fitness icon...
I have not done anything, people have rediscovered me. I have been fit all my life. I used to swim 65km a week. I don't even run 65km a week now. It all started with when I did the Ironman (a triathlon including swimming, cycling and running) four years back. That was definitely a big turning point.
Now it's like this whole thing with age… 'Oh, he is 54… it's amazing'.
The idea behind Pinkathon was why aren't women running. I was curious. It became a big thing. It started changing people's lives, but I try not to take credit for that. We have just created an opportunity.
What is your message for the women of Calcutta ahead of the April 7 run?
The event is not for sportswomen or athletes. It's for women who have never run. I find a lot of people get intimidated when you talk about running. This is the first step towards fitness, understanding running, the first step towards joining a community of women who can then encourage and motivate you.
A sneak peek at Milind's diet...
The only thing that guides me is balance. Everything that I eat should be whole. So, no supplements. A healthy lifestyle means doing natural things.
Normally I have a lot of fruits, about three kilos of fruits in the morning. I have a whole papaya, half a watermelon and four-five bananas, four or five seasonal fruits… mangoes or figs. Then I have some porridge, ragi, oats, upma, dosa. Then I have lunch which is rice and dinner which is rice. I have rice, dal and vegetables. For dinner, I never eat non-vegetarian food. Earlier I used to eat a lot more roti, now I eat a lot more rice. It is easier to digest.
As you grow older, you should definitely eat less. That has to be a conscious decision. To understand what you need is important. I have cut down on milk… I eat yogurt and ghee.
I don't have refined food. I have been having millets for many years. Even our oil comes from the local oil ghani.
Milind's fitness goals...
I try to maintain a level of fitness with which I can do anything. So, if I want to do an Ironman tomorrow, I don't train for it. All these events are actually designed for any averagely-fit person to do. So, I am not doing anything extraordinary. We think it is extraordinary today because our standards have dropped so much.