Hrithik Roshan pads up for life... and War
'That guy who I want to be, that actor that I am aspiring to be is always better than me'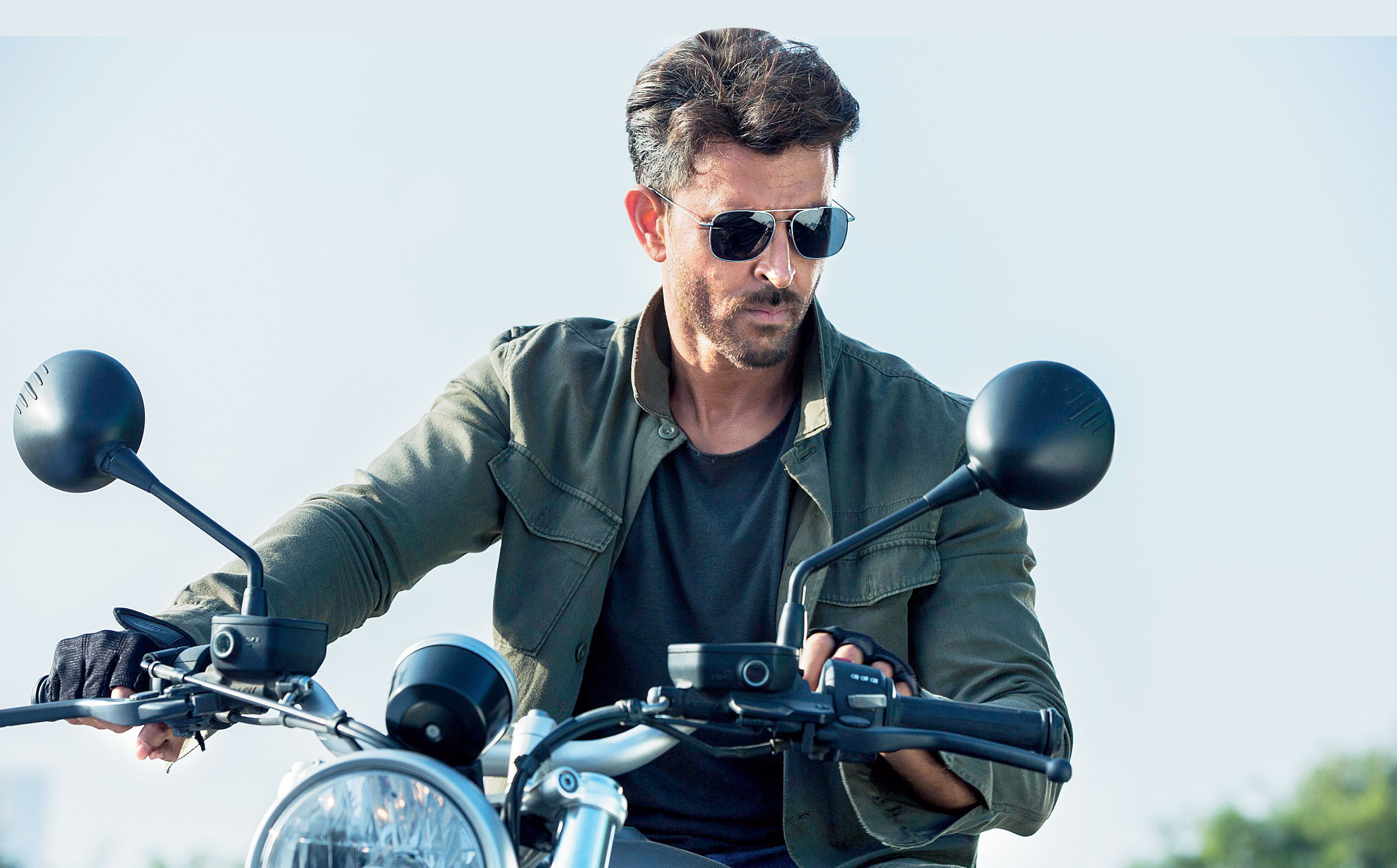 Hrithik Roshan as Kabir in War, releasing on October 2
(Still from the movie)
---
Published 24.09.19, 01:27 PM
|
---
Three months ago, Hrithik Roshan slipped into the sandals of real-life 'superhero' teacher Anand Kumar in Super 30. The inspirational film — backed by a stellar act from Hrithik — powered into the Rs 100-crore club, and brought the 45-year-old actor back into the box-office game. With War — the high-octane action biggie hitting theatres on October 2 — the actor, with a chameleon-like ability to shift between roles, has pushed himself to acquire the walk and talk of a super agent. t2 caught up with Hrithik for a chat on his physical transformation for War, his look-ahead mantra and why his career continues going great guns.
War is one of the most anticipated Bolly films of 2019, with everyone tripping on Ghungroo and looking forward to the face-off between you and Tiger Shroff. What are fans coming back to you based on the promotional material that's been put out so far?
I think what I am noticing most is palpable excitement. There's a lot of excitement in the air for this film. I can't remember the last time I felt this kind of energy from the audience for a film. This is something that they are definitely expecting the world out of and I hope we are really able to deliver. Somewhere, I feel we will be able to deliver.
It's a two-hero film after a long time… we don't really get to see two-hero films these days. There's genuine excitement about Tiger and me coming together. There's been appreciation for my character, Kabir. For his greys, his composure and the way he says his dialogues. There's an air of mystery around him. That's something that has penetrated the audience and which I was looking for. The film keeps you guessing whether he's the good guy or the bad guy…. (Pauses) Okay, he's not the bad guy, but there's definitely this mysteriousness about him.
The action in War seems to be of a never-seen-before standard in Bollywood. Is that one of the hooks that made you sign the film?
For me, action really is the intellect and the process that the characters adopt to navigate through their problems in the film. That's where the action lies, in the script. It's in the thought process of the characters. Action is not just about cars blasting or planes crashing… it's actually the strategising and the intellect that's adopted by the characters. After a very long time I got a script where the characters were treated as intelligent people. And that's what I got attracted to the most.
You really had to push yourself physically to play this role. How challenging was that given you are anyway quite fit?
I was coming right out of Super 30 where I played a teacher. After finishing that film, I found myself to be completely out of shape. My body wasn't conditioned… it had lost all its speed and agility. My waist was 37.5 inches. It was a pretty difficult place to be in and I had only two months to get into shape. It was an impossible mission presented in front of me and I desperately asked my director (Siddharth Anand) and the producers (Yash Raj Films) for more time. But unfortunately, they had some dates locked and some outdoor schedules fixed and so I really had to push myself to get to that place physically that you will find me in in War.
This transformation from Anand Kumar in Super 30 to Kabir in War has been one of the most difficult challenges I have ever faced. It lasted throughout the making of this film because 24x7 I was trying to get back into a conditioned state. This transformation has been a story in itself and my team decided to shoot it. If at all it looks good (laughs), I will put it out on my social media platforms.
What gives you a bigger high —getting into the mindspace of a cerebral character like Anand Kumar or pushing the limits physically to portray someone like Kabir?
Ultimately, it's about hitting a note in your head for any character that you play. There is an upper marker in my head for every character that I play and the idea, the mission and the journey is to reach that peak, to hit those notes. It's a constant process, every little drop in the ocean adds to it. Every little nuance that you add to a character shapes it a little bit more. I do that with all my characters. But with Kabir in War, there was an added element of the physical mould that I had to achieve. I had to look a certain way because Kabir is an agent. That added some pressure. I had to make quite a few sacrifices and that made the process 10 times harder. It entailed sacrificing going out, giving up on spending time with friends and family…. I was continuously spending time in the gym, I had to give up on eating some of my favourite things (laughs). It was quite traumatising, actually, to build my body for a character like this. It added stress to the work I had to anyway do as part of being an actor on this film.
Tiger has consistently maintained that you have been his biggest inspiration. What was it like sharing screen space with him and was there anything that you learnt while working with him?
I admire Tiger for many reasons. I think Tiger will last in this industry for the next 50 years! He's got the talent, his discipline is in place and so is his process. He's definitely someone who is going to be here forever. Shooting with him has been an absolute pleasure. It was such an energising, warm, kind and loving environment when we were on set. He's a very, very strong guy, you know… mentally, physically and spiritually. He holds his own in front of anyone, no matter what. Nobody else could have done this role, no one else could have taken his place in this film.
You did another action film, Bang Bang, with director Siddharth Anand. In War, did the two of you take off from where you left off in that film? How have you seen him evolve as a filmmaker from then to now?
Oh, I have infallible faith in Sid and the way he presents his views and his vision. There are very few filmmakers who have the balance of the old school and the new school. Sid has that. He's a great guy to work with. He's perhaps one of the few filmmakers in the country who can mount a film on a scale as huge as this and yet weave in the finer nuances of emotions and relationships within that space. Normally, when you spread out that wide, you lose focus of the finer, minor details. Sid has a handle on both, he has one eye on the scale of the film and yet his heart is always with the emotion of the scene. For an actor, that's very assuring and comforting.
War comes less than three months after Super 30, which did phenomenally well at the box office. Does that give a boost to your confidence or would you have ideally liked to space out the two films?
Well, it's definitely been exhausting! Having back-to-back post-production work done on two films, plus some shooting schedules in the middle and then promotions... it has been quite tiring. But it has all turned out to be worth it. Having the encouragement of the success of Super 30 behind me is a high. It just tells me that this was meant to be, all the hard work was meant to pay off. The delay on Super 30 was, in a strange way, a good thing because it gave me an opportunity to connect with my audience with two films that are releasing so close to each other. That, in itself, has a different kind of joy, you know.
It's been 19 years since you burst into Bollywood with Kaho Naa… Pyaar Hai. Do you ever rewind to the career you've had or is the mantra to always look forward?
I only look back to check on all the lessons that I have learnt… things that I can take from my life and career and contribute back to the world and to my children. I only look back to the experiences that have taught me something. Apart from that, there's no point. I don't really give into nostalgia (laughs). I believe one needs to live in the present moment and feel good about the fact that one has reached here after struggles and a lot of ups and downs. I feel good about that, but I don't indulge in the past. That's how I look at life... I constantly live in the present.
Every film of yours is still eagerly looked forward to, despite the entry of a plethora of generation-next stars who have films releasing every few months. Do you ever analyse the reason behind the longevity of your career?
I don't know, you know. It's a tough question to answer. But perhaps what works is that I have a very consistent vision of my future self and I am constantly journeying towards that vision. That guy who I want to be, that actor that I am aspiring to be is always better than me, and I am striving to inch closer and closer to that person. I feel that somehow manifests itself to the audience and makes them still look forward to me and my films.