Being Hrithik
Next January it'll be 20 years of Hrithik Roshan. From Kaho Naa… Pyaar Hai in 2000 to War on October 2, 2019, he has starred in about 25 films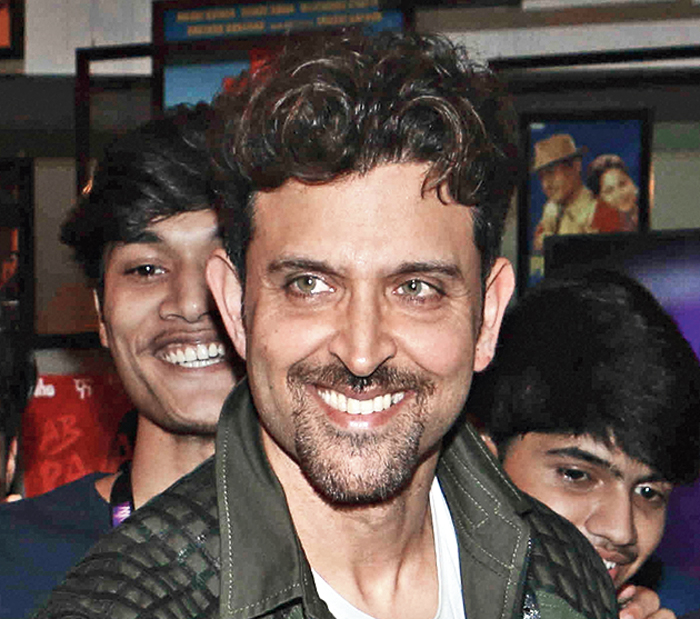 Hrithik himself puts the release of two diametrically opposite films — a delight for any actor — to, "Pure destiny. Not planned. Sometimes, the universe plans it all better."
PTI
---
Published 28.09.19, 06:38 PM
---
Next January it'll be 20 years of Hrithik Roshan. From Kaho Naa… Pyaar Hai in 2000 to, ironically, a film titled War on ahimsa-promoter Gandhi's 150th birth anniversary on October 2, 2019, he has starred in about 25 films, lately with gaps of one to two years between his releases.
Hrithik had two films in the theatres way back in 2006 when Krrish was followed by Dhoom 2, both big hits at the box office. And then, instead of making the most of his commercial viability, he disappeared for the next two years to emerge with a fine Jodhaa Akbar in 2008. But once more, he didn't encash it, preferring to surface with Kites and Guzaarish in 2010, after another two-year gap. This time they were both failures at the box office. But it was a momentary stumble as Hrithik came back with three consecutive hits for the next three years — Zindagi Na Milegi Dobara (2011), Agneepath (2012) and Krissh 3 (2013).
So was it super stardom after that hat-trick? Surprisingly, his career turned curious thereafter. He had a weak Bang Bang in 2014 followed by a completely disastrous Mohenjo Daro in 2016 and an averagely successful Kaabil in 2017. This at a time when other actors such as Ajay Devgn and Akshay Kumar, who were older than him, were rolling out hit after hit in a variety of movies.
It certainly looked like Hrithik — with his spiritual bent of mind — was not seeing the red flags around him as he continued, unalarmed, at his own pace.
The family holidays he did with his sons and ex-wife, and unfortunate bits about his sister, Sunaina, were the only stories one read in the media as there wasn't much activity to report from his workplace.
Trace it to his Zen-like calm but, somehow, he didn't seem ruffled by anything that was happening around him or to him, no panic buttons were pressed. What he did was to work leisurely on Super 30, a substantial, inspirational biopic for sure, but not what the trade would label "safe". The film, which was to have been in the theatres sometime last year, also took its time to reach the audience. When it did, Super 30 turned out to be worth the wait but by then there was once again a two-year gap after his last release in 2017.
Also, with his tanned makeup and the overall seriousness of his character, this was not the dancing-and-fighting matinee idol anymore. Since he hadn't been spotted in that avatar for nearly half a decade, had that handsome Hrithik gone into hiding forever?
That question will find a resounding answer on October 2, when Yash Raj Films releases its Hrithik-Tiger Shroff action fare called War.
The following inside info is not from the PR department but take it as something that's coming from a privileged situation one was in a fortnight ago.
A stylish and lavishly shot film along the lines of a James Bond thriller, War zips from Delhi to Morocco to Italy, Portugal and Kerala. It is as commercial as they come with Tiger Shroff's stunts and even a dance between the two heroes who are known for their nimble footwork. It is not quite a dance-off between rivals like Madhuri Dixit and Aishwarya Rai in Dola re dola (Devdas, 2002) or Priyanka Chopra and Deepika Padukone in Pinga (Bajirao Mastani, 2015) — Hrithik and Tiger are mentor and protege in War, clearly two different generations.
It is an interesting turn in Hrithik's career. Not only does he have two releases within four months with dramatically different roles, he has also allowed the greys in his hair to come in quietly and gracefully. In the new spy story, Hrithik is the handsome hunk of a soldier-gone-rogue. But he is the senior charmer while Tiger provides youthful energy.
Hrithik himself puts the release of two diametrically opposite films — a delight for any actor — to, "Pure destiny. Not planned. Sometimes, the universe plans it all better."
Spoken with the tranquility associated with him, there does seem to be a method in the non- attached calmness that Hrithik believes in — with a nod from the universe.
Bharathi S. Pradhan is a senior journalist and author