I don't work with unprofessional actors: Neeraj Pandey
The film-maker on working with Akshay Kumar and being boxed into the thriller genre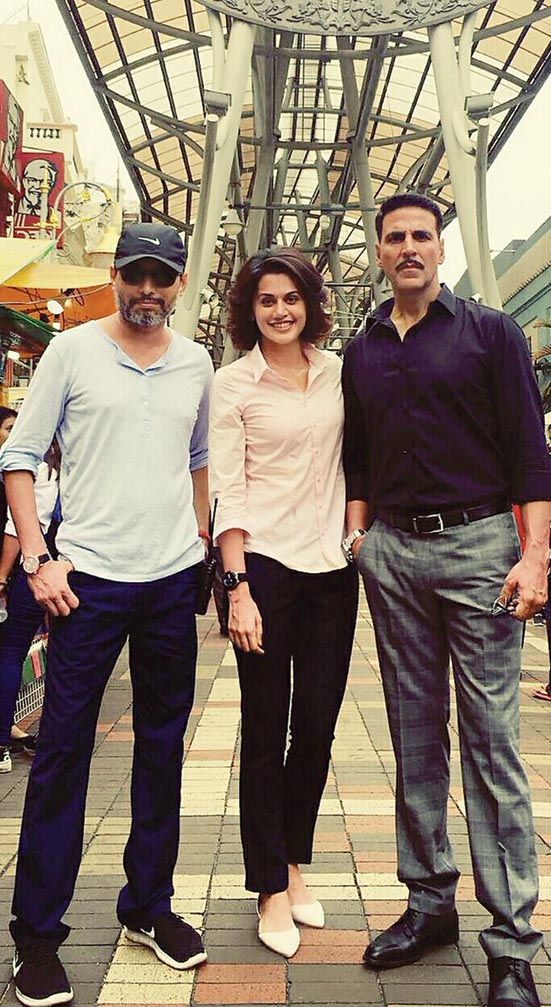 ---
---
Film-maker Neeraj Pandey is the man who's given us some of the most compelling thrillers in recent times. Starting from his debut in A Wednesday! followed by edge-of-the-seat watches like Special 26 and Baby, Pandey — who was born and brought up in Howrah — has shown how good he is when it goes into delving deep into the world of crime and espionage. His latest hit is Special Ops. The web series on Disney+Hotstar puts a stellar Kay Kay Menon in the middle and blends fact with fiction in the way only Pandey can.
Recently, Pandey interacted with the members of Ficci Flo Kolkata through a video call to talk about his films, his craft and the world of his thrillers. The chat was moderated by Mumbai-based critic and journalist Udita Jhunjhunwala. We joined in and took notes. Excerpts from the conversation...
Have the last few weeks been about respond, recover and revive?
In more ways than one. Last year was very hectic and exhausting. Special Ops was a very exhausting project in terms of time, focus and energy. We were travelling all over, and just to look at the positives of this scenario, it's been a good time to recover, spend time with family and rejuvenate.
Calcutta is a city you know pretty well...
(Smiles) I can claim so, ya. I was born and brought up there and it's home in more ways than one. Lots and lots of memories there. I owe a lot to Calcutta for the person I am today.
Did you grow up on a lot of cinema?
Ya, I was a cinema buff. I used to bunk school and go to the movies. I can now claim so proudly because I landed up in this profession. I loved going to theatres, watching all kinds of films... Bengali, Hindi, English.... I still miss those theatres... Lighthouse, Globe... lots of good memories. I remember it with a lot of love and nostalgia.
Did that influence your journey into moviemaking and storytelling?
I don't have a family connection in films, and being a lover of cinema obviously contributed to my desire to make films. At that time, I had no idea I would land up in films. But on a subconscious level, while I was watching films, I started thinking, 'The story would have turned out better if it was made like this'. Ideas started coming into my mind and sometime in '95-'96, I decided that films was the profession I wanted to chase.
And there was no turning back?
I just discounted all options, honestly (laughs). I promised myself that I wouldn't do anything else. I never allowed myself to think in that matter. I deep-dived into it.
Your first script was a love story and your second, a romantic comedy. Is that right?
Yes, the first script that I wrote was a love story... and a rather expensive one, actually. When we started looking for financiers, the feedback that Shital (Bhatia), my partner, and I got was it needed to be scaled down to raise 'X' amount of money. I decided to leave that and write a relatively lesser-budget film. I wrote a comedy set against the backdrop of show business. I met with the same response and I aborted that too. I started looking out for another idea and it was sometime in 2006… the Bombay train blasts had happened. The collective angst and helplessness that everyone felt at that time was the starting point of A Wednesday!
Will those two projects ever get made?
(Laughs) I haven't made them yet. Maybe, I will turn to them some day. Those are on the back-burner, as I keep looking for new ideas.
If those two films had been made, do you think you would have still gravitated to the thriller genre?
I am sure about two things. Even if my first film was a love story, I would have eventually made the films that I have done. Also, I wouldn't have got boxed in as a 'thriller film-maker'… it's bizarre how people always want to box you, to identify you as a certain kind of film-maker.
You may be boxed into a genre, but you've made a blockbuster biopic (M.S. Dhoni — The Untold Story). What drew you to Dhoni's story?
I love the game. I played for my schools and clubs in Calcutta. It dawned upon me quickly in life that I didn't really have a career in cricket. The people who brought the story of M.S. to me, I told them, 'Look I love the game, but I need to know more about the man'. I said I needed a one-on-one meeting with M.S. to know him better and to decide whether I wanted to tell this story or not. I didn't want any family or friends around him when I was talking to him. That's how the project started.
Once I got to know his journey through him, that's when I realised it's a fantastic story about the making of M.S., more than just being a biopic. It was a story essentially about the making of a champion. For me, it was a very inspirational story.
Special Ops was phenomenal and people are still watching it and loving it. We are all dying to know if there will be a Season 2...
That was the idea even before we went in with the first season... we want to brand this franchise. 'If the audiences like it, then it should be franchise-able'. That was the idea we started with. And now that it's met with such a tremendous response, we are definitely contemplating it. It's a slow process because of the situation we are currently facing.
We want to look beyond a franchise with this. There are bigger plans that we have with Special Ops... something that we haven't attempted in this country before. We are looking at it in a much, much bigger way than just, 'Chalo, Season 2 karte hai, phir Season 3 karte hai'....
In the thrillers that you make, how do you meld fact with fiction?
I try and imagine a canvas and say, if I am chasing a blue colour, I have to make sure that my blue doesn't differ from the ones that are already on the canvas. It needs to blend in and have the same tone. So in my films, fact and fiction need to blend in a way that it becomes a cohesive story. It's a very basic and simple process I follow.
How do you know a story will make a good film?
Intuition... gut. It's a very valid question because we do a lot of crystal ball gazing in this business (smiles). Right now, we are writing Chanakya (starring Ajay Devgn) and that journey has been on for approximately four years. So we really have to journey into the future to ensure that by the time we come out with that film, there will still be an audience waiting. So I just follow my gut... I don't overcomplicate it with data or analysis.
You've worked quite a bit with Akshay Kumar. He has a totally different discipline compared to the rest of the industry. How do you work with that and around that?
I love the concept of discipline. So to have someone who reports on time and finishes his work on time is the best thing anyone can ask for. It's anyway a very basic thing that anyone can ask of any talent, but in Bollywood it's revered because agar star time pe aa jaaye toh bahut badi baat hai. Mujhe aaj tak samajh mein nahin aaya ki kis pe ehsaan kar rahe hain yeh log?(Laughs) A unit of 300 people is waiting for you... you better turn up on time. But yes, things have changed.
Also, Akshay is a great listener. He gets me very easily and once we discuss a project, on the set we just execute them seamlessly. We turn around projects in quick time. He processes things very fast and his understanding is great in terms of the films I make.
How do you handle unprofessional actors?
I just don't work with them. But today, things have changed, there are very few actors who are unprofessional. I haven't really come across unprofessional actors. I have worked with very disciplined people... whether it's Akshay, Mr (Naseeruddin) Shah, Mr (Anupam) Kher. Or in Special Ops, like Kay Kay (Menon) or the newer lot like Karan (Tacker). Before I cast, I meet that person and I rely on my gut to decide whether this will be a good journey with that person. I pick my team very judiciously and I just do my work.
You were supposed to go on the floors in October with Chanakya. Given it's an epic film that will require a lot of work and manpower, how will you rework it in the post-pandemic world?
Every kind of film shoot requires a lot of people, not just an epic film. We will obviously get affected by the situation and the shoot looks set to get postponed. We will have to adapt. We are going to see a sea change in how people conduct themselves on set. Having said that, I believe that cinema has survived everything... and this too shall pass. I am optimistic and I am hoping we see the end of this soon.