As a society, we were more emotional once: Irshad Kamil
The Bollywood lyricist and poet says freedom of expression means staying within prescribed limits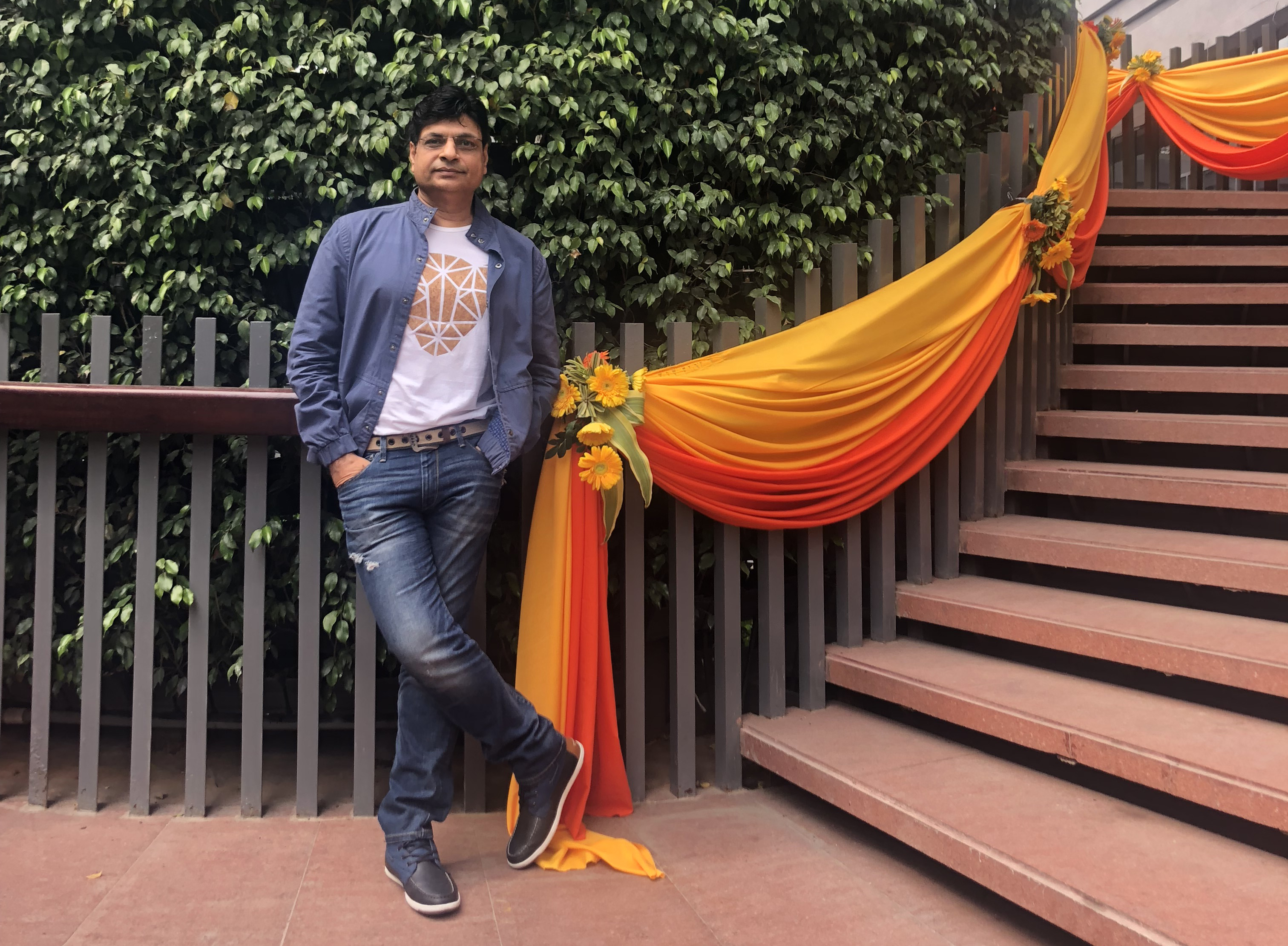 ---
---
For a lyricist, Irshad Kamil sure has a sense of irony. His caller tune is a song from the Ranbir Kapoor-starrer Rockstar, sung by Mohit Chauhan. It goes: "Jo bhi main kehna chahun, barbaad kare alfaaz mere... Whatever I want to say is ruined by my words."
Perhaps even more ironic: these words belong to Kamil himself.
I meet Kamil at a five-star hotel in east Calcutta. The 48-year-old is in town to talk about his book — Kaali Aurat Ka Khwab. It is about his first Filmfare Award and the journey to it. He is wearing a T-shirt and ripped jeans, and a jacket with shiny buttons. Perched on his nose are rimless glasses and there is a string of sweat beads on his forehead.
This is the man who has written songs such as Nadaan Parindey, Agar Tum Saath Ho, Patakha Guddi and Baby Ko Bass Pasand Hai. Life. Melancholy. Woman power. Dhinchak. As we get past the exchange of pleasantries and into small talk about how his lyrics are the stuff of social media posts, the soft-spoken Kamil orders another black coffee — his third in an hour.
If moved by his songs you have ever tried or are planning to google the man, know this: you are not getting to know much beyond his work. Discreet, I ask. He replies, "I am not an advertisement."
But that does not make him reticent either. He is happy to talk about his poetry — turns out he wrote his first one in the late 1980s. He says without sounding the least bit pompous, "The reason people like my poems and lyrics is because I don't talk about fake emotions. I put myself in the shoes of the audience. And I talk about the real life. Aap samajh rahe hain na? Yeh reality ke zameen se nikle hue shabd hain..."
It seems no one in Kamil's family had an ear for music. His father was a chemistry teacher at Government College, Malerkotla, and he pushed all his children to study science. Kamil, alas, was an arts enthusiast. He wrote poetry and acted in school plays. In college, he tells me with some pride, he was the prolific writer of love letters for self as well as others. He quotes Urdu poet Bashir Badr as if in a toast to those days, "Jis par hamari aankh ne moti bichhaaye raat bhar, bheja wahi kaagaz usse, humne likha kuch bhi nahin."
Eventually, our conversation shifts to political correctness in the creative arts, in day-to-day life. "People try to be politically correct, but that's the problem. I have never tried to be," he waves his hands animatedly to make his point.
I nudge Kamil towards specifics before he floats away on another rivulet of verse. As a lyricist, does he have freedom of expression? He unleashes a torrent of thoughts, "Of course, there is pabandi [restriction]. What the sarkar calls unrest is basically kranti [revolution] and kranti comes through the pen, through words and writings. People know there are particular forms of art and culture where it all comes from. And this is not new. It has been there since Safdar Hashmi's times. We have expression of freedom but there are limits too. Till you praise them or agree with them, you have the freedom…"
Kamil wrote a song called Mere Achchhe Din Kab Aayenge for the 2018 film, Fanney Khan — Do roti aur ek langoti/Ek langoti aur woh bhi chhoti/ Isme kya badan chhupayenge/Mere achchhe din kab aayenge. "Just because of this song, the movie was put on hold by the Central Board of Film Certification," he says. The song was tweaked and later released as Achchhe Din.
Kamil talks about how he dropped out of engineering. He fled to Shimla from his hometown in Punjab. Decided not to return for the next nine months. Joined theatre and earned Rs 45 a show. On returning, he decided to pursue Hindi for his graduation. The writer Irshad Kamil was in the making. His dimples nearly swallow his cheeks as he says, "Some people say I am a closed-door rebel."
I tell Kamil that for someone who goes by that epithet, he is surprisingly controversy-free and he furrows his brows. "Do you know about Pahal patrika," he asks. Seeing my expression, he starts to talk about how he is the only "filmi geetkar" to have poetry published in this Hindi literary magazine. He takes out his phone from his jacket pocket and reads out loud a poem titled Jootey — a journey of the shoes by the shoes.
His poem Tum Mujhe Tanaav Do talks about problems of the increasing population and the government and ends with an altered version of the famous line by Subhas Chandra Bose. It reads, "...tum mujhe tanaav do, main tumhe khadi dunga. Tum mujhe khoon do, main tumhe abadi dunga."
In his poem Dekhna Na Bhuliye, he talks about a certain person who comes on television at 9pm, and resembles a bhediya or wolf. In other poems, he addresses issues such as Ram Mandir, Kashmir, India Shining, Sabka Saath Sabka Vikas and so on and so forth. He reads bits and pieces of his work from his smartphone with care, as if he were handling a piece of glass or a child. At the end of the narrations, he keeps his phone aside and says, "I am also a progressive and socialist poet." I joke that maybe he was destined to be a poet because he was named Irshad. He laughs, for a good couple of minutes. Then narrates the story behind his name. His family does not believe in surnames and till he appeared for his school-leaving exams, his name was only Irshad — his mother had been inspired by the All India Radio show, Tameel-e-Irshad. Later on he forced his mother to find him a second name. He says, "She sat with an Urdu dictionary and found me a surname. From my birth-certificate to school records, it is just Irshad everywhere."
His pronunciation, his words, his tehzeeb — there's a song-like quality about it all, mellifluous. After almost an hour with him, it becomes impossible for me to imagine him writing songs such as Swag Se Swagat and Baby Ko Bass Pasand Hai. I ask if people approach him with item numbers too. He replies, "Item number is fine. There is no harm. But as a song-writer, I have to choose carefully. I don't like objectifying women. It can be a part of her identity but not her entire identity. I do get demands for 'sexy' numbers, I do them up to the point I can. Then either the producer makes peace with it or I exit the movie." Apparently, a number of times he has walked out. He does not want to name the movies or the producers though. No mud-slinging.
And what does he have to say about the lyrics in Hindi films today? Does he think the standards have fallen? There is always a tendency to say that the past was glorious. That the standards have fallen Kamil is definitive. He says, "No. They have not. If the standard has fallen, it is not of the lyrics but of the kind of songs the audience wants to listen to." He continues, "See, it depends on the situation. It is about demand and society. Societies and films reflect each other. If you think that the characters in films nowadays are fake, it means society is becoming fake. As a society, we were more emotional once, now we are more practical."
Wrapping up, I tell him that for someone who has composed so many "hit" songs, he is unnaturally invisible. It makes me wonder, does Bollywood give lyricists their due credit? Kamil replies, "If I say that they do, it would be wrong on my part. It would become a politically correct statement." A long pause. I am waiting for the explosion but there is none. At least, not in the expected anticipated manner. He seems transported to another world and asks, "What were we talking about? Oh yes. I think it is because shabdo ke chehre nahi hote... words do not have faces."
Societies and films reflect each other. If you think that the characters in films nowadays are fake, it means society is becoming fake. As a society, we were more emotional once, now we are more practical
- Irshad Kamil
Tetevitae
1971: Kamil is born into a Punjabi Muslim family in Malerkotla, Punjab
Studies journalism at Panjab University, followed by postgraduate and PhD degrees in Hindi
Starts career as a journalist with an English newspaper in Chandigarh
2000: Moves to Mumbai and starts writing for TV serials
2004: First film as a lyricist, Sudhir Mishra's Chameli, is released
2007: Gets a big break with Imtiaz Ali's Jab We Met
To date, has received three Filmfare Awards — for Ajj Din Chadheya from Imtiaz Ali's Love Aaj Kal in 2010; Nadaan Parindey from Rockstar in 2012; Agar Tum Saath Ho from Tamasha in 2016