My characters... where they are now
Preeti from Dil Se
I'm sure she's become a filmmaker. She had a vivid imagination. Now she's making Mani Ratnam kind of films — issue-oriented! Alternating between serious and funny films actually, because she did have a crazy sense of humour.
Shalini from Dil Chahta Hai
She's living on the Gold Coast (in Australia). She's very happy and is a surfing instructor.
Naina from Kal Ho Na Ho
She still thinks about Aman (played by Shah Rukh Khan) a lot. She lives in India now, I guess.
Rhea from Kabhi Alvida Naa Kehna
She died! (Laughs) All my other characters are so happy, so something dramatic needs to happen to Rhea. So I've killed her!
She was fussing over a pot of coffee when we walked into Preity G. Zinta's suite at The Oberoi Grand in Calcutta. "Why do simple things have to be complicated? I can't figure out how to pour this coffee!" she cribbed after a "Hi". Dressed in denims and a blue shirt, the 44-year-old looked as fresh-faced as she did as a 24-year-old in her debut film Dil Se.
In the past two decades, Preity has delivered some memorable films, emerged as a key player in the IPL (as the co-owner of Kings XI Punjab) and married longtime boyfriend Gene Goodenough, dividing her time between the US and India. After a five year hiatus, she is going to be back on screen with Bhaiaji Superhit, with Sunny Deol and Arshad Warsi as her co-stars. After ordering a cup of coffee — "I like it the old-fashioned way," she said, flashing those dimples — Preity opened up about her life.
Why I left films
A couple of years ago, I had decided not to do films anymore. I wanted to be taken seriously as an entrepreneur. No one took me seriously as a businesswoman at that time because I was only looked at as a "heroine". So I decided to cut out the glamour from my life and go on a different path. I didn't want to be the "glamour element" anymore.
I never grew up wanting to be an actress. I was never that kid who would stand in front of the mirror and go, Twinkle Twinkle Little Star. I would get slapped around because I was always playing with the boys. I wanted to be a criminal psychologist, I was studying to be that. I became an actress totally by default. My debut film Dil Se did well and that changed my life. If it hadn't, I would have taken that money, gone to Munich and finished my studies. That was my plan. But then Soldier did well and so did Kya Kehna. I realised that I was doing well, making quite a bit of money and I would be stupid if I let go of it right now. So I made the best of what came to me.
After a few years, I started feeling there wasn't much growth happening. When you become a big heroine, you become limited. People tell you, "Don't take chances, do safe films, maintain the image." That started happening a lot with me and I was getting very disillusioned. Then the IPL came about and my life took a turn.
Why I am returning to films
Sunny (Deol) came to me and said he wanted me to hear the script of Bhaiaji Superhit. I was like, what's the point?! When I heard the script, I realised that in my whole career, I had never really done a "filmi film" and this film was a hardcore Bollywood commercial film. It's my first role where I play a real, desi woman. So it's the return of the "bubbly Preity", but desi style.
If you see my filmography, I have always played modern characters. Generally, actors have a filmography full of Bollywood-like films and then maybe they will have five different roles. All my roles have been different, but none blatantly commercial. If you watch Bhaiaji Superhit, you will know I have become Aamir Khan — I have gone totally into the character and rediscovered myself as an actor. You will see Sapna Dubey, you will not see Preity Zinta.
I also did it because when I came in, Sunny was very kind to me. We worked together in The Hero (2003). As a newcomer, one often tends to get badly treated, and I am not saying sexually. But stuff like, "Get up! Go do your shot! Why is your make-up wrong? No, there is no time for breakfast!" As a heroine, you are the lowest in the food chain. But he was always very sensitive.
I have decided to do more films because I realised I had stopped having fun while acting. Now, I want to have fun.
Why I didn't miss being on set
I was more interested in business and cricket. As an actress, I just have to do my job; I don't have to think about anything else. As the co-owner of Kings XI Punjab, I have to look into every aspect of the team and even beyond — like problems with the team set-up, with the stadium, with the infrastructure, team selection, everything. All of that is my job. When I decided not to do films five years ago, I was very sure of my decision. I have always had a great equation with all the producers and directors I worked with and I didn't want to give them excuses like, 'Dates nahin hai'.
What I am expecting from Phase Two of my film career
I think it will be very different. I am as excited as I was, but when I came back after a break, I was really, really nervous. I remember my hands shaking and I thought, oh my god, have I forgotten how to act?! When the take happened, everyone clapped and screamed, "You are back!" I went back to my van and I couldn't stop shaking even then. That was exciting and unnerving at the same time.
Honestly, anyone who knows me knows that I have always been a bundle of nervous energy on set… at least on the first three-four days. The only difference now is that I am not doing it because I need to feed my belly or compete with others or stay relevant; I want to only do what really appeals to me, something that will make me want to take time out from being with my husband (Gene Goodenough) or take me away from my entrepreneurship.
The industry is so exciting right now because content is constantly changing. The audience tastes have changed, demographics have changed, the sensibilities of filmmakers have changed. I have changed. And I think this gap has been good for me. Honestly, I got bored after a point. I was doing everything, but there were these rules that a heroine has to be white; there couldn't be anything grey about her. I couldn't really play a dark character even though I wanted to. Of course, I played a girl in Armaan who is psychotic and also lovable; then I was Madhubala in Chori Chori Chupke Chupke who is very dramatic but not grey.
When I stopped doing films, I plunged straight into a billion-dollar business like cricket... I wanted to be taken seriously as an entrepreneur. So I decided to cut out the glamour from my life and go on a different path
What I love about my life in America
I love the fact that I can walk on the streets anywhere and no one even looks at me, except when I am looking very good! (Laughs) It's so relaxing to enter a restaurant and not have people staring at you. I can go anywhere with oil in my hair. Gene and I go hiking a lot; we are an outdoorsy couple. In America, I like the practicality of life and thought. They are very respectful towards women.
The attention I get in India is very awkward for Gene. He's very chilled-out and he's not used to such huge crowds. And when his pictures come up with me on Instagram, there are comments like, "Why doesn't he smile?!' (Laughs) Poor guy! He's not the monkey in the circus na, it's not his deal! But the last time he came, we went for two days to Salman's (Khan) farm (in Panvel) and it was the best time for us. Gene and Salman get along very well and it was just us… Salman, his mum (Salma) and the two of us. Gene told me later that it was his best trip ever! He likes the fact that people in India are close. When his parents were here for our wedding, Shah Rukh (Khan) and Salman went and spoke to them and he loved that!
What I miss about India
I miss the fact that I can land up uninvited at anyone's house for parathas. I love the familiarity of knowing every second person in a crowd. I love the street food and I miss the buzz that you find in India. Gene likes the concept of family that we have here. Six of us will sit on the same couch, although there are three other couches in the same room! It's a very Indian thing. Also, earlier he would get very flummoxed when I would interrupt people while they were talking. So I stopped doing it there, but I do it here. And when he says anything, I tell him, "Excuse me! Everyone interrupts everyone here!" (Laughs) I do go for Holi and Diwali parties in America. So, I've found my India connect there.
Women need to stand together
#MeToo is a great start because the first step to fixing a problem is acknowledging that there is a problem. There are two situations that a girl could find herself in. One is where you will do anything to go anywhere in life. There are women and also men who do that. The other is where you want to be treated with respect and be known for doing a good job. Now that it's come to the table, I think incidences in the future will be greatly reduced. To change things in the past is very difficult. The only thing you can change is yourself and the future.
I have been fortunate never to have faced something like this, but I know that it exists. It also comes into play when people feel you are vulnerable. I may be vulnerable in many ways, but not in this. I also don't think it's women against men… that's wrong. I know that there are some amazing men in this industry. It's about having a healthy work environment and it should come from both sides.
Honestly, women have to be smart. If a guy calls you up in the middle of the night and says, "Come to my room baby, I will give you a role", then you will have to be really stupid to go there. Ten might not go, but probably one will.
If you are hard-working and talented, things will always work for you. I worked really hard, and I was also very lucky. No one troubled me and they all are really good friends of mine. Most importantly, their wives are good friends with me.
If people are sharing their #MeToo stories, no one should slander them. It takes a lot for women to go out there and share their trauma. I feel all women need to stand together, but I am not saying that stand against men. One can't generalise, but offenders within and outside the industry now know that their time's over. My advice to all women is — handle with sandal right at that moment. Seedha kheech ke… khataaaak!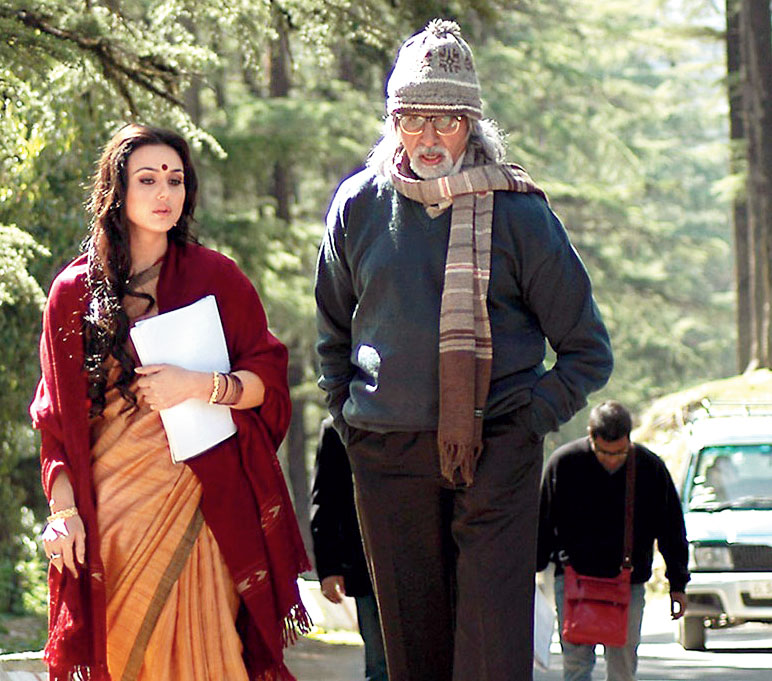 Preity with Amitabh Bachchan in The Last Lear Still from the movie
My Calcutta memories
I shot a film here, The Last Lear, with Rituda (Rituparno Ghosh). I miss him. The film was a very different space for me; it was the first time I was doing an English film. It was my first offbeat kind of movie, I hadn't done something like that before. Rituda was very, very sweet, fun and wonderful to work with. Rituda took me around… he's the one who introduced me to the city's rasgullas. He told me, "The small ones aren't great; the big, fluffy white ones are the real deal and so are the ones made with jaggery". He tried to make me eat mishti doi, but that wasn't really my scene. My heart only beats for rasgullas. He also took me shopping. I bought some silk saris from here, which I never wore (laughs). I went jewellery shopping with him too.
Besides rasgullas, I like the Bengali fish curries. The best I have ever tasted was from Rani's (Mukerji) house. It would come for the films we shot together and I would dabao it every time! Now when I come back, I have close friends here… the Pauls — Karan and his wife Indrani. It's always nice to meet them when we come for the cricket and stuff. Also, the cricket crowd here is very spirited; it's fun to watch matches at Eden Gardens.
The kind of films I want to do now
One thing that I have always done and will continue to do is PG-13 films. I don't want a single scene in my films that I can't watch with my family. People tell me, 'Come on, this is 2018!' I have always hated slapstick, double-meaning humour… I've never done it.
The industry is changing, but it also depends on the mindset of filmmakers. Earlier, it was more ageist because the whole concept of our films was always romance. But tell me, don't you think it looks really weird when you see a really old hero with a really young actress? It is! The guy gets panned these days because of social media. Honestly, I don't want to run around trees and romance anymore.
In cricket, I study analytics, patterns, who's buying what, the demographics, the audience. It's all changing. What I have realised is that women are going to be the biggest entertainers in this country because the bigger consumers are now women. For example, Veere Di Wedding was a little over-the-top, but it did really well.
So what do I want to do today? A romance? No! A film that has romance… and some other things in it? Yes!
How I became an entrepreneur
When I stopped doing films, I plunged straight into a billion-dollar business like cricket. Each team today is worth a billion dollars. I still have a cutting of one of my earliest interviews where I was asked where I saw myself 10 years later. My answer was, "Sitting in a big boardroom conducting a business meeting". Eleven years ago, cricket happened and it was a big investment for me. At that time, I put in Rs 20 crore… it was a lot of money for me. And yet, people would only say, 'Oh she's this one's girlfriend', 'Oh, she's only hanging out here', 'Oh, she's having an affair with this cricketer.' They never took me seriously as a businesswoman.
That's when I realised that I loved being an actress, but I had no understanding of life. My idea of life was limited to the studio… I have missed out on half my life; I've missed out on friends' weddings, their children being born. I was too busy being Zaara, Naina, Rhea; I was never Preity. I decided it was time for me to be Preity.
So before I went off from films, I went and met all the directors I was close to... Adi (Aditya Chopra), Yash uncle (Yash Chopra), KJo (Karan Johar). They all told me, "What are you thinking?! Put a nimbu on your head!" They all thought I had gone crazy! (Laughs) But I was so convinced that the cricket would work.
When I got into the business, I realised I knew nothing of it. So I went to Harvard Business School and did a small course. All my partners in the team are billionaires — they run their own businesses and this cricket thing is a small part of their business. I was the one who was running it, and I learnt a lot in the initial years. Now, after all these years, it's finally settled and doing well.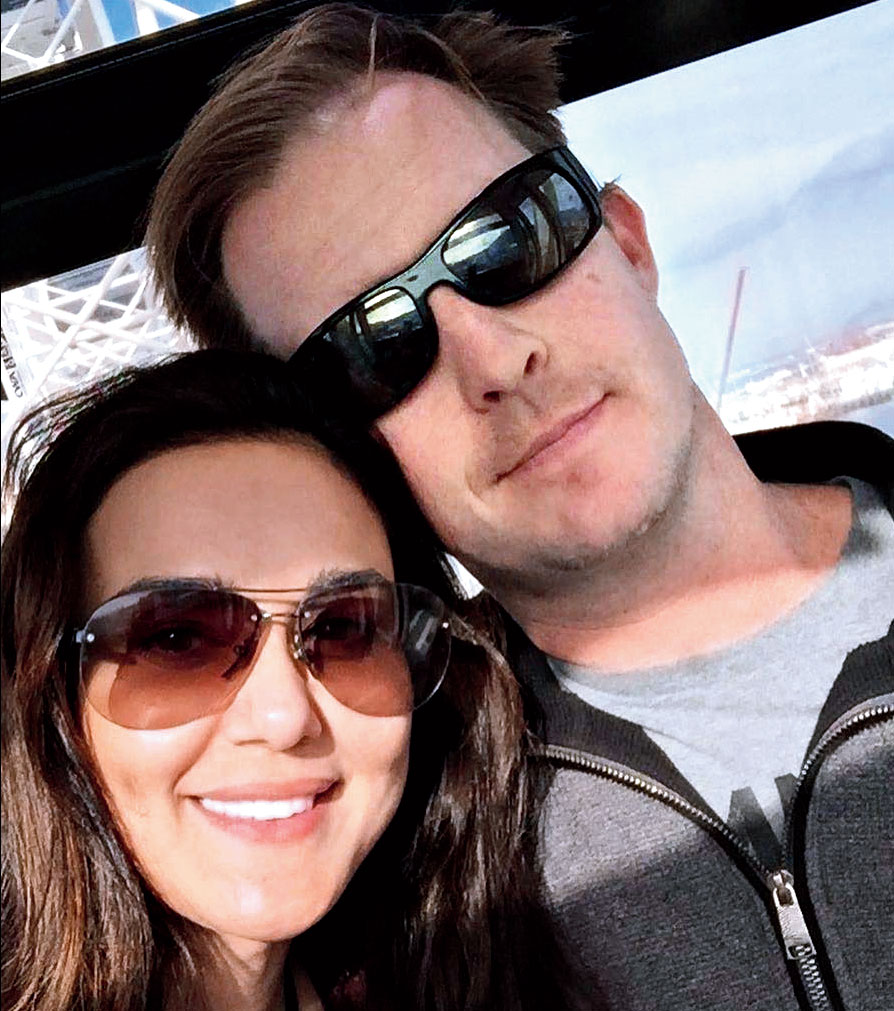 Gene (husband) and I go hiking a lot; we are an outdoorsy couple Agencies