Gulabo Sitabo is a pitch-perfect satire powered by subtle humour and winning acts
Pitch-perfect satire entrenched in the Indian milieu that at once packs in exaggeration, relatability and socio-political commentary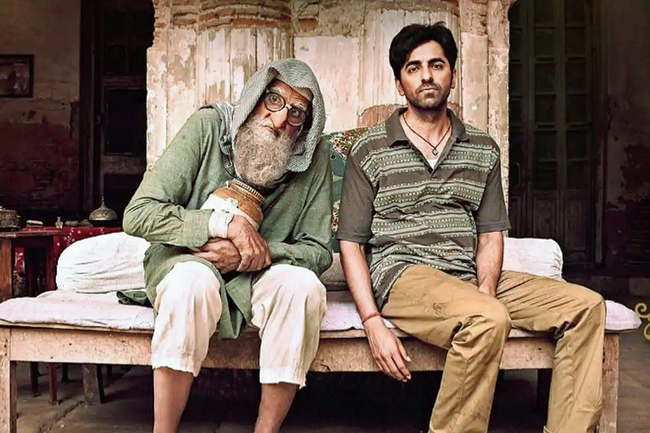 The Gulabo-Sitabo of Shoojit's world are Mirza (Amitabh Bachchan) and Baanke (Ayushmann Khurrana), engaged in a treacherous landlord-tenant relationship that has been tenuous for a long time and which goes south right from the minute the film opens
Still from the movie
---
Published 12.06.20, 08:58 AM
|
---
Irony is a funny thing. It either hits you like a sledgehammer or slowly creeps up on you. The result is the same: the carpet's pulled out from under your feet, and before you know it, you are at once the object of ridicule and the subject of pity. Irony, as we said, is a funny thing. Not so much, though, for the one facing it.
A delicious strain of irony — culminating in a twisted-ness of fate in the film's final moments — runs through the entirety of Gulabo Sitabo, a pitch-perfect satire entrenched in the Indian milieu that at once packs in humour, exaggeration, relatability and socio-political commentary. This is a world that may seem both within reach and outside of our grasp, and the winning combination of director Shoojit Sircar and writer Juhi Chaturvedi, attempting satire for the first time, churns out a story peopled with quirky characters who operate on different sides of an increasingly blurred divide, their moves and machinations determined by double-edged intentions and two-faced actions. Greed may seem like the driving point for most players in Gulabo Sitabo, but the film succinctly touches upon the split between the haves and the have-nots, and yet often obscures the line between the two.
Classic satires are distinguished by the milieu in which they are set in. The world of Gulabo Sitabo is a film in itself, with Lucknow lending it both tone and texture. The film derives its title from Gulabo-Sitabo, a duo of puppets familiar to north-Indian folklore and famous for their predilection to have a go at each other, trading barbs and hurling insults with abandon. They make an appearance, unobtrusively, at vantage points in the film.
The Gulabo-Sitabo of Shoojit's world are Mirza (Amitabh Bachchan) and Baanke (Ayushmann Khurrana), engaged in a treacherous landlord-tenant relationship that has been tenuous for a long time and which goes south right from the minute the film opens. Reason: Baanke and his family of four dependents have occupied a room in Mirza's Fatima Mahal, a dilapidated relic that's seen better days but is now falling to ruins, for as little as Rs 30 for decades, ignoring constant requests to pay up more or evict. Mirza, on the other hand, is not even the owner of the mansion, having to either survive on the dole of his wife Begum (Farrukh Jafar), 17 years older than him and now largely senile, or surreptitiously sell off household items, from light bulbs to bicycle bells, many of which belong to his tenants. The constant run-ins between Mirza and Baanke comprise much of the action and reaction in Gulabo Sitabo, with the two unrelentingly engaging in a game of one-upmanship, even as they go about trying to outwit the other on laying their hands on a property that belongs to neither of them.
Shoojit and Juhi's biggest strength has consistently been in building a world where the players are off-centre yet relatable. Mirza, stooped over much like the hunchback of Notre Dame and armed with a caustic tongue, leads the bunch. The protruding prosthetic nose makes Bachchan virtually unrecognisable, and the actor — anything said about his ability to slip into any character with ease will come up short — embraces Mirza not only in body but also in body language. Baanke, impeded by limited means and burdened as the sole breadwinner, is frustrated from the word go, losing out not only in life but also in love. Ayushmann plays him winningly with a combination of bullheadedness and helplessness.
Mirza and Baanke may seem very different from each other but scratch below the surface and they are similar in many ways, battling the same insecurities, prejudices and ridicule. Their antagonism towards each other gets a fillip with the entry of Gyanesh Shukla (Vijay Raaz), a smooth-talking archaeology officer keen on branding Fatima Mahal as a 'heritage property' and the oddly-named Christopher Clarke (Brijendra Kala), a lawyer helping Mirza grab the mansion through foul means. Every character — even outside of these four players — works with a personal agenda, enabling Gulabo Sitabo to make a commentary on everything from the politics of greed to marginalisation. All of this is told through humour that may not make you bend over with belly laughs (the film possibly doesn't aim for that) but will definitely elicit more than a chuckle and a relatable nod.
Gulabo Sitabo may largely operate with the tenet of a one-line idea, but its layers, driven by the moods and motivations of its characters, make it much more. The strain of subtle humour makes even the most ordinary situations come alive. Mirza and Baanke excel in the 'microwave' scene, the moment where Mirza finds his bed (with him on it) in the middle of the city centre and the conversation by the pond at the end, among many others, while Shukla's hotel room sequence, aided by Shristi Srivastava who plays Guddo with a no-nonsense spiritedness, is one of the standouts. Baanke's no-love-lost moments with his girlfriend, ending with that 'organic atta' scene, will leave you chuckling.
The film makes clever comments on our obsession with language ("I speak English at home and eat lunch and dinner," beams Christopher Clarke proudly when quizzed about his name) and at one point, when Baanke asks Shukla, "Aap itne kaise jaante ho?", the latter takes a pregnant pause and says, "Kyunki hum sarkaar hain". The film also stays true to the language of the region, with the local accent rendering 'dominating' as 'daaminating', 'toilet' as 'taailet' and in an apt twist, 'lawyer' as 'liar'.
Parts of Gulabo Sitabo play out like a fine comedy, parts like a Shakespearean tragedy, and all of it as a true-blue satire. Shantanu Moitra, Abhishek Arora and Anuj Garg's music — Madari ka bandar to that foot-tapping uptempo piece towards the end — matches the mood of the film.
While Gulabo Sitabo does touch upon the importance of roots and family, it's not as emotionally engaging and immersive as Shoojit's earlier films like Piku and October. But every frame inhabited by Farrukh Jafar — for us, the highlight of the film — makes even a bit of the mundaneness that settles towards the middle, palatable. The 80-plus actor, uninhibited and delightful, is the life of the film, unflappable in wanting to invite "Nehruji" over or addressing an old employee as "Galileo". This is a performance that will stay with us. As will most of Gulabo Sitabo. Along with Mirza's precious chair, a commentary in a nutshell on what the film really is.
Did you like/ not like Gulabo Sitabo? Tell t2@abp.in