Gruesome. Awesome. Watch some.
If you've had the time during lockdown to swipe through movie-streaming platforms you will know that a lot of the content drips blood. It is a mark of evolved craftsmanship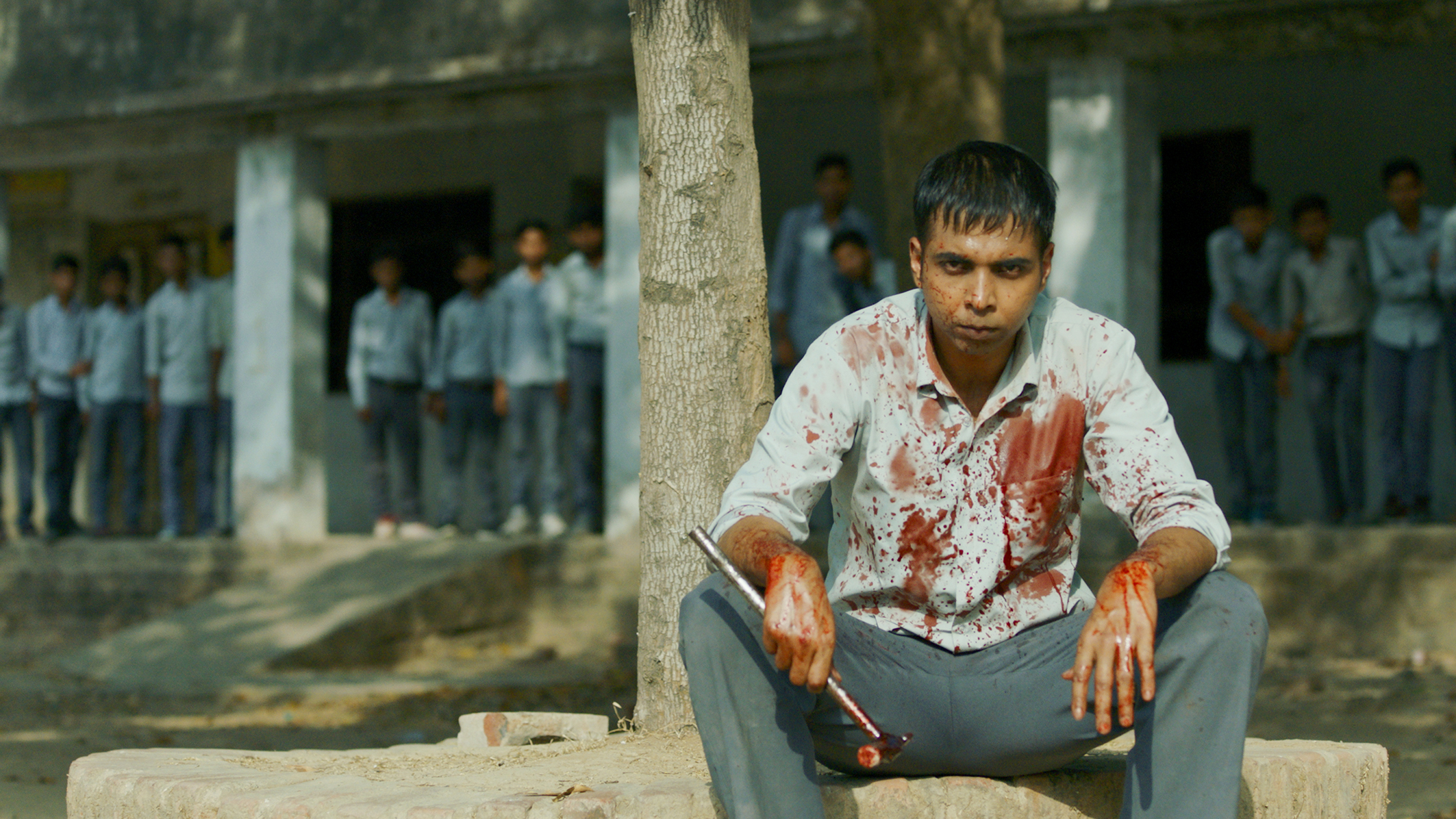 ---
---
Blood on the screen isn't a new phenomenon. In recent times, though, this essential body fluid has morphed into quite the star attraction — fortified with a lot more volume, clots, bones, flesh, viscera, cranium, brain, even a severed head or limb.
The visual space is dripping gore, much to our horror, much to our delight. For many, all that bloodletting is natural, perhaps even attractive, and makes for realistic cinema. An eventful plot garnished with action and injury — and behold, it is the talk of the town! Sacred Games, Outlander, Game of Thrones, Mirzapur, Money Heist, Extraction, Fauda... the list is illustrious.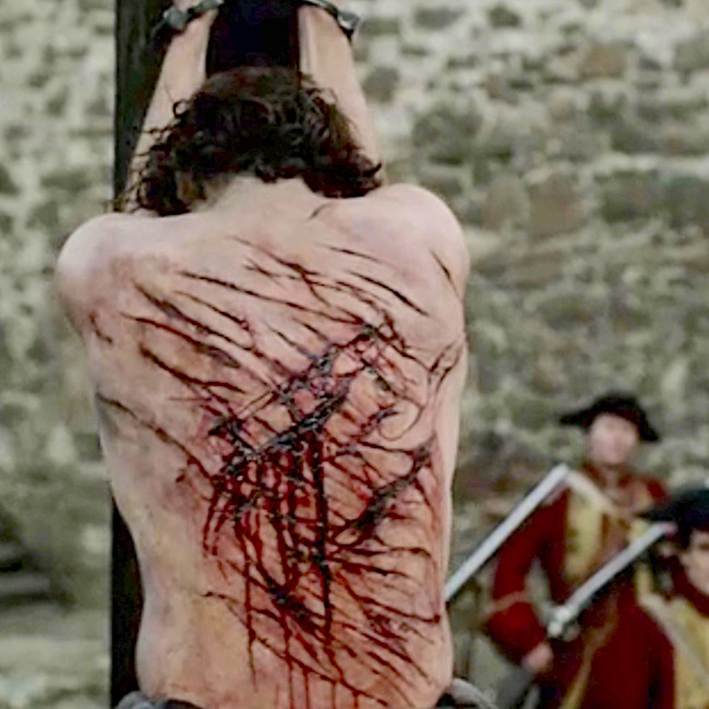 Fans of the popular Netflix series, Outlander, may recall the sequence in which the notorious Redcoat, Jack Randall, is flogging Scot rebel Jamie Fraser. The pure evil that he is, Randall rains a hundred lashes on Fraser, followed by another hundred. All through, the Scot doesn't let out a single cry of pain; Randall fails to "break" him. It's a curdling scene — blood oozing out of the gashes on Fraser's ample back, the red matter coagulating, the gasping of onlookers at every strike, the pooling of slippery liquid on the podium. Randall later vaunts the relentless assault as "an exquisite, bloody masterpiece".
For the makers of such cinema, this is art imitating life. "Earlier films too had a lot of crime and killing, but now it seems gruesome because of the evolved technology," production designer Ravi Srivastava tells The Telegraph. Srivastava has worked on many visually evocative films such as Slumdog Millionaire, Life of Pi, The Wedding Guest, Lion, Extraction and Choked.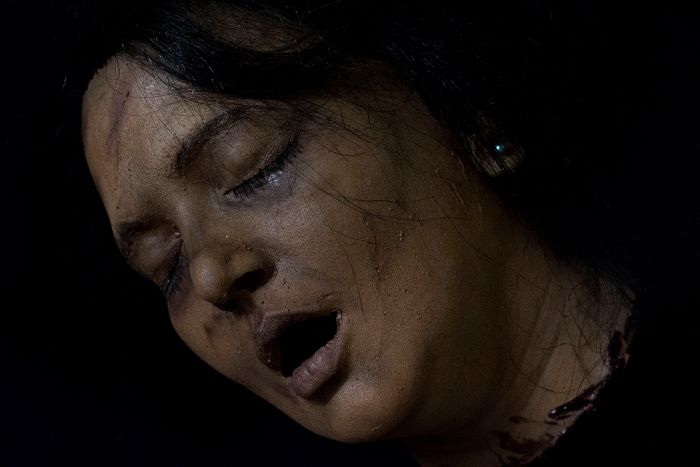 Generally speaking, minor wounds and blood on an actor's body are created by the make-up department, stains on clothes and accessories by the costume team, and deeper wounds and body parts by the prosthetics department. The production designer designs the look and feel of the film.
Srivastava considers Outlander and The Vikings "a great reference for production design and prosthetics in recent times". He describes a particularly grisly element from The Vikings — a ritual execution called blood eagle. "You first hack open the ribs from the back, spread them out like an eagle's wings. Then you extract the lungs, and hang them on the side. But through it all, the prisoner needs to be breathing still… Finally you pull the heart out, and snuff out life."
Srivastava dismisses any suggestion of it being over-the-top. "These acts of torture were committed in the past; history tells us so. Even today people commit ghastly crimes for all sorts of motives. It's part of life, the ugly truth." He uses an analogy to explain its current preponderance. "In Paatal Lok, Hathoda Tyagi kills three boys by bashing in their heads with a hammer. They show in graphic detail how he hits, how the skull breaks open and the brain spills out… all labours of the prosthetics department. In an older film, they would have shown just the hammer coming down, not the head because they couldn't have represented such action."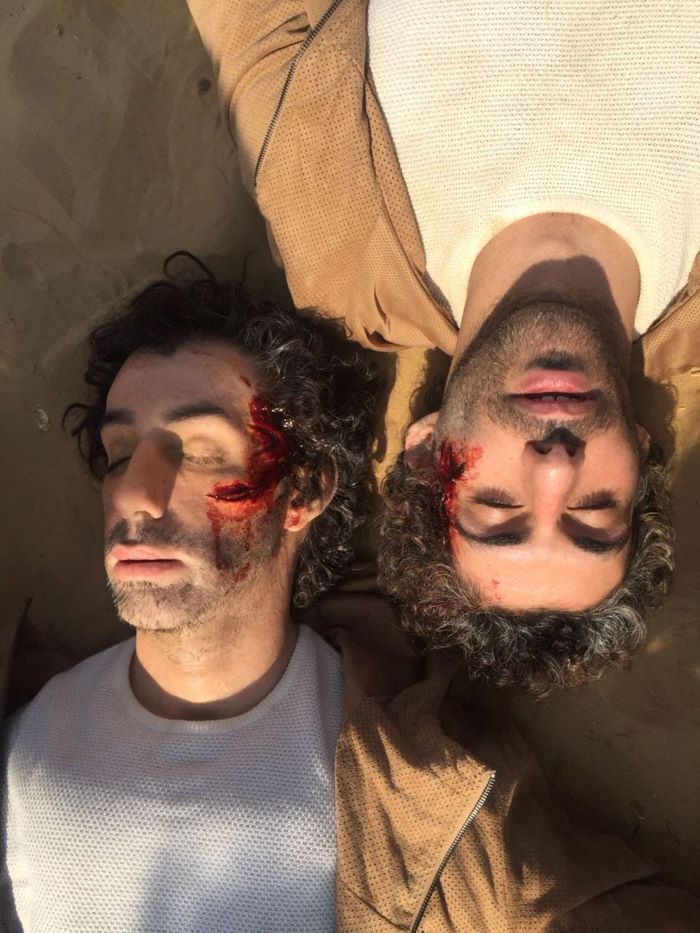 "Action scenes are like a sport to me," says Abhishek Banerjee, the actor who plays Tyagi. "The school scene was shot in just two hours." But ask him about the reactions from his family members and he laughs out. "My mother is very angry with me for having done this film, and my wife hasn't watched it still!"
Violence has always been part of visual language, for reasons more varied that one can comprehend. It has often made for some good cinema too, much to the discomfort of the censors, the moralistic and the faint-hearted. Quentin Tarantino, the master of screen gore and bloody mayhem, had said with abandon: "It's so much fun!"
"Fake blood is easily available; there are stores that sell shooting materials," says Shazia Iqbal, who worked as production designer for long years before turning director. "On set, we use glass paint for small quantities; sugary syrup with washable food colour and the like for larger quantities." Iqbal was involved in the creation of the gory scenes of Sacred Games, in the sections directed by Anurag Kashyap. "I don't get turned off by looking at blood," she laughs.
Iqbal says she enjoys the portrayal of psychological violence more than physical violence. "I watch a lot of psychological crime drama — such as the British series called The Red Riding Trilogy — I find them far more intriguing. Violence is an interesting tool to deconstruct and understand the human psyche," she says.
Iqbal's favourites are Korean films. "Some of them are extremely graphic, and disturbing. They are made in such a way that all of it enters your subconscious, unlike many Indian ones that you see and forget. When I began to watch them, I was constantly trying to push the boundary of how much blood and gore I can take because it does much more than just titillate you."
Recall Alex from A Clockwork Orange? This was Stanley Kubrik's 1971 dystopian crime drama, revolving around a complex character whose primary purpose is "ultra-violence". It was a perplexing experience for viewers, and expectedly elicited strong and contrary reactions. Eventually, the critically-acclaimed director banned the film, on advice of the police. He said in an interview, later, "There is violence in the Bible, violence in Homer, violence in Shakespeare, and many psychiatrists believe that it serves as a catharsis rather than a model."
That argument may not always sound very convincing, but what is undeniable is the technical perfection of the craft. "I had made a severed head, which was used as a jumpscare," says prosthetics professional Pallavi Shroff Bharucha. She is referring to Game Over, a thriller starring Taapsee Pannu.
The technique of jumpscare in horror cinema involves an abrupt change in image or setting, usually accompanied by a frightening sound. "There was no VFX (visual effects) or editing used for the severed head," says Bharucha, her voice laced with obvious pride. She adds that all her prosthetics work is shown without any VFX enhancement, because "what you see on screen is what it would have been in real life".
Iqbal was filming in Kenya for Sacred Games II, when things got a little messy. In this scene Mathu enters the bedroom and shoots dead Purushottam, the Gujarati businessman whose wife is his lover. "We were in an expensive mansion; its British owner let us use it because he was a fan of Nawazuddin and Sacred Games," she says. Kashyap thought the bed wasn't bloodied enough and asked the art department to pour the red generously for a re-take, not realising there was no plastic sheet underneath. The bedsheet belonged to the unit but not the mattress, and the red soaked right through it. "We could not leave it that way; it had to be cleaned. Even carrying the heavy thing into the toilet was a task! We stayed up and scrubbed all night, and I had a flight the next morning…"
A sweet note to end an arguably horrific aspect of cinema. Rewind to the famous murder-in-the-shower scene in Psycho, the 1960 Alfred Hitchcock film that cinema lovers still swear by. One of the reasons the master chose the black-and-white medium was that he felt the draining away of blood in the bathtub might seem repulsive in colour. That's not all. The "blood" was actually a can of Hershey's chocolate syrup.
All about craft, isn't it?