Game Over: An edge-of-the-seat watch
An inventive thriller with an effortless turn from Taapsee Pannu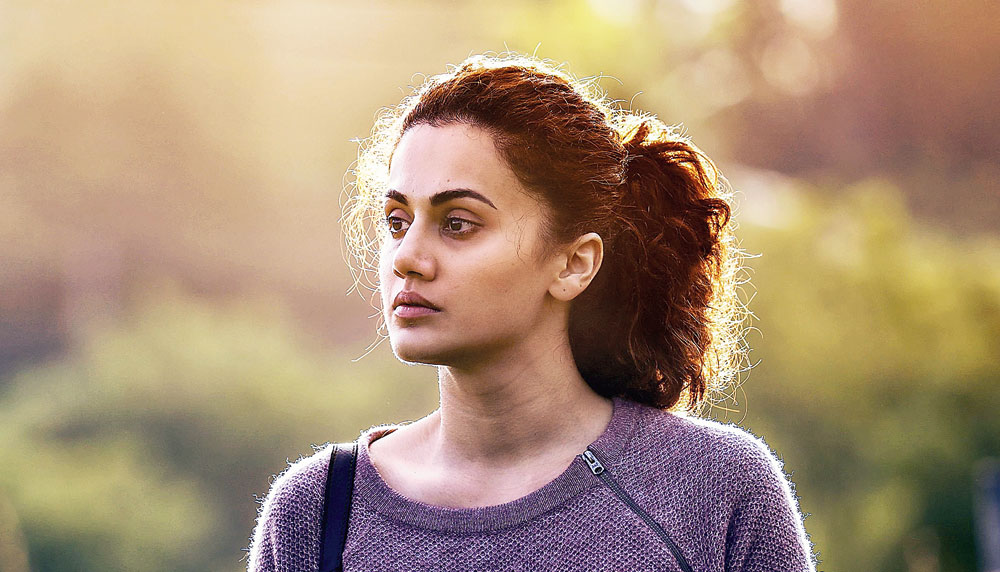 ---
---
It's tempting to describe Game Over as a genre-bender thriller. Except you can't box this smartly mounted and slickly executed film into any one genre. Running over just 102 minutes, Game Over combines a home invasion cliffhanger with psychological horror, playing out as a tech thriller tempered with a hint of the supernatural. The remarkable thing is that even as it packs in so much in a limited runtime, Game Over remains an edge-of-the-seat watch, with the protagonist's — Taapsee Pannu's Swapna, a compulsive gamer — deepest fears and darkest thoughts playing out in the format of a video game where she has to negotiate through a horrific night like a game of Pac-Man — enclosed in the maze of her home, she has to fend off three masked intruders, where she gets a shot at three lives. One wrong move… and it's game over.
Directed by Ashwin Saravanan in Tamil and dubbed into Hindi, Game Over is a nod to various horror films — Psycho to Panic Room to Phobia — and yet it is a bonafide original. The film plays out in an open, interactive world — the Black Mirror influence is unmissable — and has multiple climaxes, depending on the split-second decisions that Swapna makes. Here she's not only battling the intruders in a hide-and-seek format which may end in 'Game on' or 'Game over', but also her own deep-seated fears.
The thriller is anchored in a strong emotional base and even as you watch most of it with your heart in your mouth, there are also moments that will tug at your heartstrings.
Game Over begins with a horrific scene that will make your stomach churn. A young home-alone woman is brutally butchered in the heart of Gurugram. The killer sets her decapitated body in flames, simultaneously choosing to play a spot of soccer with her dismembered head. It's a gut-wrenching moment that sets the tone for the rest of the film with Saravanan making a statement on violence against women and the scars it leaves on their body and soul.
Swapna is also a victim of a life-changing physical assault that has left her voluntarily homebound for close to a year. She lives with her caretaker Kalamma (an excellent Vinodhini Vaidyanathan), a lone guard standing outside, in a sprawling bungalow. She has a fractured relationship with her parents (whose mention comes up a few times in the film but we never get to see them). In fact, Swapna is ensconced in a virtual reality of her own making — her only constant companion is Kalamma, with no sign of relatives, friends or neighbours.
Life is inching back to normal for Swapna who spends her days not only playing video games but also designing them. But a pathological fear of the dark often cripples her, compounded by an inexplicable burning of the year-old tattoo — that of a gaming joystick, no surprises there — on her wrist. Her therapist chooses to dismiss it as an "anniversary reaction" — Swapna was assaulted exactly a year ago and her mind and body seems to be reacting to the dreaded date, he diagnoses — but things quickly spiral out of control, landing Swapna with a fracture on a wheelchair. By the time Half Two rolls in, the intruders are at her door.
Saravanan, who has earned his stripes in the south with thrillers, crafts Game Over with minute details that enrich the narrative. Posters spelling out, "What if life is a video game and deja vu are just check points" and "Video games ruined my life. Good thing I have two more" are a fixture on Swapna's bedroom wall, providing a peek into what awaits her.
The film may not be consistently intelligent — we know the motivations of classic slasher killers like Jason and Freddie, but Game Over employs a slasher-without-a-cause trope — but is almost always inventive. Swapna has three lives at her disposal, with the end scenario of a possible home invasion playing out in her dreams twice. But we don't know for sure… could it actually all be in her head, a manifestation of post-traumatic syndrome? It's these multiple possibilities in every scenario that keep the film ticking and the viewer on the edge of his seat.
A lot of Game Over, especially towards the end, is grisly and macabre, but the payoff — the suspense in some scenes is nail biting — is worth it. A special word for Ron Ethan Yohann's pulsating background score that adds to the thrill-chill factor and A. Vasanth's semi-voyeuristic camerawork. However, the clumsy Hindi dubbing does take away from the experience, as does the long interval between the two halves of the film.
At the heart of Game Over is an emotional yet effortless turn from Taapsee who, yet again, portrays strength through vulnerability. With the camera mostly on her face at all times, Taapsee invests Swapna with grit and gumption, even as she takes on everything that life throws at her. And yes, she — and Game Over — leave us with an all-important message: 'Fight like a girl'.