Gol Maal's comedy hinges on the stiff upper lip
When we laugh at Gol Maal's Bhavani, we laugh at our own prejudices too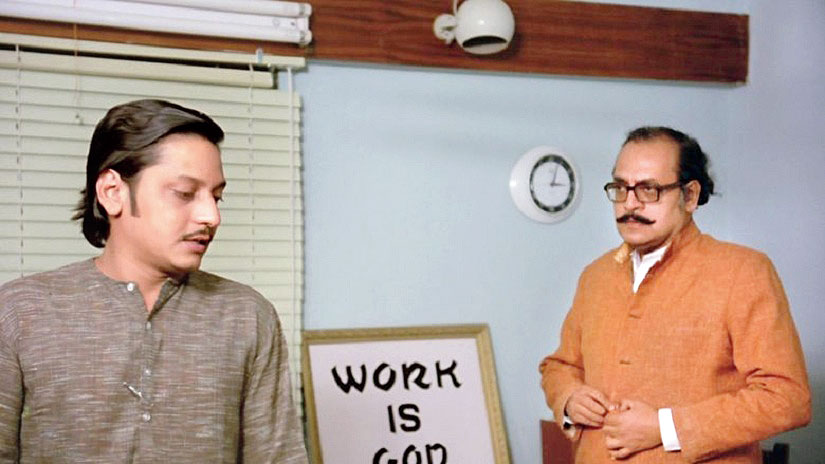 ---
---
Agar main Pascal hoon toh aap rascal hain
Okay, when this line comes, we are nearly at the end of Gol Maal, and have split our sides laughing along with this film that completes 40 years this month. Someone hand this Hrishikesh Mukherjee gem an award, a false moustache maybe?
Gol Maal, an eternal laugh riot written by Rahi Masoom Raza and Sachin Bhowmick, pokes gentle fun at rich and eccentric tyrant Bhavani Shankar (the inimitable Utpal Dutt) with major pre-conceived notions of what makes a good man — a moustache, a traditional name, lack of hobbies and simple clothes. So, our moustachioed Ramprasad Dashrathprasad Sharma (the brilliant Everyman Amol Palekar), a sharp chartered accountant, but otherwise a fun-loving guy with cool hobbies and a yen for red shirts, must invent his twin to keep his job. Actually, he invents his own persona first, gets a job, gets caught by Bhavani at a hockey match and invents a flamboyant twin, Laxmanprasad a.k.a. Lucky. Lucky is everything Bhavani hates — he is cocky, has no moustache, mooches around in colourful tees and sings like a dream (Kishore Kumar's Aane wala pal makes magic with RD's music and Gulzar's words) — and everything Bhavani's gorgeous daughter Urmila (Hema-lookalike Bindiya Goswami's career-best) loves. Where does that leave Ramprasad? In a soup that he proceeds to thicken by inventing a mother and her twin! Sassy socialite Dina Pathak slipping out of her high heels into widow's weeds remains one of the film's funniest scenes.
Finally, all's well that ends well, with a group picture that has a moustache-less Bhavani. Eeesh!
Gol Maal came when Hindi film buffs were used to seeing double (Ram aur Shyam, 1967, Do Kaliyan, 1968, Sharmilee, 1971, Seeta aur Geeta, 1972)…many more would follow. Huge stars played twins, one wimpy, another spunky, swapping places to dramatically shake up the status quo. Gol Maal spoofs this by getting a fake twin for the guy next door. The audience is in on the joke, Bhavani isn't till the end when the truth — not to judge a man by his moustache — helps him shed his prejudices. When we laugh at Bhavani, we laugh at our own prejudices too.