Geethu Mohandas on casting Malayalam star Nivin Pauly in Moothon
It will the opening film of the 21st MAMI Mumbai film festival, to be held this month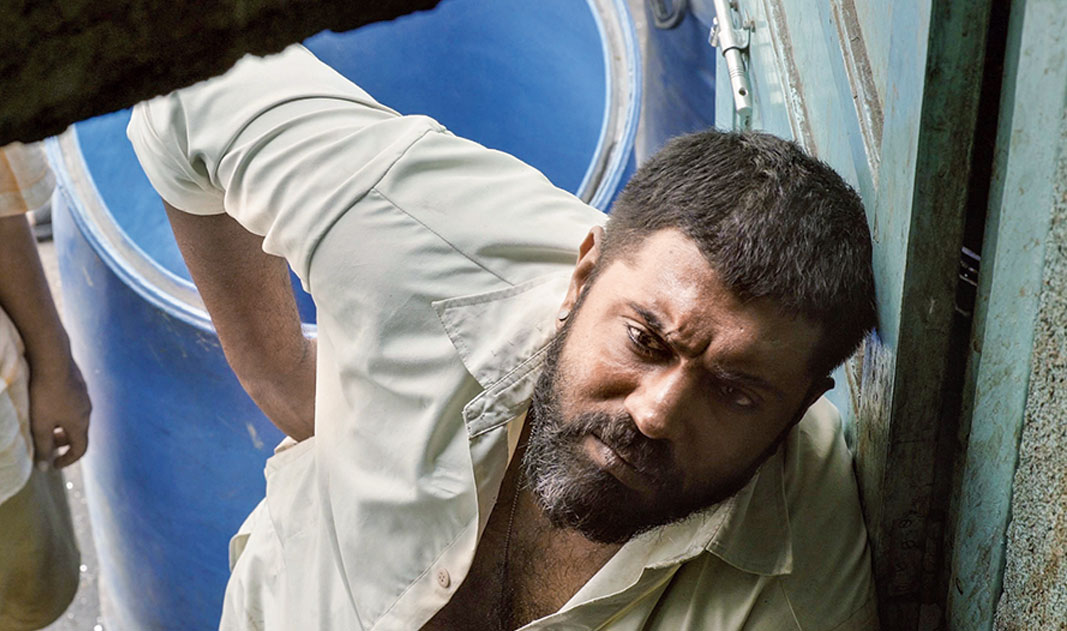 Nivin Pauly as Akbar in Moothon
(Still from the movie)
---
Published 04.10.19, 12:20 PM
|
---
Six years ago, Geethu Mohandas created waves on debut with her indie film Liar's Dice, starring Nawazuddin Siddiqui and Geetanjali Thapa, that was India's official entry to the Oscars that year. With her second feature Moothon — that tells the story of a young boy searching for his brother, but packs in much more — the 38-year-old filmmaker has earned critical acclaim, including at the Toronto International Film festival (TIFF) last month. Moothon, starring Malayalam star Nivin Pauly along with Sobhita Dhulipala and Shashank Arora, will be the opening film at the 21st MAMI Mumbai Film Festival later this month. We chatted with Geethu on the world of Moothon, showing at MAMI and collaborating with 'mentor' Anurag Kashyap.
Congratulations for the successful screening of Moothon at TIFF. Is there any feedback or compliment that stands out a little more than the rest?
What sticks more is the feedback rather than the compliments. The film has a big star (Nivin Pauly) with a large fanbase and hence, compliments came in heaps. The feedback was interesting because they were very intrigued about the ending. There were so many people who asked me, 'Is this what you meant by this ending?' Or they would go, 'Please explain this'. I would pose their questions back to them and when they would give their point of view or their interpretation of a scene, I would tell them, 'That's it… that's the answer'. And they would go, 'That's not fair!' (Laughs) The ambiguity in the film, the fact that it's open-ended has intrigued the viewer. I am happy that what I set out to do, the style of storytelling I adopted, has hit home.
From one film festival to another. It must be special to have Moothon as the opening film at MAMI this year…
It's a huge high! The script for Moothon was part of the Sundance Lab in 2016, it got the Global Filmmaker Award… it was kind of building up to this. But it was a struggle, initially. I had a tough time finding producers because of the kind of misplaced idea that I am an international filmmaker who made Liar's Dice, that went as India's official entry to the Oscars. They thought I wouldn't be able to make a film that people would like. I had to cross all those hurdles and finally found a group of producers who wanted to be a part of my journey. I made the film with the utmost honesty and that done, kept praying that people would be receptive to it. Platforms like MAMI push a small film like this pan-India overnight. The traction has been so huge that now we are releasing the film in November.
What was the genesis of the film?
It's a fictional idea that started off with me wanting to do something along the lines of a search. I am now realising that the idea of a search is a pattern in both my films. The pattern also extends to themes of displacement, minority politics and gender identity and how political undercurrents eventually become an essential part of the narrative…. Writing is an organic process… when you write, you discover the story and the characters. I don't start writing knowing the beginning, the middle or the end of any of my stories. I want to know what happens to the journey while I write it. What Sundance Lab taught me was to throw my imagination as a writer, without worrying as to how I am going to shoot it or visualise it. I just need to write freely, without wearing the director's cap.
When I finished the script, I realised I needed to shoot in real locations like Lakshadweep where the climatic conditions would be difficult, especially in the monsoons. I feared that the shooting conditions in Kamathipura (in Mumbai) would be hostile. But I was wrong because the people there were so welcoming. It was a joy shooting in real locations with real people and placing my actors there and asking them to behave like they belonged to those spaces. My husband (Rajeev Ravi), who is the DoP (director of photography) on the film and one of the best in the country — at least that's what I believe! (Laughs) — doesn't even need proper light to shoot beautifully. We went into these dingy alleys with a small crew and shot and left and no one even realised that we were filming.
Moothon is in a different space from Liar's Dice, but as you said, both films are about a journey and the search for a loved one. Do you naturally gravitate towards such stories and tropes?
Apparently so. Maybe I am also searching for something, who knows? Maybe in the next film I will come to a conclusion. It's beautiful to analyse such things. When I was writing it, it never crossed my mind. The maximum questions at TIFF were also about this and I was like, 'Oh my god!' I am still thinking of that answer, to be honest.
Was the idea behind casting Nivin Pauly in a role one generally wouldn't think of him in done to throw a curveball at the audience or because you truly envisaged him as Akbar?
I am very selfish as a filmmaker. I never think about who I am catering to or on what platform the film will be shown. I only tell a story how I want to and cast whoever I think is apt for it. Nivin is a very unassuming actor. I found him very charming in the films he's done, most of which have been commercial blockbusters. He's mostly worked within his comfort zone. I found it exciting to see how it would be if I placed him in the setting that I had in Moothon.
We live in the same apartment complex. So every time we bumped into each other, I would tell him, 'Nivin, I am writing this. We should discuss who to cast'. Later, while we were filming, he told me that every time I mentioned some other actors' name, he would think that the role was going to him! So I think he manifested me and this film into this life! (Laughs) I am glad he did because he's exceptionally brilliant in the film. I can't wait for people to see him in a very different capacity as an actor. As a director, you have to deal with all kinds of actors. It's very exciting when an actor, like in the case of Nivin, comes on board and says, 'I don't know anything. I want to unlearn everything and start from scratch and submit myself to the film completely'.
After working with the likes of Nawazuddin Siddiqui and earning worldwide recognition with Liar's Dice, why did you decide to go back to Malayalam cinema?
I don't look at the space or the language in which I am telling a story. I keep getting questions whether I will ever make a Bollywood film. Honestly, I don't know the definition of that. I don't look at the industry or the audience. If I did, I would be adding different elements to my films to come up with a formula. My next is a gangster film and how I plan to place it will redefine that space. I haven't decided whether it will be a Malayalam or a Tamil or a Hindi film. I will place actors and characters in certain spaces and go with the flow and then see what comes out of it.
What was it like collaborating with the likes of Anurag Kashyap who's also written the Hindi dialogues?
Absolutely fabulous! Anurag has been a friend for long… he's worked with my husband Rajeev in many films. When it came to the dialogues, I couldn't think of anyone but Anurag. Now when I think back, I feel I selfishly wanted him to be part of my life and of this film (laughs). He's been such an inspiration. He's single-handedly taken Indian independent films to the global stage. He opened doors for so many of us… he's a mentor of sorts for many like me. He supervises our scripts, he advises us… and he does it all from the heart. I always wanted to be part of his world just to understand the filmmaker that he is. The way Anurag has applauded the film, promoted it and kept it so close to his heart… I don't think even I have done that much. I was so happy when he came on board as producer.
Is the industry more open now to women calling the shots on set?
Every time a woman has stepped forward, there's been a different perspective. I am not saying different as in better, I am saying different as in different. In all fields, we are welcome now. Out of the four films at TIFF that were from India, three were made by women. Besides me, there was Shonali (Bose, with The Sky is Pink) and Geetanjali (Rao, with Bombay Rose). This year's Oscar entry (Gully Boy) is by Zoya (Akhtar)… a few years ago, it was me. What is now looked at is calibre and not gender. Cinema, honestly, is not gender biased. When you watch The Hurt Locker, can you say it's been made by Kathryn Bigelow? Cinema is expression of art not defined by gender.
You started off as an actor. Is that anywhere on the horizon or have you given that up for good?
Oh god… no way! I never enjoyed it, I was never good at it, I will never go back to it! (Laughs) I don't remember myself as an actor… I think it was some other lifetime. I do have friends who keep calling me and ask if I am interested. I feel offended when I am offered roles now, to be honest. I am in that kind of mindframe… 'Don't offer me! You can't handle me!' (Laughs)