'For me football is the most beautiful game on the planet'
Amartya Ray on the football connect and the generational feud in 'Maradonar Juto' and working with Ajay Devgn in 'Maidaan'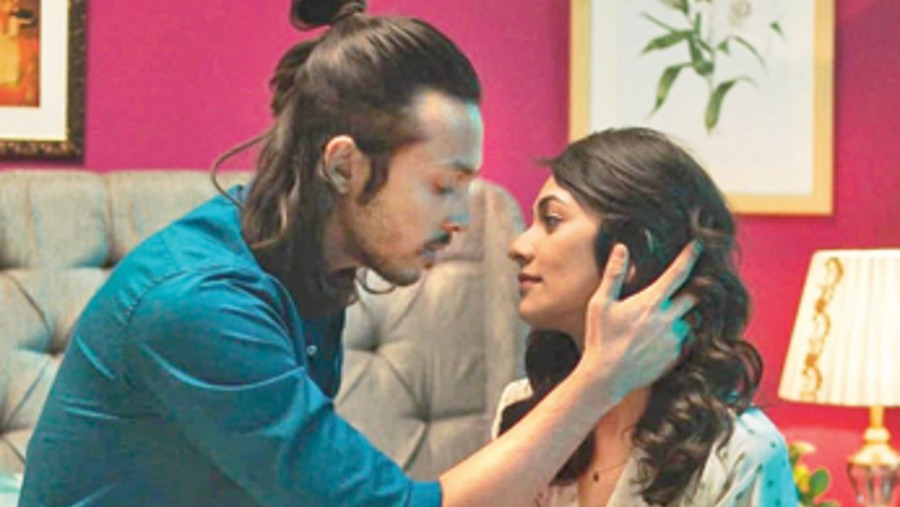 ---
---
Actor Amartya Ray is totally committed to the beautiful game now! His April 30 Hoichoi web series Maradonar Juto (directed by Mainak Bhaumik) has a football connect and another upcoming Hindi film, Maidaan, with him as a part of the cast, also revolves around football! A candid chat with Amartya...
Personally, how much do you connect with the game of football?
It is because of my upcoming film Maidaan that I am 100 per cent committed to the game now. From one football-related story to another, for me football is the most beautiful game on the planet and I have always been a fan of the game way more than cricket, which is worshiped in India. But I am not someone who follows every league or championship a lot. My favourite team is Manchester United, and I love watching the World Cup.
What is the storyline of Maradonar Juto?
The story is set in north Calcutta. It is related to football and two families. These two families possess one shoe each from a pair of Maradona's shoes. And from that a fight starts between these two families. It continues through generations.
Who do you play?
I play Rono from Chowdhury family and Susmita Chatterjee plays the character of Hiya from the Dutta household. There is a 'comedy of errors' sort of a thing that plays out in order to procure the pair of shoes. There is fun, fight, romance... it is a rom-com.
How much are you a fan of rom-com?
I remember that I was attracted to rom-com right before my boards, in school. Every afternoon I used to stay at home alone and before sitting for studies in the evening I used to watch Romedy Now and I have always been a fan of Hollywood. I grew up watching that. I love mellow love stories with a little humour like Notting Hill. For me as an actor, this is the first time I am doing something romantic, it was a new experience.
How was it like working with Susmita and being directed by Mainak Bhaumik?
Susmita is a very friendly person in general. We easily bonded off screen too. That gets reflected on screen. I will also have to talk about my other co-actor, Ujaan Chatterjee. So, the three of us really shared a good chemistry. Being directed by Mainak Bhaumik was great. We vibed a lot on set, to be honest this is the coolest set I have been on! It was super fun and the entire cast and crew were so friendly.
This is a north Calcutta story, which in itself adds a flavour to the series. How much are you acquainted with that experience?
I had experienced the para culture during my growing up years in the Lake Market region of south Calcutta. The morning and evening addas at the tea shop. Everyone used to know everyone, I grew up in that culture. I remember having a talk with Mainakda, and he wanted to make it contemporary. He didn't want to sell nostalgia. Even our looks are not typical to the nostalgia of north Calcutta in Bengali cinema.
Did you get any acting tips from your mother Chaiti Ghoshal?
Even before my first film Uronchondi, mum would never instruct me to keep a set of things in mind. I talk to my mum every day. We share details about each other's day, we are like the best of friends. With mum, I talk about performance or acting or cinema in general. I keep learning from her every day, in general about life also. One thing she always told me is to not pretend in front of the camera. That is something I want to learn more and more .
How was the experience of shooting for Maidaan?
It was very humbling for me to play the character of the legendary Chuni Goswami. We had to intensely train in Bombay for this film for a month. I have heard a lot of stories on Chuni Goswami since childhood, so for me preparing for the role was easy. The way Maidaan is being made and the way it has been written, that makes it a very big project for me. Working with Ajay Devgn was very inspiring too. I have some intense scenes with him. He made me feel very comfortable. But I feel very humbled to be a part of this project... being a film student, it was crazy to be a part of this film.
Did you pick up acting pointers?
Yeah, the shooting of these two are very different. Maidaan requires a lot of technical acting primarily. So, that is something I learnt... and we were shooting for Maidaan with seven to eight cameras. You don't know which camera is on you, so you can't let go of your character. Once I wear the costume of Chuni Goswami, I am totally into the character. There is a sort of aggression and strength required in the sports world, so I completely change from who I am otherwise. The way you act also changes with the lens of your camera, it is something I learnt from Maidaan and at FTII too.
Since you are also directing your own films while acting in other projects, did you pick up any tips on film-making?
Yes, I keep observing the whole set. How lighting is done for a scene for me, for other characters. Even when I don't have scenes, I sit beside the director in front of the monitor. So, that way every day there is something new to learn, from CGI to operating the camera, it was great.
Your short film Portraits: 2020 has won Fur Gold Lotus Award for Best Film (Fiction) in the Amateur category at PSBT Film Challenge 2020-21.
Portraits: 2020 reflects upon the various shared experiences of people during the Covid lockdown. There is a form to Portraits, which is obviously in line with the name itself. It is similar to the tableau format that comes from old French paintings and old French cinema. In mainstream cinema there is a narrative flow, but I wanted to have a little more objective approach, a Brechtian approach, where you are kind of aware of what you are seeing. The pandemic was such a scarring and vilifying thing in our life, I wanted to make my audience aware of what they are watching, while watching my film.
All the scenes are strong individual stories that can be told, but I wanted to connect them somehow. I wanted to bring out the reflection of society somewhere. The film was shot over two to three days.
Through my films, I try to answer my questions as a human being and hope someone else gets their answer too, I don't shoot to preach. I do not look at film festivals and award ceremonies as validation but rather as encouragement. PSBT is a platform that I have been following since childhood. It is a little different than conventional awards. It will inspire me to make more cinema.