Father's Day: Reel fathers who are as real and adorable as they get
Piku's Bhaskor or Stranger Things's Hopper, Uma's Himadri or Modern Family's Phil all have one thing in common — their unconditional love for their children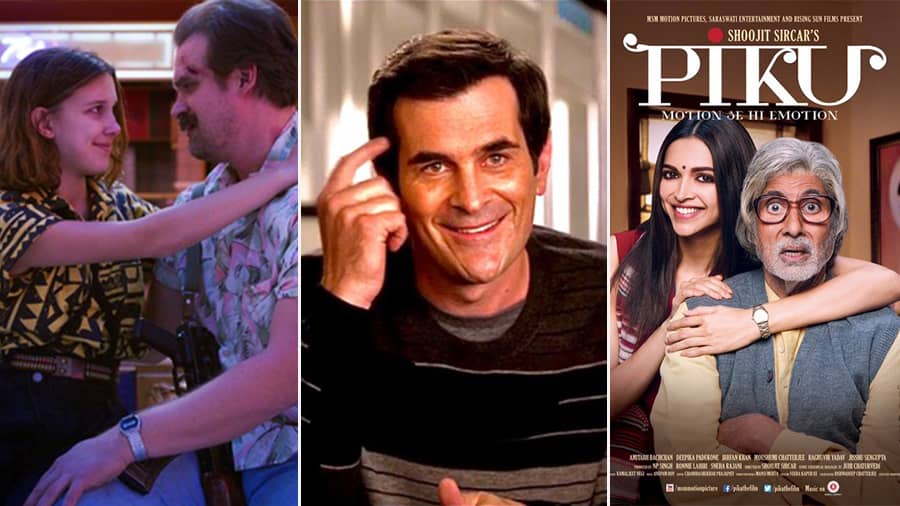 The on-screen dads we love
YouTube
---
Calcutta
|
Published 18.06.22, 01:00 PM
|
---
Baba, Bapi, Papa, Abba, Appa, Dad — call him what you may, he is more often than not our ultimate superhero. While every day can be Father's Day for all daughters and sons, this Sunday (June 19) is the day you have official permission — if you need it — to pamper your father and make him feel special all the way.
Watching a film with your dad to celebrate? Here are a few on-screen fathers or father figures we adore. Bhaskor Banerjee from Piku 
Piku's father, played by Amitabh Bachchan, is the perfect amalgamation of all Bengali dads everywhere. While they are completely adorable and supportive, they can also be big whiny babies who need to be looked after 24x7. From the obhimaan to constipation, from obsession with homeopathy to enjoying whisky and then dancing to retro Bengali numbers, the characterisation was on spot! Himadri Sen from Uma
Jisshu Sengupta's character from Uma shows just how far a father is willing to go to make his daughter happy as he recreates Durga Puja in the middle of the year just for his dying child. The relationship between this on-screen father-daughter duo is one of a kind. Keep your tissue box handy for this one! Bunny's dad in Yeh Jawaani Hai Deewani 
This cult film not only gave us many fabulous characters and #goals for friendships and romances but also a memorable father played by Farooq Shaikh. Kabir 'Bunny' Thappar's father is supportive, emotional and expresses it all with little gestures. He never stops his son from living his dreams. Don't we all need someone like that in our lives? Phil Dunphy from Modern Family 
Hands-on, loving and just as confused as the kids — that's Phil Dunphy for you. Played by Ty Burrell, not only does he dote on his kids but also is his daughter's guardian angel and his son's best buddy. Phil is hilariously confused all the time till his wife Claire comes to rescue but he always shows up for his family and stands by them no matter what. Jim Hopper from Stranger Things 
He may not always take the right decisions, but he always shows up for the kids. Jim Hopper, played by David Harbour, takes Eleven in and while he might be a biological dad, he goes the extra mile for every time she needs him. Like every good dad, he has his own set of rules for his adopted daughter to live by but is also the protective and caring father figure who would not hesitate to sacrifice himself to protect Eleven. Rahul Khanna from Kuch Kuch Hota Hai
Why is that when we talk about KKHH, we only talk of romance? How can we forget what an amazing dad SRK played as Rahul to his on-screen daughter Anjali? Remember when he left everything and reached Camp Sunshine when he found out his daughter had a fever? While he is clumsy and forgetful, he never compromises when it comes to his daughter. His relationship with his little girl is loving, caring and playful. They both take care of each other and that's the best kind of daddy-daughter relationship. Frank Abagnale, Sr. from Catch Me If You Can 
This Spielberg classic showcases the extraordinary life of Frank Abagnale, Jr., but his relationship with his father is heart-warming. Christopher Walken's character is someone who always believes in reaching for the moon and his son gets his fiery spirit from there. The anecdote about two mice falling into a bucket of cream is a classic while the character is emotional and sensitive. Kakababu from the Kakababu films
Yes, we know Kakababu is not a father, but you would definitely agree that he is more than a father figure to Santu. From imparting all his worldly knowledge to protecting his dear nephew at all cost, Kakababu, played by Prosenjit Chatterjee, is someone who Santu looks up to and learns all the street-smart skills from. Not only does Kakababu push his nephew to think and be quick on his feet, but also shares a wonderfully playful relationship where they both tease each other. Biswanath Majumdar from Bela Sheshe
Soumitra Chatterjee plays the father in this film and no one other than him could've portrayed this character with greater ease. His unsure, reluctant and demure personality brings out the constant debate in his mind. He is a doting father who puts up with the anger of all his children for his difficult decision to leave his wife. He takes the necessary steps to bring his family closer and to make his wife more independent at the cost of his own emotional turmoil.