Dulquer Salmaan is far from 'chup' in this chat with The Telegraph
'People love me now, but what if I mess up in the next film? Will they still be around?'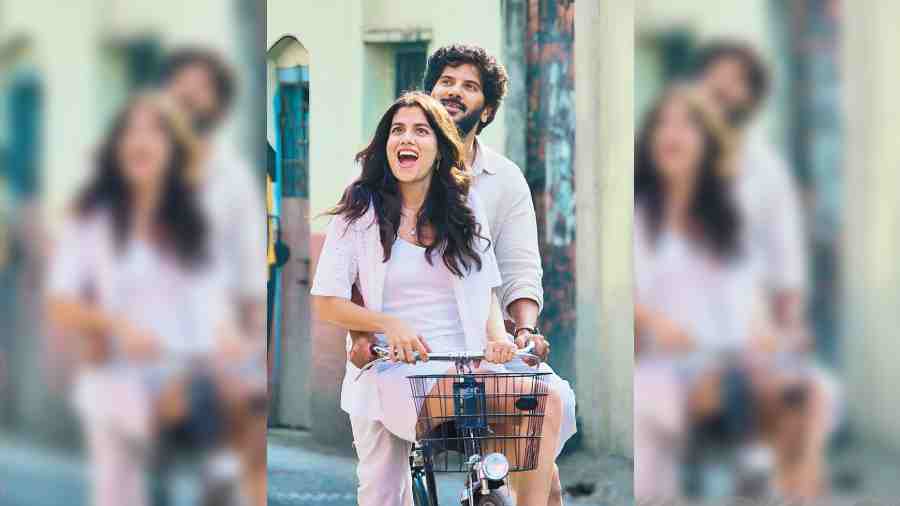 Dulquer Salmaan with Shreya Dhanwanthary in Chup, now playing in theatres
---
Published 27.09.22, 04:11 AM
|
---
Dulquer Salmaan has made everyone sit up and take notice of his searing and sensitive performance in Chup that's now playing in theatres. This comes after the actor raking in both praise and big box office for Sita Ramam, a period romantic film. Chup marks Dulquer's — or DQ as he is popularly known — third Hindi film in a career that clocked a decade this year, and he's only going from strength to strength. The Telegraph chatted with the articulate and affable actor on Chup and more. Spoiler alert if you haven't watched the film yet!
Chup is a rare film which has invited a lot of intrigue. So far, what's the most standout piece of feedback that's come your way?
What I am loving most is the contrast between Ram in Sita Ramam and Danny in Chup. A lot of the time, as actors, we really cannot plan a lineup of which films release when because of logistical and other issues.... But sometimes, the universe conspires and the stars align and it allows us to be a part of different cinema and have those releases coming back to back. Getting this kind of recognition and adulation for back-to-back films gives me a lot of joy.
You have scored quite a few hits this year, in various languages. Would you say that you are doing your best work, or at least your most eclectic work, now?
That has always been the goal, to constantly do different cinema every year... each role different from the other, each film different from the other. It's always tricky when one is working in multiple languages. Sometimes, the genres get repeated, but often it comes together very well.
I feel that right now, 10 years since I started, I am more secure and confident as an actor. I am more courageous with my choices. It's good to keep surprising the audiences. I always look to do that, but my focus is also always on quality content. It can work or not work at the box office, but the intent is always that.
The goal is also to keep surprising myself. I want to find natural, authentic joy in the films that I do. My love for cinema is very deep.
I hope your love for cinema isn't as obsessive as that of Danny's in Chup. Because that could be a real problem!
(Laughs out loud) Not in a disturbed manner! But it's definitely there. My passion for cinema sometimes runs so deep that I don't even realise. Considering the hours that I put in at work, I don't get to consume as much content as I would like to. So sometimes I wonder if I am as much in love with the movies as I think I am. So I try and create as much content as possible.
What was your first reaction when you were offered the script of Chup and told what you were expected to play. Did you, by any chance, go, 'What a killer script', pun intended...
(Laughs) Balki sir (R. Balki, the director of the film) narrated the story to me and I found it going into places where I hadn't even thought of. My jaw just kept dropping! (Laughs) And I was like, 'Wow! Where is this going?!' One does have preconceived notions when R. Balki offers you a film. Seeing his filmography till now, I definitely knew it would be unconventional and out of the box. But when he came to me, I thought the film would be about something pleasant or current.
I never saw Chup coming! It was a complete curveball! That was what excited me the most. My reaction was pretty similar to the audience's reaction when the trailer first dropped. Have you had a bone to pick with critics at any point of time or are you the kind who reads a review and moves on?
I do read reviews. I have felt hurt once or twice (smiles), but I am not someone who picks up the phone and acts on my anger. Generally, I am not very confrontational. Even if I get angry, what can be done? The review is already out there. Even if someone has written or said something wrong, they are not going to correct it.
I remember this one time when I spoke to a friend of mine who works for a publication. I had a problem with a review in that publication, not because it was bad but because it had some wrong information which could mislead the audience. But there is actually no accountability because the publication kept passing the buck.
In Chup, you brought in so much nuance to even the most unhinged bits of Danny. How did you achieve that?
Danny is a bit of a split (personality)... he talks to himself. That had to be subtle and that was tricky for me. That could have played out as over-the-top, but our aim wasn't to show two different personalities. Danny's split is singular... he talks to himself, with a different kind of body language each time. Balki sir told me that it didn't have to come across that I was performing for anybody. It's very different from how people with split personalities have been shown traditionally on screen. That was quite a challenge, but also something that I enjoyed.
What were the other challenges of playing this extremely difficult part?
I think the murder scenes were definitely disturbing. Every time I am slicing through somebody, it had to be convincing. And to make it convincing, I had to believe myself it was real. We clubbed all the murder scenes together and shot them in one go and that was the hardest for me. At that time, I didn't want to meet anybody. I told all my friends I was on a break from meeting them. Also, in those scenes, I am speaking a lot and I had to memorise a lot of lines. During those days of shoot, it felt quite heavy.
But that was nothing compared to my co-actors who my character was slicing up. They had heavy make-up and prosthetics on and had to sit on set for hours. I would feel genuine concern for them.
As far as your craft is concerned, have you done anything in Chup that you haven't done before?
The approach for me was very different in this film. I didn't have a reference point and I didn't want to be influenced by any character in any film. Balki sir and I and the writing department tried to piece together Danny as an original. That was a very organic process. I didn't consciously bring in any kind of body language that I had done before.
You completed a decade in the movies this year. Does it feel like yesterday or a lifetime?
I think a bit of both. It was also the year that I got married. So suddenly, that year, my life changed completely... it became a different way of living. I made two movies (Second Show and Ustad Hotel) and both the experiences were very different. They were small productions, but they left a mark. But honestly, 10 years doesn't seem so far way, and even the time before I became an actor also doesn't seem too distant.
Today, what would you tell a young and nervous Dulquer on the first day of the shoot of Second Show?
If I told him that I would end up working in so many different industries 10 years from then, I don't think he would believe me (smiles). For the first couple of years, I was constantly second-guessing and even asking myself, 'Do I have that quality that people will watch me for two hours on the big screen?' All actors have that insecurity whether they can engage an audience consistently. In fact, during the shoot of my first film, I hadn't seen any of the footage.
You have a huge female fan following all over the country. But I have seen you being pretty nonchalant in the face of attention. Is that by design or is it inherently you?
The attention is very sweet, but it's never been overwhelming or in my face all the time. Wherever I go, I do have people coming up for a picture or an autograph. I feel that's genuine love and I am very happy to indulge them and give them that joy. There is, of course, a flood of comments on social media every day, but that doesn't happen in my daily life all the time because I don't shoot every day and I am not out in public all the time.
I try to not give it much thought. None of us actors are sure about our longevity in the industry. So we have to hustle all the time and keep working and choosing scripts that we feel will prolong our time in the movies. That is so time-consuming that one doesn't really pay attention to it. People love me now, but what if I mess up in the next film? Will they still be around?