Director Arjunn Dutta on his film Guldasta...
... Sketching layered characters and why Swastika, Arpita and Debjani are fantastic actors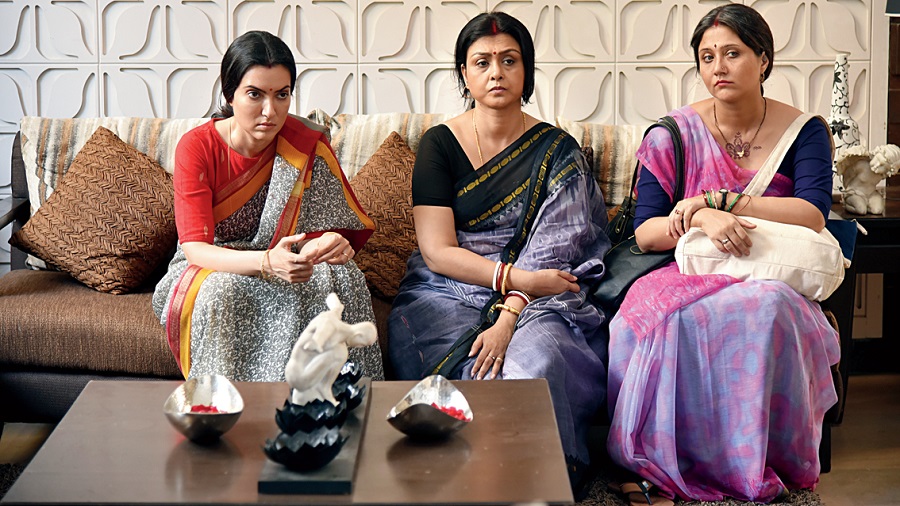 ---
Published 18.10.20, 05:38 PM
|
---
Dolly Bagri, Shreerupa, Renu... film-maker Arjunn Dutta has seen them all. A charming saleswoman like Dolly would come to his place years ago. Arjunn has also seen people leading comfortable lives but in a lot of pain. Which is why the characters in the Durga Puja release Guldasta — "a stirring tale of human emotions" — seem so real. A chat with Arjunn....

How did the idea for Guldasta come to you?
After Abyakto, I wanted to do something light yet intense. Guldasta's characters are very relatable, we see these people in our day-to-day lives. I have grown up watching these women. Since childhood I have seen a woman like Dolly, played by Swastika  Mukherjee, coming to our neighbourhood and selling products. She was very charming and extremely sharp. Nobody could say no to her, such was her personality.

Do you have fond memories of her?
In fact, she used to come to my place every weekend and with time developed a bond with my mother and grandma. I too shared a special bond with her; she used to bring goodies for me and used to make me laugh with her antics but being sensitive, somewhere I strongly felt she was not being her real self. She also had her share of grief, which she didn't want to discuss. We also gave her the space. With time I have seen so many Dollys around us, which gave me the inspiration to flesh out this character.

How did you think of Swastika to play Dolly?
As the idea of Guldasta germinated in my mind I could only see Swastika playing the character of Dolly. Apart from her histrionics, she has this innocence and spark in her face which I had seen in these real-life Dollys. She's amazing in the film. She has made Dolly so relatable and given a certain kind of dignity to the character. Swastika  even had to change her style of walking and speaking for the portrayal. Mostly she speaks in broken Bengali in the film; Dolly is a Marwari woman.
Swastika is an extremely comfortable actor to work with. She brings a lot of positivity on the set. She's a spontaneous actor and brought on board such nuances that surprised me throughout. One thing I must add here is that she is very particular about the dialogues, she tries to be closest to the script and hardly changes her lines. It was a complete delight working with her. It's undoubtedly one of her career best.

You worked with Arpita after Abyakto...
I had the honour of directing Arpita twice. We had a ball working together on both the projects. I couldn't see anybody apart from her playing Shreerupa with so much grace and vulnerability. She's fantastic in Guldasta, even better than Abyakto. I am sure people are going to remember this performance for a long time. She's a method actor and discusses a lot of things about the character before the shoot.

How did you direct the scenes where all three — Swastika, Arpita and Debjani — were present?
There are a few interesting scenes where three of them are together. There is one particular scene where Anubhav is also there, it's the most dramatic scene in the entire film in which a lot of things are happening and it's confined in a single room. All four of them needed to move a lot with lots of restrictions as we had the constraint of space. My DoP Supratim and I first planned the shots we were going to take and then called the artistes and rehearsed the entire scene three to four times. I can't reveal much about the scene but it had a bit of action in it. Finally we were able to shoot it properly and the scene has come out quite well. The climax scene also features the three of them along with Ishaan. It's a very emotional scene where I literally had tears in my eyes while seeing them perform, on the monitor.

How different were they in approaching a scene?
They all are pro... we used to rehearse the scenes first and then Supratim would shoot the final take. We all used to be very meticulous while rehearsing so that during take there was no technical confusion. Arpita is very methodical; she is technically very sound, so she is well aware of the angles and the technical nitty-gritties. Swastika is more like me, very emotional... she is spontaneous and goes with the flow. There were few instances where both of us while rehearsing for a scene literally cried, she's quite sensitive.
Debjani is my lady luck... we have been collaborating since my short film days. She is fantastic in the film, a complete natural, and has made Renu relatable to the core. She has immense potential as an actor but untapped. I have also witnessed women like Shreerupa and Renu having a comfortable life but still in a lot of pain due to their strained relationships with husband and children.

How was it like directing an ensemble cast?
Shooting my second film Guldasta was definitely different from my first one Abyakto. This time I was more confident and had more clarity about how I wanted the film to shape up. In respect of the casting and look and feel Guldasta is a different ball game altogether but still with the help of my extremely hardworking and sincere teammates we fought all the odds and could complete the film in a short span of time. I have to mention my DoP Supratim Bhol and music director Soumya Rith... they have added a lot to the film.
Know the Guldasta character
Swastika Mukherjee — Dolly Bagri: According to her she is the best "salesgirl" in her office. Along with selling beauty products, she also knows how to spread happiness and positivity; she always has a smile on her face.
Arpita Chatterjee — Shreerupa: She has everything; the perfect house, a big car and a fulfilled marriage. But is really everything fulfilled and perfect in her life?
Debjani Chatterjee — Renu: Her world revolves around her husband and son, they are Renu's life but should it be this way? Has this become her only identity? A perfect mother and a perfect wife?
Anubhav Kanjilal — Tukai: Representing the Gen Z of today's time. He has created a world of his own, finding an escape through drugs... but is it really the solution? Will he be able to come out of it and be a better son?
Anuradha Mukherjee — Riya: A small-town girl trying to make it big in the city. She is young, ambitious and impulsive but she also has the experience of handling complicated emotions... but is the experience enough to survive in the big city?
Ishaan Mazumder — Arnab: A corporate honcho, married to his beautiful wife Shreerupa, trying to balance professional and personal life but amidst all this is he really happy? Is he really satisfied? Or does he want more?