Director Ali Abbas Zafar on his film 'Jogi' built around 1984 anti-Sikh riots
'We don't want anyone to get offended. We want everyone to watch the movie with an open mind'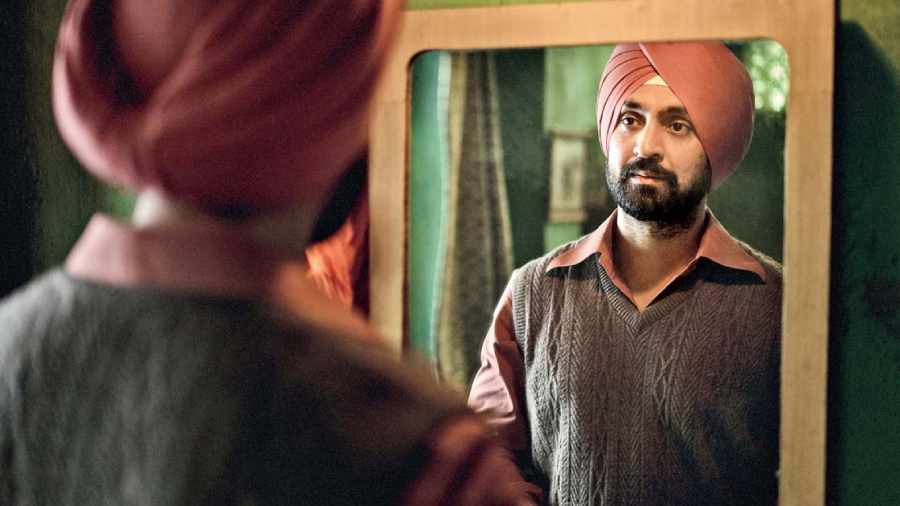 Diljit Dosanjh in Jogi, streaming on Netflix
Sourced by the correspondent
---
Published 13.09.22, 03:56 AM
|
---
This Friday, director Ali Abbas Zafar — the man behind films like Tiger Zinda Hai and Bharat — brings Jogi. The story of a community torn asunder by the anti-Sikh riots that devastated India in 1984, Jogi, that will stream on Netflix, has Diljit Dosanjh in the titular role and emphasises on "finding hope in the middle of chaos".
The Telegraph caught up with Ali recently in Mumbai to talk about the genesis and journey of Jogi, the responsibility that comes with telling a political story in today's times and why Diljit was perfect for the role. Accompanying Ali was the film's producer Himanshu Kishan Mehra.
What made you want to make Jogi?
Ali Abbas Zafar: The sole purpose of making this film was to get the right emotion out. When you tell a story that basically hinges at presenting different kinds of emotions at different levels, that is the authenticity, that is the core that you want to stir in your audience. From the time of scripting to the final polishing of the film, I just felt that kahin bhi this emotion shouldn't get tampered, and that it should come out to the audience in the most honest way.
Along with the craft of film-making, it was essential to have a certain sensitivity so that when it goes out to the audience, they feel that the reason to make this film has come from a right place, from an honest space. That has been our major koshish... that the spirit and emotion we have aimed for doesn't get tampered with.
A few films have been made on the 1984 anti-Sikh riots. Your leading man Diljit Dosanjh was part of one himself, the 2014 film Punjab 1984. What was the genesis of Jogi?
Ali: I have studied in Delhi University and I feel that our  immediate history has some very compelling stories to be told. There were major events that happened in India in 1984... whether it was Bhopal (the Bhopal Gas Tragedy) or the Sikh riots. We wanted to tell a story which has a real base and, at the same time, talks about courage, friendship and other human emotions.
Jogi is a story of finding hope in the middle of chaos. That is where the germ of the film came from. We were fortunate that Diljit (Dosanjh) came on board because there is no person better than him to bring this story together. Today, Jogi is Jogi because of him.
Himanshu, what boxes did Jogi tick for you as a producer?
Himanshu Kishan Mehra: When something resonates with Ali, we keep discussing the idea, and like all creative people, we are constantly engaging, trying to understand what the audiences are liking, what is trending and what we can deliver. When Ali stumbled upon this idea, he told me that the set and setting for Jogi should be of a certain kind.
We went to Diljit because we wanted to marry this concept of how three friends (played by Diljit, Mohd. Zeeshan Ayyub and Paresh Pahuja) come together in a situation and how one man confronts it and rises above it. That was the broad idea. For me, it was a 'yes' from the word go. The story was shared with Netflix, and the idea immediately resonated with them.
Is the story of Jogi completely fictional or is some amount of it derived from what actually happened during the 1984 riots?
Ali: Instances like what you will see in Jogi did happen. We collated all that information and weaved a fictional story around it. When you make a film, there has to be some amount of fictional liberty. But the crux of the film is the idea that one should not let go of love and hope. Everyone who came on board to make this film was only working towards that. When people walk out of the film, we hope that they will feel that no matter what happens, love will win in the end.
The riots are a big blot in India's history. While you were researching the subject, did anything come up that really had you shook?
Ali: When you read or research about any tragedy in the history of the world — whether it's the First and Second World Wars or the Partition of the country or the '84 riots — there are some horrific stories. At that time, one tends to question the human instinct... that how can things change so drastically and so quickly? How can a person who was your friend suddenly turn into an enemy? 
Which is now, more than ever, the state of the country today...
Ali: That is why we wanted to tell a story which makes people understand that in the middle of so much chaos, you will still find people who keep humanity together, irrespective of where they come from and what their identities are.
What was Diljit's reaction when you first approached him because this is a story, which he has said, hits close to home?
Ali: When he heard the story, he was silent for a bit. He didn't ask any questions because he was aware that these instances have happened to people. Both he and I are born around the same time the riots took place. We haven't lived that time... we were too young. But we have heard stories of people who suffered. There are a lot of those stories which are embedded in the fictional tale of Jogi. He could relate to them. Everything that was on paper came out of a documented fact.  And that documented fact, he already knew.
I didn't have to make any effort to convince him (to do the film). He comes from a place where he knows how much responsibility he holds with this film, how much it is accountable to the people who have gone through this experience.
You are emphasising on strong emotions through Jogi, but this is, of course, a political film. Given the kind of ugly controversy your last project Tandav generated, what are the apprehensions, if any?
Ali: When the last chapter (Tandav) happened, we didn't have any guidelines to know what kind of content can go through. There was no censorship. With Jogi, a lot of things have changed. As creators, we have to understand that we have to be a little sensitive as to how we take a story in front of an audience today. This has been a learning experience for us. We don't want anyone to get offended. We want everyone to watch Jogi with an open mind. Every story has a different purpose of entertainment... a comedy does it in a certain way, a drama does it in a different way. Some stories will shake you, some will make you cry. We just need to be 100 per cent authentic in terms of our craft and sensitivity to be able to take that story in a very organic way to the audience.
I think I have come a long way from my last project. With Jogi, we have been very, very careful and I hope the audience only gives love
to it.
In today's times, is it even possible to know what offends people? Most often than not, it's the truth that offends most...
Ali: That is something that no one can take responsibility for... you can't predict these things. All that we can do is put our best foot forward and then see how it pans out. We have tried to do our best.
The Sikh community has always been very selfless, setting up health camps and langars whenever a disaster has struck in any part of the world. There has been some sort of an apology for the 1984 riots. But for someone who has lived with and made the story of this film, do you think that has been enough?
Ali: I just feel that no apology can make up for any kind of human-induced catastrophe anywhere in the world. Apart from bringing people to justice, no apology is good enough. We can just hope that a tragedy like this is never repeated. Violence is never justified, no matter what the circumstances are and which community or identity it comes from.
You just mentioned how the best stories, for you, come out of history. Jogi, Tandav and even Bharat are drawn from history. And then you plunge into Bade Miyan Chhote Miyan, with Akshay Kumar and Tiger Shroff, which I am guessing will not be derived from history. What prompted the leap, apart from saying that variety drives you?
Ali: It's too early to talk about Bade Miyan Chhote Miyan... but you never know, there may be history there too! (Laughs) It has nothing to do with the old film (starring Amitabh Bachchan and Govinda)... it's a completely new film. Our effort is to do something new in the mainstream space. It's very difficult to be different in popular cinema. But you can always create something that is entertaining and credible at the same time.