Director Abhirup Ghosh on The Bengal Scam
'This is arguably my most accessible, and so-called 'mass-y' work till date. It is a family entertainer '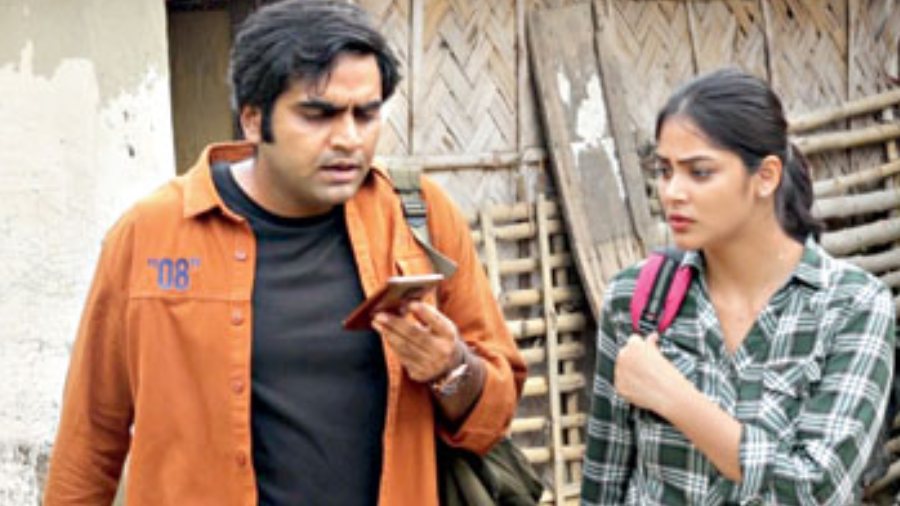 A moment from the series, streaming on Hoichoi from November 11
---
Published 10.11.22, 07:18 AM
|
---
The web series The Bengal Scam: Bima Kando, starring Rajatava Dutta, Kinjal Nanda and Sonamoni Saha, streams on Hoichoi from November 11. Directed by Abhirup Ghosh, the series sees two insurance agents working for the company, Bengal Bima Company. Samudra and Mohona are given the responsibility of handling an open-and-shut case of a claims investigation. Samudra and Mohona are sent to a village to check out the case as a formality. However, what seems to be a simple, authentic claim, ends up being the tip of a very deep iceberg. A t2 chat with Abhirup.
How did you get the idea for this series?
The core idea of the series came from a news article that I had come across a couple of years back. The basic concept is inspired from a real scam. I was deeply shocked by the nature of the scam and immediately thought that this would make a really intriguing plot.
Did you want to do a story on scams for any specific reason?
I had no such plans and was not even hunting for a new story when I came across the idea for the series. In fact, I had decided that I would try not to make thrillers for some time. However, as I got hooked to the core idea of the series, I got so intrigued that I felt an urgent need to tell this story.
What kind of research work did you put in for this?
Once I got the core idea from the aforementioned newspaper article, I researched insurance scams of different types in great detail to understand the basic structure and nature of operation of these scams. I read about different types of insurance scams that have taken place in different parts of the world. It took quite a few months of research to get into the minds of scamsters.
What did you want to show through this series?
Primarily, I just want to entertain audiences through this series. However, along with the entertainment quotient, I also want people to know about the way people from weaker sections of society are exploited and manipulated. I want to shed light on the darker aspects of life.
Why cast Sonamoni and Kinjal?
The series rides on the chemistry between the protagonists, so, we needed to cast an interesting pair. Kinjal and Sonamoni fit the bill perfectly. While Sonamoni has an innocence and sense of rigidity about her, Kinjal has a boyish charm and a very Bengali laid-back attitude. Just like their characters, they are polar opposites of one another. In a screen test, we figured out that they have a very easygoing chemistry and form a really interesting odd couple.
How have they performed?
Both are extremely talented and hardworking actors. Sonamoni has brought a lot of grace and calmness to the character, while Kinjal has given the character its edge and flamboyance. We had a very tough schedule with insane working hours; but both actors cooperated. Both have given their best. While Kinjal is known for his intense and serious characters, people are going to see a very different, light-hearted side of him in The Bengal Scam. Sonamoni is very popular for her work on blockbuster TV serials, but she has also done something very different in this series. Her work will surprise many. How was it like directing Rajatava once again? Did you discover something new about him this time?
Though directing Rajatava Dutta did not feel new, we did some very cool stuff with him this time. We have done a lot of work together and have a good understanding. This was a larger-than-life character and we have played it to the galleries this time. However, one thing I discovered about him while making this series was his stardom.
We shot in many rural areas, where people would go crazy upon seeing him. We used to have a difficult time managing the crowds. People would gather and scream the names of characters he has played earlier, like, 'Sitaram Ghoshal'.
Even after all these years, people have remembered those performances!
How was your shooting experience in the villages?
It was a nice experience overall. Though people often gathered to watch the shoot, they were always very understanding and supportive. We shot till very late hours and often had big explosions or action bits scheduled to be shot at odd hours. However, we never received a single complaint and the locals cooperated fully.
What were the main challenges?
The biggest challenge was managing the heat. We shot the series in peak summer. On top of this, we would shoot for multiple shifts each day. The series is action packed and hence, each day was gruelling and physically exhausting. Another major challenge was the fact that we had to complete the shoot within 15 days. Thanks to the support of my team and producer Vinod Bhalla, we have managed to pull off really difficult, complicated sequences, even with the time constraints.
Where did you shoot exactly?
We have shot major portions within Calcutta, in several locations like Bharat Laxmi Studio, Lohia Hospital, and so on. For the village portions, we used rural areas in the Howrah belt and in Bantala.
You have said that The Bengal Scam aims to entertain its audiences; it is a potboiler or a masala entertainer. Why take this approach? You could have made it very realistic or gritty like, say, Delhi Crime.
Before writing the script, I had given this some thought. I could have either told this story with an approach like Delhi Crime or Article 15, or, I could have told this in a mass-y way. I chose to opt for the latter as that is the kind of storytelling I have grown up watching, and, can relate to more.
This was more of an instinctive choice and not a calculated one. I felt that this story has all the elements to be told like a potboiler. This is arguably my most accessible, and so-called 'mass-y' work till date. It is a family entertainer and I am hopeful that people from all age groups, ranging from eight to 80, will probably find something enjoyable in it. This is the kind of film/series, I have grown up watching, and have always wanted to make.