Dhruv Sehgal and Mithila Palkar on 'Little Things'
As the final season drops on October 15, the duo chat on their little show that went super big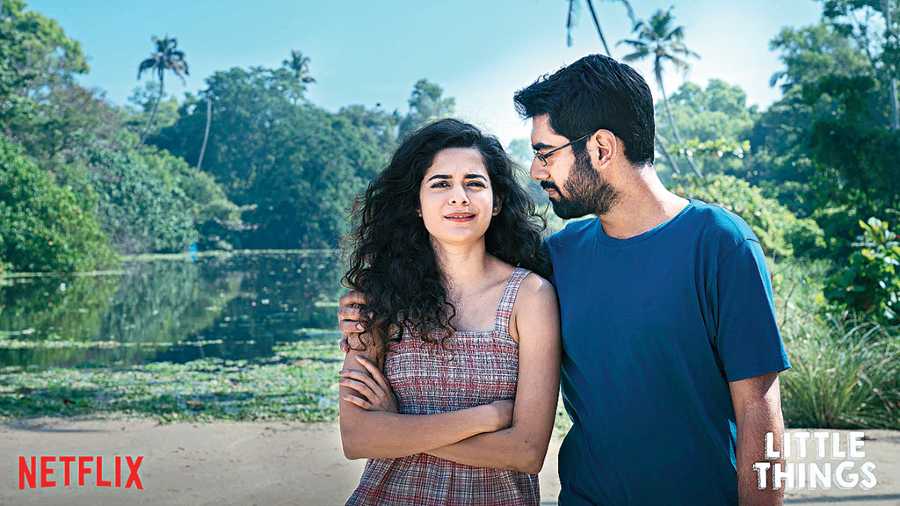 ---
Published 12.10.21, 09:43 AM
|
---
Five years ago, Little Things — a show about a young couple in their 20s trying to navigate a live-in relationship and life in Mumbai — became an instant hit, scoring high on relatability as well as aspiration. Dhruv (played by Dhruv Sehgal, who has also created the show) and Kavya (played by Mithila Palkar) looking out for the ordinary (aka little) things in their relationship that made it extraordinary, worked instantly with Gen Y, but also scored fans beyond its target audience.
Then aired on the YouTube channel of Dice Media, the surprise success of Little Things prompted streaming giant Netflix to pick up its subsequent seasons, all of which scored high on popularity.
With the fourth and final season of Little Things dropping on Netflix on October 15, t2 caught up with Dhruv and Mithila for a chat on their emotions as the curtains come down and their most abiding memories of being a part of the show.
What are the emotions like as Little Things draws to a close after four seasons? Dhruv, is it a little bit more emotional for you given how close you are to the material?
Dhruv Sehgal: Ya, it is very, very, very emotional for me given that I created the show, it's like a baby for me. For me, it's not just about saying bye to the show, but also to so many people I have worked with over the last five-six years. It feels like you are graduating from college. So ya, I feel very emotional. But I am also happy about the fact that I got to live and experience this journey.
Mithila Palkar: It is definitely a hard goodbye, I wouldn't lie. But I am glad that we are ending it on a good note. And I am hoping that we have given the kind of goodbye that people expect. Like Dhruv said, I am going to miss everybody. This was a special show....
What will you miss the most about being Kavya and Dhruv individually and as a couple?
Mithila: They are just too cute! I am very biased... it's very shameless of me! Every time Netflix puts up a post about Kavya and Dhruv, I feel like sharing it and saying, 'You guys are killing me because I am a single person watching this show and I am also a part of it and I totally resonate with the idealistic point of view that you are giving of a relationship' (laughs).
You know how flawed Dhruv and Kavya are, you know how problematic their relationship has been, and yet there is that sense of them keeping it together against all odds. I will miss the two of them a lot. And thus, by extension, I will miss Kavya too. I see them as a unit, I don't see them individually.
I can't imagine them not being together.
Dhruv: Ya, even I see them as a unit. I really like how these guys are so self-contained within themselves...
Mithila:Ya, it's their own world! Their own bubble. It's all self-sufficient, in that sense.
Dhruv: Ya true, I will really miss that!
When you started out, did you have an inkling that Little Things would eventually become so big?
Mithila and Dhruv (in unison): No!
Mithila: A resounding no!
Dhruv: No, we never thought it would become so big. If we had started out saying, 'Yeh karenge, woh karenge', it would have felt very artificial. It would have felt inorganic, it would have felt like that they are not in love or they are not together. Thankfully, we didn't think about all of that.
The show is filled with some lovely moments. But if you had to name just one favourite across seasons, what would you pick?
Mithila: I really can't! I have been asked this many times before and I really haven't been able to pick. I think we can pin down memories associated with those scenes or moments.... I think Dhruv's would be the sixth episode of Season 2 where we shot the entire episode as a one-take and also how we regularly do... with different cuts. We did it in one day. Actually, something like this wasn't scheduled, it was very last-minute, but we got so excited that we shot it.
For me, it would be about being very attached and also possessive of the characters (smiles) and showing that ownership like, 'Nahin, yeh aise baat nahin kar sakte hain!' The minute that started happening, I was like, 'Oh my God! Clearly, this show means a lot to me than what I thought it did'. (Looks at Dhruv) There you go, I answered on behalf of both of us! (Laughs)
Kavya and Dhruv have matured over the seasons. Has playing these characters also helped you gain perspective and maturity?
Dhruv: You know, I feel this objectivity will come to us only after a few months or even a few years, when both of us actually see the show as people who have not worked on it, but as just the audience. And then maybe we can say, 'You know what? This show has perhaps had an impact on us'.
Mithila: I agree with him. But by now, I do hope that we have grown as human beings (laughs) and I think there is a better thehraav in the two of us. But then again, it will take us a few years to zoom out of the show and see it from a different point of view and realise these things.
Where do you think Kavya and Dhruv will be 10 years from now?
Mithila: As a fan (laughs), I would want to see them married, at some point in their lives. That's because it feels like a very natural transition that would happen in their lives.
Dhruv: And discussing what to eat for dinner!