'Dhool Ka Phool': An unusual start
A film that really pushed the envelope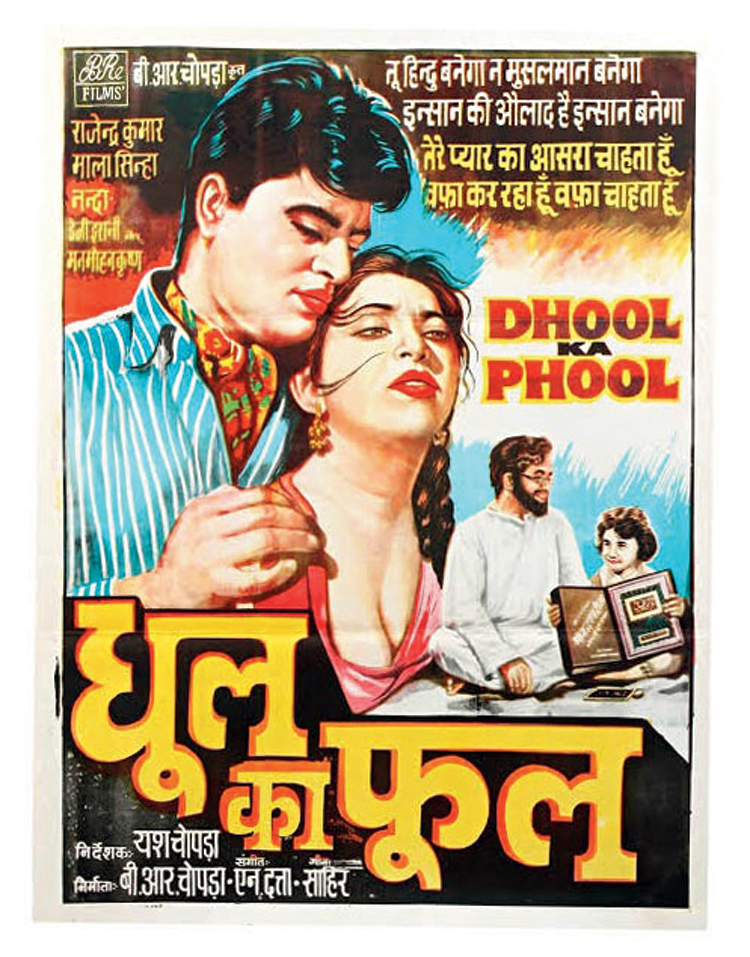 ---
---
Tu Hindu banega na Mussalman banega, insaan ki aulad hai, insaan banega.
This Sahir Ludhianvi gem, sung by Md Rafi and composed by Datta Naik (credited as N. Datta, he had been an assistant to S.D. Burman), is at the soul of Yash Chopra's directorial debut, Dhool Ka Phool, which released 60 years ago this December.
What, no chiffon-draped lovely? No duet in the Swiss Alps? Not even a glossy love story?
In his debut, Chopra, then in his mid 20s, made a film that really pushed the envelope.
Dhool Ka Phool is about a Hindu illegitimate child brought up by a Muslim man (character actor Manmohan Krishna in fine fettle), for which he gets kudos from no one. It is also about young love going awry, lovers with grey shades who take morally awful decisions to survive and move on to find romantic happiness with other people. And the unfairness of patriarchy, where two sons of the same man live very different lives, because one is illegitimate and the other isn't.
So you have college sweethearts Meena and Mahesh (Mala Sinha and Rajendra Kumar play flawed people with earnestness) who go too far one day. The Pill hasn't been invented, so the onus of the "galti" is on Meena. Mahesh is that rare bird in Hindi cinema who ditches his girl for a wealthy wife (Nanda) and never looks back. When Meena accosts him, he does the unthinkable, asks for proof that the baby is his. In the pre-paternity-test era, Meena can only go OTT in shock.
By then Meena, an orphan, has been through a lot. She has been cursed and kicked out by her aunt and uncle, lost the one woman who's ever cared for her (Leela Chitnis plays the wonderfully progressive house help). She loses her head and abandons her son. When she comes back, kind Abdul chacha has picked up the bawling bundle. Very unusually for a Hindi film heroine of that time, Meena, who works in an office, says yes to her boss (Ashok Kumar) when he proposes marriage.
What follows is unpredictable. Roshan and Ramesh (child stars Sushil Kumar and Daisy Irani) are friends in school who don't know they share a dad in Mahesh. Various twists and turns later, including a courtroom scene, the truth is out. Meena's husband Jagdish (Ashok Kumar never disappoints) is another rare bird in Hindi cinema, the husband who accepts his wife's past without a fuss.
Such spare, mature treatment. Wonder whether the god called the box office robbed Chopra of his audacity as the years wore on.