Dev's Kacher Manush trailer launch event to Swastika Mukherjee's web series diaries: Tollywood highlights this week
Upcoming projects, vacation in the hills, fashion pointers — here's what your favourite celebs have been busy with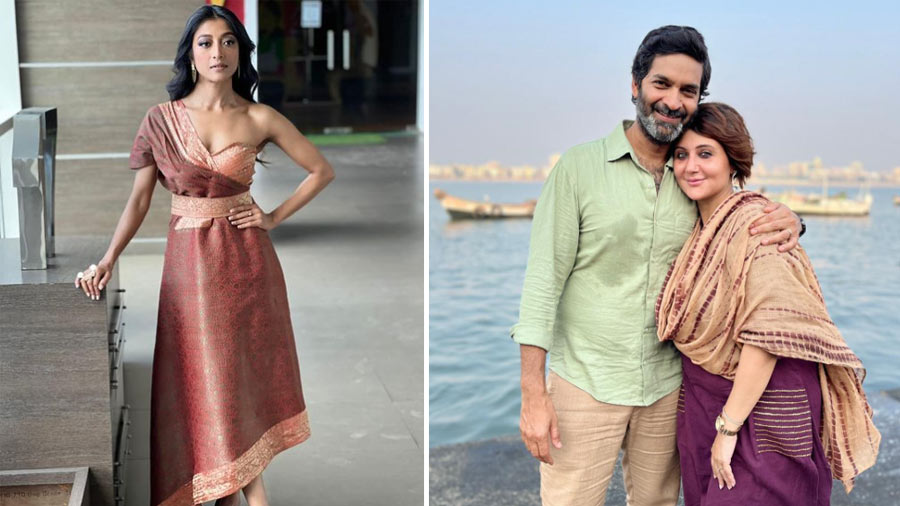 ---
Calcutta
|
Published 27.08.22, 05:32 PM
|
---
It's been an eventful week for the Bengali film industry, with several new releases in the pipeline. Here's how the week looked like for Dev, Paoli Dam, Parambrata Chattopadhyay, Rukmini Maitra, Swastika Mukherjee and Solanki Roy.
Parambrata Chattopadhyay
Boudi Canteen, directed by Parambrata Chattopadhyay, is one of the Puja releases to watch out for. Parambrata acts in the film, too, and his co-stars are Subhashree Ganguly and Soham Chakraborty. Excited?
Solanki Roy
Solanki Roy, who recently debuted in films with Mainak Bhaumik's  Baba Baby O, shared throwback glimpses of her July holiday in Jalpaiguri and Kalimpong. Solanki, who is currently working in the TV serial Gaatchora on Star Jalsha, will be seen as RJ Anindita in the film Shohorer Ushnotomo Dine, directed by Aritra Sen and co-starring Vikram Chatterjee.
Paoli Dam
Paoli Dam has a piece of advice on how to pose for the camera and she's walking the talk too. Paoli's Byomkesh Hotyamancha, directed by ArindamSil, is currently running in the theatres.
Swastika Mukherjee
Are you watching Criminal Justice Season 3 on Disney+ Hotstar featuring Swastika Mukherjee and her "heartthrob" Purab Kohli? Check out the cute photos of "Mr & Mrs Ahuja" from the web series shared by Swastika on her Instagram account. Don't miss Purab's message in the comments.
Rukmini Maitra
The Kishmish actress is a judge on Dance Dance Junior Season 3 on Star Jalsha and has been sharing her lookbooks with her fans on social media.
Dev
We are sure you have seen the trailer launch snaps from Kacher Manush starring Prosenjit, Dev and Ishaa Saha. But do you know which is Dev's "one of the most precious shots from the trailer launch event"?