Dev and Shweta Bhattacharya talk about Friday film Projapati
The duo also got spoke at length about working with Mithun Chakraborty and the road ahead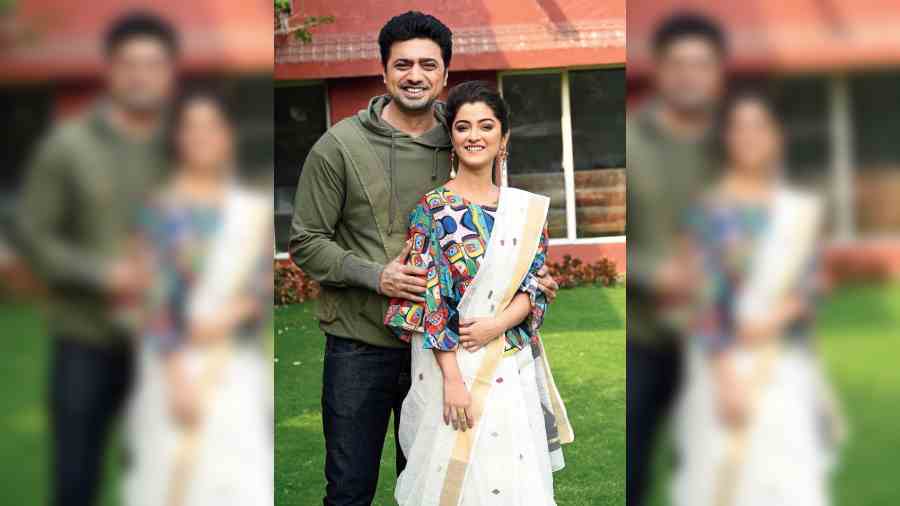 ---
Published 22.12.22, 08:17 AM
|
---
A dip in the temperature means Christmas, New Year parties and... a Dev film, which releases around his birthday. Projapati, starring Dev, Mithun Chakraborty, Mamata Shankar, Shweta Bhattacharya, Koneenica Banerjee and Biswanath Basu, traces the finer nuances of the bond between a father and his son. Meanwhile, a birthday demands a breather, some we-time with family and close friends, and a The Telegraph chat with Dev. Shweta also joined in...
Dev, wish you a happy birthday in advance. What are your birthday plans for December 25?
Dev: My films usually release around this time... all my Christmas releases have done really well. Touchwood. Somewhere I feel that the fans have been kind to me. And every year I try to give them something new, something exciting. That is why I try to experiment... that is why I want to try out different things. This time it'll be all about Projapati and its release! It is a film that is very close to my heart. During this time we wait for the feedback... visit the theatres to interact with the audience. They have their expectations from our films. Also, with a Christmas release comes new challenges. My Chander Pahar released with Dhoom 3 in the theatres. So there is always this added pressure. We have to fight with the big Hindi films. A festive occasion means multiple releases and one has to prove oneself every time. We have to lead from the front... which is why it becomes my responsibility also... to see to it that our audiences love our stories, engage with our Bengali films and flock to the theatres to watch it. It has been challenging throughout.
Why did you decide to cast Shweta in Projapati?
Dev: We were looking for a fresh face. We actually started work on Projapati before the release of Tonic. Shweta plays a very important character in the film, and she has performed really well.
Shweta: It was a dream-come-true situation for me when I got to know that I've been cast opposite Devda. I have been a huge fan of Devda... watched his films. I feel honoured to have got this opportunity to work with Devda in Projapati. Devda is so down to earth. He is an amazing human being.
Dev, in the film, we see that your character's father, played by Mithun Chakraborty, is constantly telling you to get married. Do you ever face a similar situation at home?
Dev: Many single men who are above 35 will be able to relate to this situation. Yes, I have also faced this situation... once they watch Projapati, it might start all over again (laughs). How will you respond?
Dev: I don't say anything now! It is all about you and your partner. The most important thing is the trust between the two people. It is also really important to be at peace... we also see so many divorces taking place everywhere. But I'm not saying that I am not getting married because of the that... I just want to be happy with the person I am with. Take your time, know each other more.
Shweta, what are your thoughts on getting married?
Shweta: Of course, I believe in the institution of marriage... but I am not thinking about it right now... I want to focus on my work. I'll think about it when the time comes. It is more important to be happy and be at peace. I completely agree with Devda.
Dev: This film will also show a light to people who are contemplating marriage... those who are pondering whether they want to get married or not.
Dev, on social media, we see your fans commenting about the way they would like to see you in your next film. They would like to see you doing something heroic or doing action scenes...
Dev: That phase is over when only the hero had his dialogues and his action scenes and songs. The audience is really discerning now. Apart from one or two films, we don't see masala films working at the box office. Every year more than a thousand films get released down south... but we only get to hear about the success stories of one or two films like Pushpa or KGF 2. They are out-of-the-box films. Same goes for Kantara. We are always thinking of making films with new ideas. Our film Tonic was a huge success at the box office. You'll get to see me in a new avatar in 2023. The content has to be really strong; the presentation has to be unique. Family-oriented Bengali films are working at the box office because their stories are resonating with the audience.
Did you think of casting Paran Bandyopadhyay in Projapati?
Dev: His name had come up but that would have been like Tonic only. We were shooting a reality show with Mithunda and we all agreed that Mithunda would be perfect for Projapati. He loved the story of Projapati and said yes.
Shweta, you are a popular name in serials. How was your experience shooting for a film?
Shweta: It was an amazing experience. Initially, I was a bit nervous since I was sharing screen space with Mithunda and Devda. But then I had a great time on the sets.
Dev: I know Mithunda since 2009, and to play our characters, we really didn't have to 'act' as such. It was so natural. Our off-screen bonding translates so well on screen.
Dev, you had worked with him in Herogiri. Did you discover anything new about Mithun Chakraborty?
Dev: He remains the same. Mithunda is so dedicated, disciplined and punctual. He is so humble and grounded. Also, one can learn certain technical nuances of acting from him.
Any change that you are noticing in the industry?
Dev: So many new producers are coming in now. If they would have come six years ago, maybe I would not have felt the urge to turn producer (smiles). Of course, I became a producer because I wanted to tell stories in my way, stories which I connect with. I have realised that there's no point in being restless. It is a game where you wait and watch.