Dads and dudes
If political connections could launch a career, Rahul Mahajan, son of late BJP bigwig Pramod Mahajan, got only a clutch of reality shows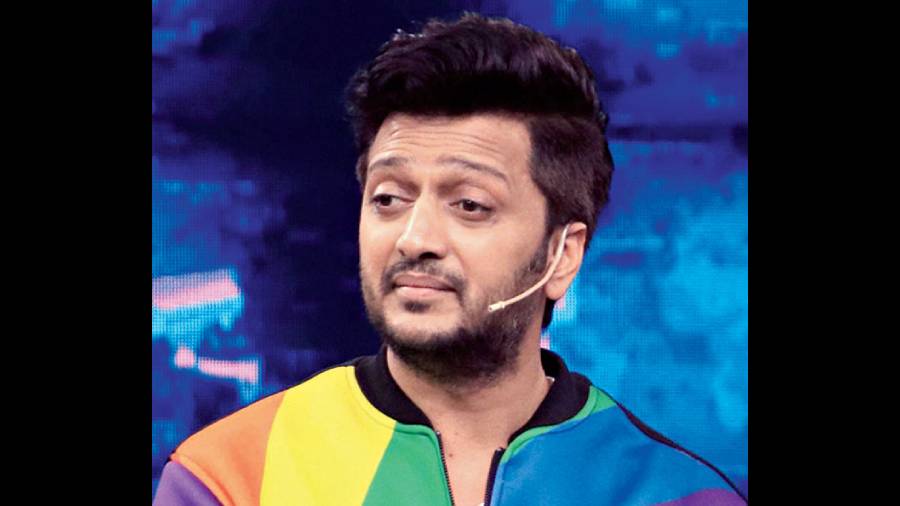 Riteish Deshmukh
File Picture
---
Published 31.10.21, 12:39 AM
|
---
When the bail plea of a 23-year-old has to stipulate that the accused has nothing to do with the political war being fought over his name outside the courts, it leads us to a corollary question. Do political connections help to make a celebrity?
Riteish Deshmukh, son of the then chief minister of Maharashtra, is a prime example. One distinctly recalls that although a qualified architect, Riteish was quite dazzled by the film world. His father's position ensured him an entry into Subhash Ghai's parties and shootings, where he mingled with film stars and with some of us in the media.
Maharashtra teems with loud and boorish sons like Narayan Rane's offspring who strut with their chests out. Earlier too, Avinash, son of V.P. Naik, the longest-serving CM of the state, was known for rubbing shoulders with the famous and glamourous.           
But Riteish was the antithesis of the privileged. If there's an antonym for "show off", he would be it. I've never seen any politician's son so grounded, never saw him attracting attention or throwing his weight around as the CM's son. The film crowd knew him and was aware that he aspired to be an actor. But none of the big guns gave Vilasrao Deshmukh's son a break. Even Ghai signed Riteish for films like Apna Sapna Money Money only after he gained recognition with comedies like Masti and Kya Kool Hain Hum.
If you'd witnessed Riteish's career from close quarters, you'd know it wasn't papa's clout but a streak of luck that got him Tujhe Meri Kasam (2003), a small film from Hyderabad-based producer Ramoji Rao. Nobody placed their bets on Riteish or on the film that turned out to be surprisingly well-made. It had a melodious title song and made money. But it didn't make him a star overnight. When he did Out Of Control, a sex comedy that didn't do well, he could have got bracketed with smut and faded away. But luck prevailed. If Riteish has found a niche, has become a versatile, reliable actor and established himself as a producer of substantial Marathi cinema, nobody can credit the CM's chair for it.
Like Riteish, Amitabh Bachchan too got his foot in the door when no less than Indira Gandhi dialled Nargis Dutt and said, "My friend Teji Bachchan's son is keen to join the film industry. Speak to Sunilji to help work out something for him..."
Read The Legends Of Bollywood by Sunil Dutt's right-hand man Raaj Grover, who was entrusted with the job of introducing the PM's family friend to the film industry. In the book translated by Suchitra Iyer, former editor of Society, Grover describes what happened on the four days that Amitabh took leave from Bird & Co. for a whirl in the film world but had to go back empty-handed.
Forget the ensuing months of humiliating meetings. Dutt himself "deserted" him by putting him as one of many in Reshma Aur Shera, where even the camels could be heard but not AB, who was curiously cast as a mute. A time soon came when neither the PM's recommendation nor Bachchan's baritone could save the "gawky looking unknown" from being unceremoniously replaced by Sanjay Khan in a film called Duniya Ka Mela. That was the time Amitabh almost boarded the train back to Calcutta.
If political connections could launch a career, Rahul Mahajan, son of late BJP bigwig Pramod Mahajan, got only a clutch of reality shows. Nobody offered him a feature film.
If dad's looming presence is an essential, Ram Vilas Paswan was in the saddle when he indulged his light-eyed son's dream of becoming an actor. Kangana Ranaut had gamely cited that she'd signed Miley Naa Miley Hum (2011) opposite Chirag solely for the money. But while papa's power could get Chirag a ticket to the Lok Sabha twice over, it couldn't buy him a ticket to stardom.
A call from the powerful can only open a door. The key to success comes from a power much higher.
Bharathi S. Pradhan is a senior journalist and author