Content creator duo Shubham and Saloni Gaur on Bhai Behen vs. The World
Popular content creators and brother-sister duo Shubham and Saloni Gaur feature in Bhai Behen vs The World, a mini-series on Amazon Mini TV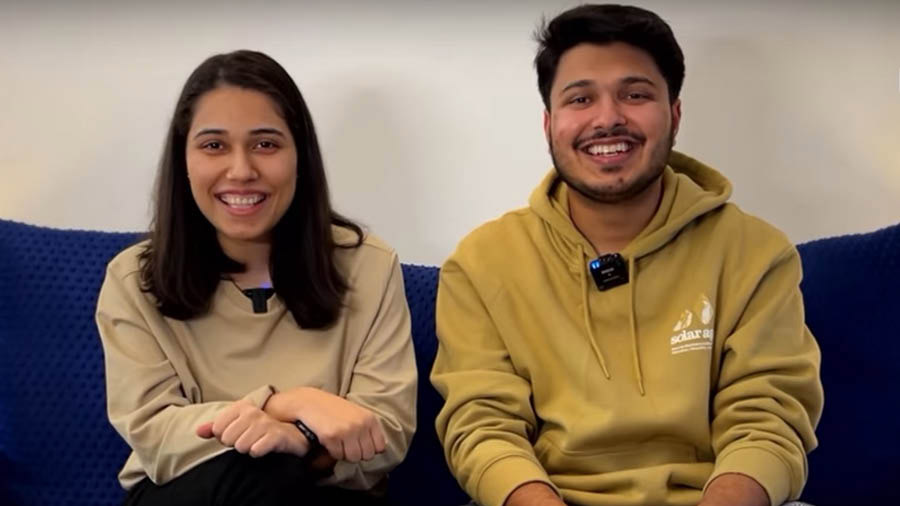 Content creators and actors Shubham and Saloni Gaur
YouTube
---
Calcutta
|
Published 28.12.22, 04:11 PM
|
---
Popular content creators, actors and siblings – Shubham (28) and Saloni Gaur (23) – believe that successful people keep their core intact. Given their values and teachings at home, the brother-sister duo remain grounded even after becoming an online sensation. 
With 1M followers on Instagram and 282.1K followers on Twitter, Saloni's funny avatars — from Nazma Aapi to Nanu — spread awareness about contemporary social issues.  
On the other hand, Shubham has his hands full as a comedian, actor, casting director, producer and a budding entrepreneur. His short sketches on daily life situations, cricket match reviews and personification of Shoaib Akhtar are on point.  
Saloni's earlier web series include Uncommon Sense With Saloni and Campus Diaries, while Shubham made an impression with his character, Jaat, in the web series Hostel Daze.
The Telegraph Online spoke to the Delhi-based comedian siblings on their mini-series Bhai Behen vs. The World on Amazon Mini TV and more. 
Were you nostalgic while shooting for Bhai Behen vs The World? What were your inputs in the script?    
Saloni Gaur: The show is relatable to all. Everybody feels that they have experienced the same at home. Siblings will feel nostalgic. We laughed a lot during the shoot. We have taken instances from our life such as when relatives would ask us about marks, the two of us used to unite and if we lost something, we would blame each other. (Smiles) So, we had our input and jammed with the team. We are siblings and we are playing siblings. Our audience understands our humour, so we gave our feedback on what would work. 
You have built an audience with your brand of humour. How do you understand what the audience prefers?
Saloni Gaur: Social media helps. If we are unsure about an idea, we post it to see the reaction. The audience gives instant reaction. We post more of those videos to understand what people are thinking about it and then make only that kind.
Shubham Gaur: I am still learning what the audience likes. Over the past few years, I have learnt what they don't like, and that innovation is the key. There are many like us. People are spoilt with choice, so we need to think about how we can be different because mostly all are saying the same thing, just that we are doing a different packaging. We are comfortable being ourselves, so if we become someone else, then we will have to work hard and put in the effort. People who are successful in the long run are authentic. One has to keep the core intact.
Is there anything that you dislike about each other?
Saloni Gaur: Bhaiya doesn't keep things neat and clean. (Grins)
Shubham Gaur: My problem is if I don't like to do it, then why does she have to point it out all the time? (Smiles)
Tell us what you learn from each other.
Saloni Gaur: He is making videos for many years. Many give up, but he is very dedicated. If he sets out to do something, he is on it. His mind is always on. Even if he is tired at the end of the day, he finishes his work.
Shubham Gaur: Saloni is very organised. She gets up on time and maintains a schedule. I am a bit lazy.
What about the competition?
Saloni Gaur: No, there is no such competition. We complement each other. If I need any help, he helps me out and if he needs something, I chip in but that rarely happens.
You two seem to be rooted and have hardly changed after becoming popular. How do you maintain a balance between your personal and professional lives?
Saloni Gaur: We are the same at home and when we step out. It has become a habit to maintain a balance. It depends on our family values. Even if we throw an attitude, our parents bring us down and remind us that it's not reality. That's why we are grounded.
Share a recent instance where you have come across a crazy fan moment.
Shubham Gaur: Oh, Saloni can talk about it for an hour. (Smiles)
Saloni Gaur: Bhaiya got married recently. I could not eat at my brother's wedding properly because everybody wanted to click pictures with me. I couldn't try the dal-bati that I had picked for the menu but then, its people's love. (Smiles)