Comedian Sumukhi Suresh gets candid about 'Motormouth'
The content house aims to promote and create shows, movies and a variety of stories with women as leads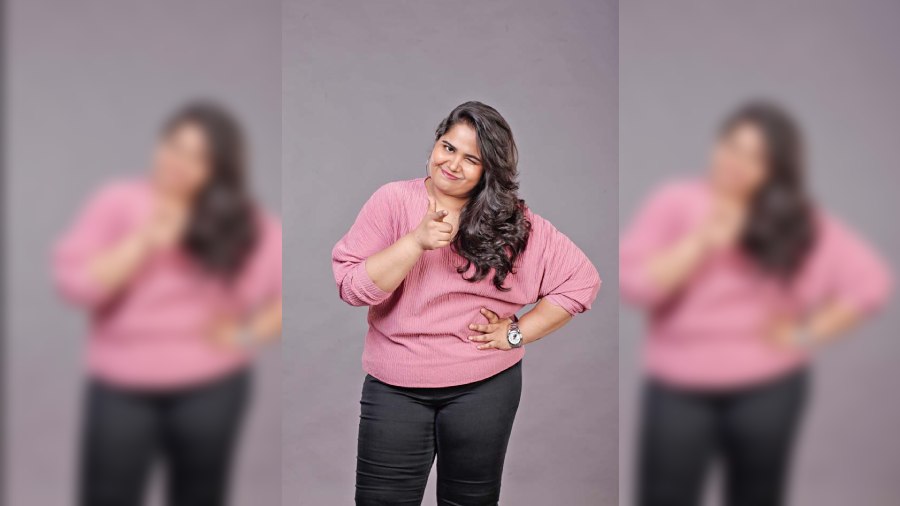 One thing I am clear about is the women I wish to write about have to be real and flawed. — Sumukhi Suresh
---
Published 28.01.22, 04:13 AM
|
---
Comedian, actor, writer and now the proud owner of a platform with women-centric content, Sumukhi Suresh has added another feather to her cap. Motormouth, a story marketplace and content house was launched by the comedian yesterday. The content house aims to promote and create shows, movies and a variety of stories with women as leads. Sumukhi's primary aim behind this project is to bring  about a cultural change with a tincture of humour. Although the platform is women-centric currently, Sumukhi's plan is to eventually dive into other diverse gender-centric content as well. A chat with the comic on Motormouth and more.
How did you conceive the idea of Motormouth?
One thing I wanted was to start my own company and this is something that has been going on for a while. I started my own bakery before this... the kick of starting something on your own has always been there. In terms of Motormouth, everything good that has happened to me happened because I took charge. So with Motormouth my aim is to create a buffet of characters that people and I can play. In my head the dream is to make it a Hello Sunshine by Reese Witherspoon or ShondaLand by Shonda Rhimes. It started because I wanted different female, flawed characters to be pitched.
The objective is to showcase women-centric content and then later diverse gender-centric content. Are there any topics per se?
One thing I am clear about is the women I wish to write about have to be real and flawed. It is impossible for this person to be a bechari or a badass. Whatever they are playing, lead or supporting cast, they will be remembered for sure. They have to be funny, flawed and female.
Speaking of genres, I am a naturally funny person and I work with writers who are as well but we can do a comedy,or thriller, or sci-fi. I am not a fan of sci-fi but others are. Genre-wise it will be open but it will be funny for sure.
This sounds like a great opportunity especially when women need to be there for women....
Yes, someone once asked me if I was trying to change a social construct and I said that maybe I am but the intention is that I am working with other women and it's been a very natural course of my career. It's not that there aren't boys in my team but there are more women writers in my team and I am not going to stop that course.
Let's talk about comedy a bit. Now with this new wave of Covid, how affected have the gigs been?
The live scene is truly affected. There's a good thing that happened to it and there's the obvious trouble which was that many comedians lost stage time. The thing with comedy is that the more the stage time the better the content. And yes, we have moved to Zoom but in terms of money, good content and opportunity, it has stopped. But because of this comedians have realised that they don't have to limit themselves to only comedy. They can do some fiction writing as well.
What about Pushpavalli? Is there some production happening?
(Laughs) Honestly, I don't think there will be a Pushpavalli season three. But the good news is that Sumaira (Shaikh) and I have co-created a young adult college show which is commissioned for development. It's funny, it has some thriller... I wish I could tell you more. But I am making a spin-off of Pushpavalli called Vasu PG.
After launching this project what else can we look forward to?
I am writing two feature films, one for the director of Saand Ki Aankh, Tushar Hiranandani... so his next project and now he's also doing a project with Rajkummar Rao. It's going to be one of those inspirational comedies. I'm writing a movie with Rhea Kapoor. I'm developing a black comedy with me as lead as well. I am also writing an international show which is set in 2000 and is a tech comedy.