Chhichhore: Naveen 'Acid' Polishetty's big Bolly debut
Acid, the foul-mouthed senior on campus who picks on "freshies" in Chhichhore- spoiler alert!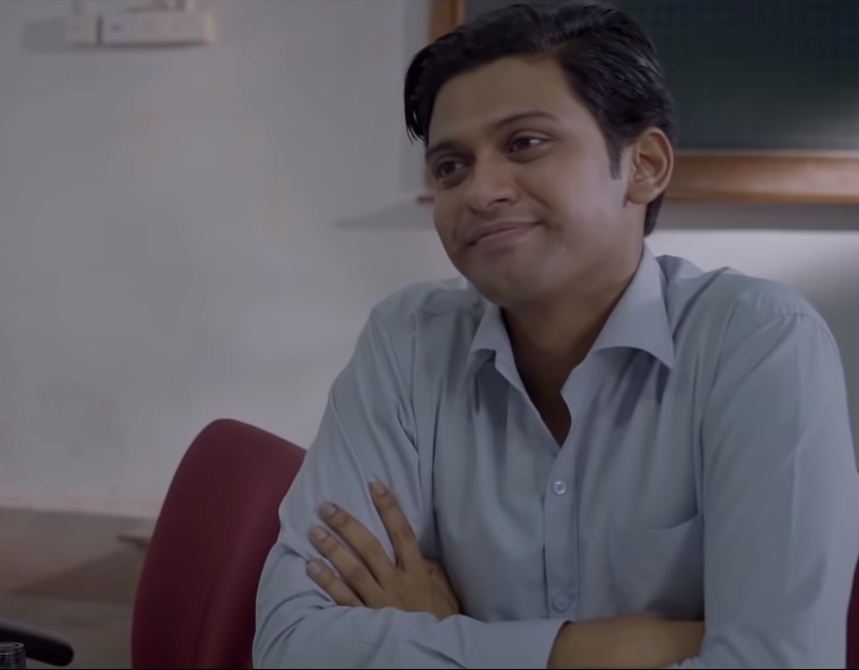 ---
---
My confidence has hit an all-time high in the last few days. My ego has got a nice massage!" are Naveen Polishetty's first words to The Telegraph when we dialled him. Naveen, who? The guy who's catapulted himself to overnight fame as Acid, the foul-mouthed senior on campus who picks on "freshies" in Chhichhore.
The Telegraph caught up with Naveen on his big Bolly debut.
PS:Yes, he's the guy who's notched up millions of views in those viral 'rant' videos on YouTube!
People are really loving Acid, aren't they?
They are! (Laughs) I think people are just taking to the character and the film organically. College goers are going with their friends and parents are taking their college friends along just to make that nostalgic trip back to their younger days. My dad has already had three screenings. I think my dad is contributing to the film's box office the most. Film ne jo pachaas crore kamaaye hai ab tak usmein shayad chaalis crore toh mere daddy ke hi honge! (Laughs)
The repeat value of the film is tremendous. I have walked into quite a few shows myself. Over the last three days, I am the guy who has been selling popcorn in the interval! Within five days, I have met people who are watching it for the third time.
Acid comes in about 20-30 minutes into the film and people have been sending me reactions from the audience to my first scene. This is my first film and I really wasn't expecting reactions like this. I've made a lot of YouTube videos and I feel somewhere the audience has made that connection with me that, 'Yeh apna hai'. The other day, we had a screening in IIT Bombay and I remember my dad telling me from the sixth grade that my goal in life should be to get into IIT. I finally got to achieve that through Chhichhore. I think Acid is a cooler name to be known by anyway! (Laughs) The best thing is that people are coming out with the whole gang and not just one character. Rarely does a film get both love from the audience as well as from critics.
Working with Nitesh Tiwari must have been a high…
It was. I remember my mom and I watched Dangal together and after the film, she turned around and told me that why don't I approach the film's director for a role. And when I was shortlisted for Acid's role, I called my mom and said, 'It's happened!'
I had three rounds of auditions for the film. I went to meet Nitesh Sir thinking I am going in to meet a Rs 2,000-crore director but I walked out feeling I had met a senior from college. We are both engineers and so we gossiped about life in engineering college hostels for four hours! I never thought I will play an engineer in my first Bollywood film since I spent my whole life running away from it! I guess destiny works weirdly.
Was engineering that traumatic for you?
Actually, it was the most fun four years of my life. That's because I never studied. If you don't study, then life in engineering college is amazing! I started a theatre group in college (Maulana Azad National Institute of Technology, Bhopal) and also formed a rock band. I was the guy who made friends with the topper and one week before the exam, I promised him that I would introduce him to a girl he liked or buy him beer. He let me cheat aur yeh karke pass ho gaya main.
Are you anything like Acid?
Not at all! I am nothing like the abusive Acid, so mothers please don't stop sending rishtas for your daughters to my mom! (Laughs) Acid gets angry at the drop of a hat. In life, it takes a lot for me to get angry. I am always joking around.
I rarely take things seriously. I actually based Acid on an angsty guy in my college. He had flunked his class and he felt like a loser and he would abuse a lot. When I was narrated the part, I was like, 'Oh my god, Acid is this guy!' If anything, I was Sexa (an oversexed senior, played by Varun Sharma) in college!
Also, it was a rare chance to play two different guys in the same film. When I saw my look as the older Acid, I was like, 'I hope I have this much hair when I actually turn 50!'
I put in a lot of energy and spark into the younger part because college life is carefree and so is this guy. When he gets older, I mellowed him down, though his equation with his friends remains the same. Given how long people in this industry have to wait for their first film, I am just glad I got to debut before I started looking like the older Acid!
Did the foundation for Acid come from all those viral rant videos you've done on YouTube?
I think I got called for the audition based on those videos. But the essential difference between the guys I played in those videos and Acid — though both are angsty — is that Acid thinks he's a loser while those guys think they are not. The YouTube videos helped me hone my comic timing but film is a very different medium.
It's been a good year for you. Before Chhichhore, you delivered a massive hit on debut with the Telugu film Agent Sai Srinivasa Athreya…
Yes, this has been the year of debuts for me. The Telugu film was a super-duper hit. What I am feeling with Chhichhore is what I just experienced with my Telugu film. And I am not complaining! Agent is a funny detective thriller that I have also co-written. Before release, no one gave the film a chance but favourable reviews from a US screening made us go from six to 180 shows on Day One! We've just completed 60 days in Hyderabad theatres. It's been a phenomenal year for me.
We believe you have some Calcutta memories…
I do! I must first tell you that in the comments section of my YouTube videos, people keep asking me if I am Bengali. I don't know why! I went to Calcutta when I was a kid and I loved Nicco Park. People talk about rosogolla, but for me, Calcutta is Nicco Park! Though I burnt my back on a slide there because it was so hot. I plan to go back now and get on that slide… but with a gunny bag this time around!
Who is your favourite character from Chhichhore? Tell t2@abp.in