Chanchal Chowdhury on Karagar 2, Kolkata and more
It is all about internalising the character and the layers that come with it, says actor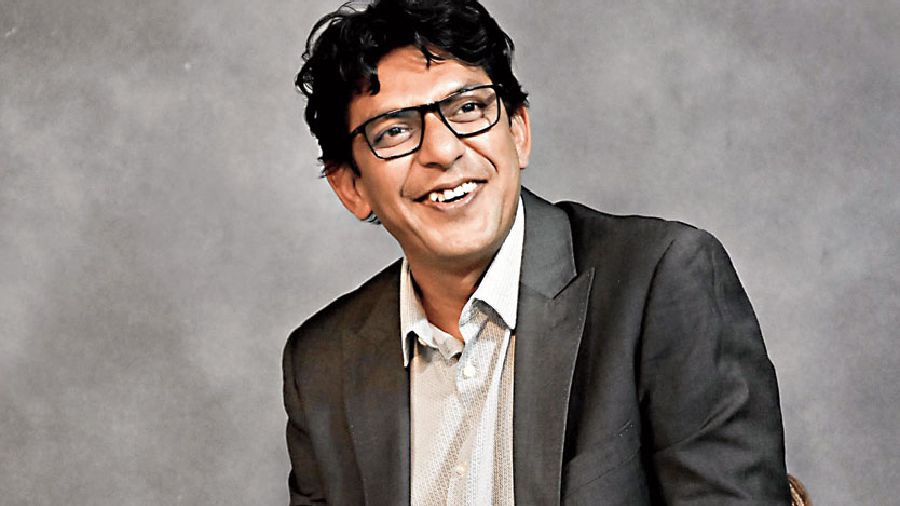 ---
Published 10.12.22, 12:47 AM
|
---
For the multi-hyphenate Chanchal Chowdhury, the standards that he sets with every work continue to be the benchmarks of excellence for onscreen performances. He has been the talk of the town for quite a while with an array of critically acclaimed works and years of experience to his name. There is a new dimension to Chanchal Chowdhury that is unlocked with every project that he embarks on, where his fandom knows no borders or lines. With his recent releases, he has indubitably been the uncontested crusader for Bengali content across the globe. Before Karagar 2 drops on Hoichoi on December 22, he talks to The Telegraph about what the second season brings, his evolution as an actor, the importance of breaking formats, Argentina and much more.
Before anything, I just want to thank you for the incredible works you have been gifting us with over the years. It has been a sheer pleasure.
I will take this (laughs). But it really goes both ways. I want to thank the people of Kolkata as well. I do not speak as a Bangali standing at this juncture, but as artistes, Kolkata has always been the place that we have had a certain attraction towards. I've been deeply associated with theatre as well, over the years. The joy and satisfaction of performing a couple hundred shows around our country would fall shy in front of the satisfaction of a single performance in Kolkata. That's something we had always looked forward to. Similarly, considering the space of web series and films, our lovely audience back home certainly gets to see the works we come up with, but we dearly look forward to the reception that they get in Kolkata.
Karagar 2's trailer, which was launched a couple of days back, keeps the anticipation peaking while confusing and teasing us further. Could you tell us a bit about the buzz surrounding it?
In the first part, the story got people thinking about the Mystery Man's (Chanchal's character) journey and how he could have possibly lived for 250 years and the other clues that were scattered across the episodes, which did have slight inlets into the character's story. There have been numerous assumptions. And I love hearing them. The plot answers and teases, complicating and at the same time, untying knots. Those who have given it a slightly detailed and dedicated thought will have their assumptions met, while for others, it will keep asking questions and surprising you at every possible point.
How did Karagar challenge you as an actor?
Karagar is my latest work. I don't think I've worked on something or have had something on my plate as challenging as Karagar — the story, the space, the setting, the character, the intricacies. Shooting on location was a huge challenge. Usually, for works with such settings, we opt for sets. But, here we shot the entirety of jail scenes on location. The jailhouse is almost 250 years old and is now defunct. The place will probably be turned into a gallery or museum with heavy renovation, and that is how we got the opportunity to work and place it all there. The space has really supported the scope of your story. There was nothing close to comfort while shooting there. It was an ordeal to work and take the shots amidst the dirt and the rubble. It gets really difficult when it starts affecting your health. I had allergic reactions on my skin, and the dust made it difficult for me to breathe at times. I couldn't have rice on all the days we shot there, especially with prosthetics on, using a straw to sip on fluids only. The next thing was learning the sign language which we had to employ properly. There is hardly any room for error when it comes to something like this. It was a challenge, but all of it makes Karagar what it is, a fruit of immense labour and love.
Your eyes spoke a lot through the first part of the show, with an integral role to play in controlling the mood of the scene and the conversations. Did you realise and prepare for it in some way ?
My acting is never just a conscious effort. It primarily involves a mental process of embracing the character. The physical nuances which come with it are not extremely planned or conscious. There is a free flow. It's all about internalising the character and the layers that come with it, which is the most important thing I follow whenever I take on any project. If the details and the nuances reach the audience in a way which makes the character convincing in their eyes, I consider myself successful.
Nandan experienced an immense craze when Hawa was screened last month, and was the talk of the town for quite some time. How was the experience?
It was absolutely out of this world. There has been immense buzz and craze surrounding the film back in Bangladesh as well, where all houses were packed, and tickets were sold out on pre-bookings. We recently completed 100 days. It has been a rewarding journey. The screenings were not ticketed here, and the first show which was from 1pm had people lining up since 6am. Every show following that witnessed the same, with people crowding outside Nandan to catch the film. More than a personal feat, I think it is a win and a seminal point for Bangla cinema in its totality.
How do you think you have evolved as an actor over the years? 
When I worked on something like Monpura, I did not have any experience to substantiate the decisions I took as an actor. My thoughts, ideas and approaches were not developed enough to have a mature space to pepper in inputs. I was completely dependent on the director, whose idea and mindscape I would blindly follow, to project the character on screen. I think, now, I do have the maturity and the experience behind me, which helps me tune it with my inputs in tandem with the director's vision. The way I am associated with the story, or how I am associated with the character plays an important role in determining the approach we take as a collective unit. From Monpura to Hawa or Karagar, the evolution has been defined and coloured by the experience and the thought that I bring to the projects.
Settle a domestic debate for us, Kolkata Biryani or Dhakai Kacchi Biryani?
(Laughs) The way biryani and mutton is treated and cooked back in Bangladesh somehow edges past what I experience here, very honestly. And certainly, there are few preparations here which will never taste the same in Bangladesh. It is certainly defined by the culinary heritage of the space, and years of perfecting and working on recipes, passed down generations. Similarly, when it comes to films, it has evolved to a space where there is a healthy transaction that occurs with every work that we produce, especially with the boom of OTT. There is a mutual development and nurturing of ideas and approaches which are facilitated through this transaction, where we have moved beyond the obvious issues of budget constraints, remakes, et al to produce projects which reflect our individuality. Stories like Karagar, with crude elements to them, are being produced, which do not conform to the monochromatic binaries. It's an age where we have to tell our own stories, blessed with originality and rooted deep in our cultural heritage. When it comes to content being produced, traditional formats need to be broken, and those are the voices that will be heard.
Coming to the World Cup, you are an Argentina fan. Do you think they have a solid chance ?
Yes, I'm a fan. But I try not to be a staunch fan (laughs). We cannot always let emotions sway us. Brazil has been playing some amazing football. They certainly have a chance. The other teams have been equally brilliant. Yes, we have been playing well but I can only gently wish Argentina continue the form for the upcoming matches and bring the cup home.
Picture: B. Halder