Celina's journey
She was in Calcutta last year doing what she revels in — playing a Bengali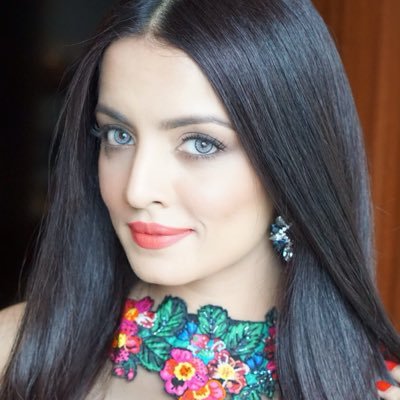 Celina Jaitly
Twitter/@CelinaJaitly
---
Published 18.04.20, 06:55 PM
---
How many people do you know who are up in the Alps during this lockdown? A fair-skinned, light-eyed former beauty queen-turned-Hindi film actor called me from Austria the other day. She's recouping with her Austrian husband, Peter Haag, and their three sons. Austria was one of the first countries to close its borders, surrounded as it is by Italy, Germany and Switzerland. In short, three of the most troubled areas of Europe.
"My house in fact is just a 3-hour drive from Venice," disclosed Celina Jaitly who is so comfortable in Bengali that she calls me "di".
She has been in Austria only since this January. Celina was otherwise going through pain and pleasure in the UAE, with Peter working high up in the corporate world. But she was in Calcutta last year doing what she revels in — playing a Bengali. And she was going back to what she loves doing — acting after a long gap of nine years.
Wherever she was, Celina always lent her support to the LGBTQ community, long before Section 377 was turned on its head by a liberal Supreme Court in India.
In the film where she makes a comeback, her unbridled support for the gay movement and her love for all things Bengali have come together. Journalist-turned-author (he wrote Hema Malini's biography) Ram Kamal Mukherjee, who has morphed into a short-film maker, flew down to Dubai to draw Celina out of retirement by offering her the role of Romita, the character she plays in the 40-minute film, Season's Greetings, now showing on Zee5 after going to eight international festivals.
"Bengali is my mother tongue as I spent a considerable time of my life in Bengal," Celina explained to me. "But unfortunately, I never got an opportunity to play a Bengali character. Since Ram Kamal (who once worked with Stardust, the film monthly) knew me for years, he must have seen Romita in me."
Celina, who was still breastfeeding her third son, had to report for work in Calcutta. "The producers were so understanding that Ram would call 'time out' for me to go express milk for the baby," she giggled. "That was the first time in my life I realised what women have to go through to have a career and a family."
Whatever it took, the offer to do this film was too tempting to turn down. "The best part was the use of Rabindrasangeet as a metaphor in each sequence," she enthused. "I love Calcutta and its rich culture. The day I reached the Baruipur bungalow where we shot, I knew this film would look completely different from all my other films. Especially after we got one of the most senior and probably the best designer — Sharbani Das on board."
Getting the upper crust Bengali setting for the main dinner scene at home required detailed work. From Celina's nose pin to screen mother Lilette Dubey's gorgeous tussar sari and house help Shree Ghatak's batik-print sari to boyfriend Azhar's suit, everything was sketched out in Satyajit Ray style. An interplay between those four characters, the fifth was the surprise guest who provided the unexpected twist at the end. That's where Season's Greetings brought in what it had hinted at right at the beginning when the following quote from Rituparno Ghosh was flashed before flagging off the story:
"I consider myself to be privileged because of my gender fluidity, the fact that I am in between" — Rituparno Ghosh.
It also justified the presence of the LGBTQ supporter Celina Jaitly.
The brief spell of work was kinda therapeutic for the activist-actress-wife-mother who was actually battling depression — the big "D" word — for over a year. Losing both her parents within months of each other and losing one of her twin children just after they were born had taken her to the brink of a breakdown. Heading for the Alps was Peter's way of helping her recoup, at the cost of putting his career on hold.
What has worked for Celina, and should work for anybody facing the "D" word in Covid-19 times, is a Gratitude Journal. Try it in these trying times.
Bharathi S. Pradhan is a senior journalist and author