Richa Chadha on playing Shakeela
She is gearing up for the release of her film, in which she plays the real-life south Indian actress who acted in a slew of B-grade and soft-porn films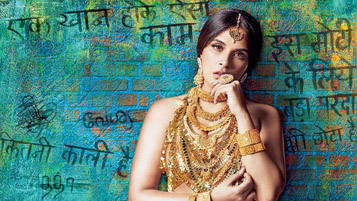 Richa Chadha in Shakeela.
Sourced by The Telegraph
---
Published 23.12.20, 04:27 AM
|
---
Last Friday, Richa Chadha had an OTT offering in the five-in-one anthology film Unpaused (that's opened to primarily positive reviews) and this Friday, the actor is gearing up for the theatrical release of Shakeela, in which she plays the real-life south Indian actress who acted in a slew of B-grade and soft-porn films, starting from the mid-'90s. Directed by Indrajit Lankesh, Shakeela also stars Pankaj Tripathi. We caught up with Richa for a chat on the process of embracing the body and soul of Shakeela and her lookback at 2020.
What are the emotions of having a theatrical release in a year where we have had almost no films playing in theatres?
Obviously it's not an ideal scenario. But I don't want to hold anyone back, especially those who have invested in the film. It's their decision to take Shakeela to cinemas and not go straight to digital. Since you were there on the set when we shot the film (in Bangalore), you will know how much of a south (Indian) flavour there is in this project. For this reason, the makers want to release it in cinemas in all five languages (Hindi, Tamil, Malayalam, Kannada and Telugu).
After months, I went and watched a film in theatres last night, which was Tenet. The attendance in movie halls still faces a huge question mark. Watching Tenet was actually pretty nice because I went in for a late-night show and the hall was empty. Those who were there were mostly repeat audiences who said, 'Humein pehli baar picture samajh nahin aayi!' (Laughs)
Do you think Shakeela can lure people to the theatres?
The film was initially supposed to release in March, and now it's coming at the end of the year. Frankly, the response to the trailer is far better than I had expected. I don't know what it means in terms of the film being watched in a cinema, but it's interesting that it's managed to generate this response.

There will be inevitable comparisons to The Dirty Picture that told the story of Silk Smitha...
It's a great film to be compared to. But Shakeela is not The Dirty Picture. In fact, Shakeela's career took off in a major way after Silk Smitha's death. Shakeela was on the verge of quitting just before Silk Smitha's death, and then she got a slew of films and she did them because she wanted to make money. I know there will be comparisons, but I don't think we can do anything about that. I love Vidya Balan (who played Silk Smitha in The Dirty Picture), and it's an honour to be compared to her, if at all.
What was the most interesting bit about playing Shakeela? You had told me earlier how it never whitewashes its protagonist, something that many other biopics have been guilty of doing...
I do a couple of career experiments every year... sometimes they are good and sometimes they are not. I always knew that this film will be heavy in the flavour of the south and though she's cult in the south, a lot of the people in other parts of the country may not have even heard of her or be aware of Shakeela's story. Which is not the case with Silk Smitha because she had done a bunch of films here, including Kamal Haasan's Sadma.
In the case of Shakeela, the idea is to first create awareness. Also, the idea was never to whitewash her. The biopic takes names directly and stuff, which is something that we don't get to see in films of this kind. Shakeela goes all out and says, 'I am in this condition because of this person'. The most interesting bit in playing her was to explore that world with a certain amount of nostalgia because it's the era of VHS tapes and single screens. It's something that we have lost. For me, Shakeela is a very interesting personality. Despite going through so much, she's not bitter. Her family prevented her from getting married because she was the only earning member, they used her in many ways, but she always stood by them, supporting them monetarily. And now they have actually abandoned her. I thought that was an interesting mind space to explore... someone who is so adored, but so naive.

This is a film that required you to use your physicality in a way you haven't done before. Was there some kind of a holding back initially?
When she started to make some money, Shakeela hired a body double to do the things on screen that made her uncomfortable. I thought that was another interesting aspect to explore, the dichotomy of it all. Obviously, I felt very weird to gain so much weight and be on camera doing all that. Itna mota hoke mujhe bilkul mazaa nahin aaya (laughs). They wanted me to gain weight on my arms, my belly and face.... It's so funny, when I put out the first look, a body-shaming activist wrote they shouldn't have got someone who had my frame, they should have got someone much bigger in terms of frame to play the part... and then, there were a host of people who said kitni moti hain (laughs). It's so difficult to make people understand that it's the human body... it's not easy to keep yo-yo-ing like this.
How important is it for you to be part of stories about women?
Very important. But then I also look at them as stories, sometimes it's not about men or women. A lot of my forthcoming work has women at the forefront, but then there are a host of other projects in which I am playing an important person in somebody else's story. It's important for me to do all kinds of work. I like variety that keeps me happy and challenged. Sometimes, I like to do things that scare me, like doing Shakeela was very scary for me.

We had connected very early on in the lockdown, when the world was immersed in baking banana bread and whipping up Dalgona coffee. Now that we are at the end of 2020, what are your major takeaways from a hugely bizarre and unfortunate year for everyone?
It's definitely not been easy. it's just been one tragedy after another. On the professional front, we've lost colleagues who we all loved and respected. Personally, we suffered a setback with the passing away of Ali's (Fazal, actor and Richa's fiance) mother. I really want this year to end, but it's not that things will be magically better in the new year. I am grateful that I have not had to worry about survival things. In fact, I didn't even think of work for the first two-three months because I was so overworked just before the lockdown.
What's really stressed me has been this negative narrative and this very deliberate vilification of the film industry. Accountability was lost, the repercussions of one's words and actions on another person's life were lost. Months after people have been vilified, we are now being told that Tablighi Jamaat deserves an apology. I feel they deserve much more than that, but it won't come. That kind of stuff affects me a lot. I think my blog (a 3,900-worder written in July) resonated a lot with people because I marinated it for more than a month.
I have a certain bent of mind, I express myself in a certain way, I read a certain kind of books, but when we do films, we have to do all kinds of films... intelligent films and projects that may not be so smart. Bolne ko toh hum  (Quentin) Tarantino ka naam lete hain, but the reality is very different. This year I have just spent thinking about so many things. Yeh saal zindagi aur priorities ke baare mein nahin socha toh kya kiya?