Can the Bollywood Khans stage a comeback?
The industry's three super-heroes all delivered duds in swift succession, sending shockwaves through the industry. But don't write them off just yet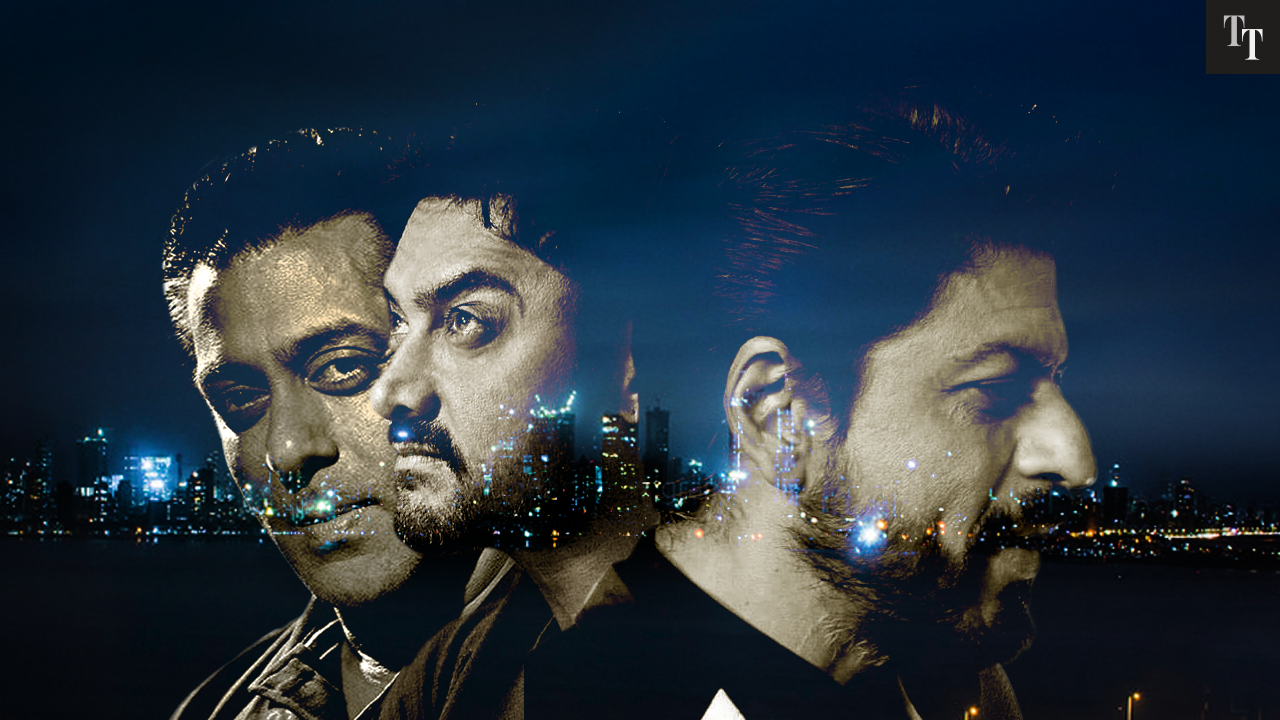 The Khans still enjoy one huge advantage over aspirants hoping to supplant them and that is they've got genuinely pan-Indian appeal which none of the others can yet match
Image: Rahul Awasthi
---
Published 14.01.19, 01:48 PM
---
'The public's very smart today. If the content's good, whether it's a big or small star, they'll come to see the film. Salman's Sultan did very good business. So they've not lost their stardom, but you can't fool the public. As I've said to SRK and Salman, they must be very careful of the content they choose,' says Hirawat. He points to Amitabh Bachchan's Pink, which he distributed in 2016. 'He (Bachchan) had done Te3n just before that, which was a disaster because the content wasn't good. But Pink did phenomenal business all over the world because the content was so powerful,' says Hirawat. (Incidentally, he also made money on Shah Rukh's Dear Zindagi but says it worked largely because of Alia.)
A large part of the change in audience tastes has been driven by exposure to global content with the advent of Netflix and Amazon. 'Audiences have become more discerning,' says Shahani, who has got Junglee helmed by Hollywood director Chuck Russell of The Mask fame and starring Vidyut Jammwal lined up for 2019. She adds: 'Today, talent and storytelling work hand-in-hand. There's equal weightage to actors and the story. The story is the star, in fact.'
Could the Khans' rule as the kings of Bollywood be ending? For over two decades, the three superstars -- Salman Khan, Aamir Khan and Shah Rukh Khan -- have been box-office gold. Now, after a string of flops, industry figures are suddenly wondering whether the Khans have become ageing screen heroes who are turning to box-office dust.
There's now the nagging fear the Khans may be past their prime after the three super-heroes all delivered duds in swift succession. Salman began the race for the bottom with his Eid release Race 3. That was followed by Aamir's Thugs of Hindostan at Diwali. Finally, Shah Rukh ended the year with a big fat Zero for Christmas, a movie title that turned out to be sadly prescient. And this parade of failures came as the Hindi cinema industry was riding high with more than 15 hits and super-hits in the year.
'It's the first time since they became superstars that all the Khans flopped in a single year. That was the biggest shock of 2018. So it was a bad year for the Khans -- but it was a good year for content-driven films," says Komal Nahta, film trade analyst and editor of Film Information.
And content is where the problem for the Khans may lie. The Khans' woes come as audiences' tastes are undergoing a massive shift to liking scripts with substance instead of just formulaic song-and-dance froth and bang-bang action flicks. Younger stars like Ranveer Singh and Ranbir Kapoor are waiting in the wings and ready to grab the superstar mantle. Also now that audiences are going for content, maybe it's going to be a new age of actor-stars led by the likes of Ayushmann Khurrana, Rajkummar Rao and Vicky Kaushal in Bollywood.
In examining what's happening overall in the movie industry, it's important to focus on the numbers which reveal a very different plot from previous years. Ranveer and Ranbir delivered the year's biggest blockbusters. Padmaavat, for instance, raked in domestic net box-office collections (gross collections minus taxes) of Rs 270-plus crore. Sanju pulled in a domestic net of around Rs 340 crore. Also, Ranveer's year-end release Simmba has already crossed Rs 200 crore and counting.
And it wasn't only blockbusters that scored. An array of mid-budget content-driven movies from Ayushmann's Badhaai Ho and Andhadhun to Alia Bhatt-and-Vicky Kaushal's Raazi and Rajkummar's Stree also turned into winners. Even films like Sonu Ke Titu Ki Sweety with little-known Kartik Aaryan and the Kareena Kapoor-Sonam Kapoor-Swara Bhaskar-starrer Veere di Wedding caught audiences' fancies and really defined 2018.
Contrast this with the Khans' box-office outings and the prognosis looks grim for the mega-stars. Still, Nahta insists, 'It's too early to write off the Khans. One good film and they'll bounce back.' He notes that Salman, for instance, had a spate of eight or nine flops before his second innings with Dabangg. "Once he got back on track, he was back in the reckoning,' says Nahta.
Nahta traces a large part of the Khans' troubles to the bad scripts they've been choosing. Last year, all three stars picked dud scripts. 'Had the movies (Race 3, Thugs and Zero) been good and people rejected them because of the Khans, you could say it's the end of the age of the Khans," he says. "But the films were so bad they deserved to flop' -- with or without the Khans.
The Khans still enjoy one huge advantage over aspirants hoping to supplant them and that is they've got genuinely pan-Indian appeal which none of the others can yet match. Junglee Pictures produced two of the year's biggest money-spinners with Badhaai Ho (Rs 137 crore net in the domestic circuit. Keep in mind that its total budget including marketing and publicity was only Rs 25 crore) and Raazi (domestic net box office collection Rs 123 crore compared to a Rs 32-crore budget). But Junglee Pictures president Priti Shahani points out that 75 per cent of their business came from multiplexes in 10-to-12 cities.
"When you talk of the Khans, their films reach out to 40-to-50 cities and that's really testing the strength of the box office,' says Shahani. Even leading film distributor Narendra Hirawat, who's managing director of NH Studioz and who 'lost big money' on Salman's Tubelight and SRK's Jab Harry Met Sejal last year, isn't giving up on the Khans just yet. But he says scripts will be the make-or-break for the trio.  
It's not as if the superstars aren't aware of this -- and that age isn't on their side. They have experimented but they seem to have focused more on physicality than content at times. SRK played a physically challenged man in Zero and Aamir attempted scenes that had shades of Pirates of the Caribbean in Thugs. Also he played a 50-60-year-old in Dangal. And there've been films like Taare Zameen Pe and Secret Superstar in the past. 'Thugs was a miscalculation,' says Nahta. 'The expectations were also huge since it was a Yashraj Films production and Aamir's first outing ever with Bachchan.'
It's important to put the latest failure in context and their box office record in recent years hasn't been all that bad. Salman, for instance, has had four blockbusters and two flops in the past five years. His mega-hits include Kick, Bajrangi Bhaijaan and Sultan. Aamir too, has delivered superhits like Dhoom3, PK and Dangal during the same time.
Right now, of the three superstars, Shah Rukh is under the most pressure given he's had three flops in a row with Fan, Jab Harry Met Sejal and Zero. 'The heart still says it's in these types of films he'll find success. But all of the Khans just need to assess scripts in a better way,' says Nahta.
Bear in mind too that the Khans operate on an entirely different scale from lesser Bollywood stars. Race 3, Thugs and Zero were all made on lavish budgets and had to pull in colossal returns to be labelled a hit. Race 3 pulled in revenues of Rs 169 crore but that was just enough to recover its investment. Thugs of Hindostan brought in about Rs 145 crore and Zero earned Rs 97 crore but that wasn't enough to prevent them being flops. In the movie industry, a flop is defined as a film that loses 50 per cent or more of its investment.
Still, to flourish in this new age of Bollywood cinema, the Khans would be wise to heed the examples of Rajinikanth or Amitabh Bachchan. "See how Rajinikanth's pictures work because he changes with the times and does work the public likes -- or how Amitabh changed himself from the angry young man. Stardom khatam nahi hua but they'll have to reinvent themselves," says Hirawat. And ultimately, if they keep in mind that 'content now is king and choose the right scripts, the sky's still the limit for the Khans as they have the charisma and universal appeal', says independent film distributor and box office analyst Suniel Wadhwa. Otherwise, audiences really will start calling time on the Khans.