Calcutta feels like home, now — Shivika Goenka
Read more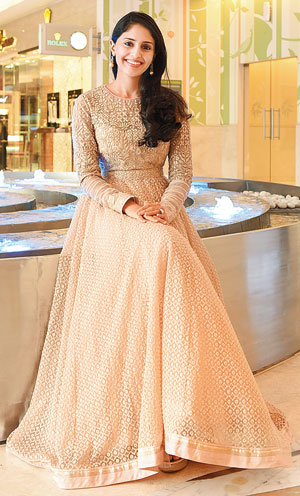 ---
Published 09.03.17, 12:00 AM
|
---
There is something instantly likeable about Shivika Goenka. Polite and soft-spoken. t2 caught up with the vice president, special projects, Quest on Tuesday afternoon, ahead of the opening of The Loft — a multi-utility space on the 6th floor of the Syed Amir Ali Avenue mall — on March 11 with a Tarun Tahiliani showing.

What's the concept of The Loft?
The concept is to bring different artists here. It will be a pop-up space… we'll be constantly getting artists… be it fine artists, fashion designers… we might get into the pop-up food space too. We will be getting national as well as international artists. It's about creating a buzz, an excitement at Quest. It's nice if there is something constantly changing and something new to look forward to every month.
We are trying to transform the space, so that it doesn't look like a mall. With every event, it will look different. It's a dynamic space with an industrial ceiling and white-washed walls… we wanted to keep it minimal, so that the product stands out.
So, this is extending the bouquet of offerings at Quest?
Yes, bringing in a new dimension to Quest. I see a lot of opportunities. Calcutta is a good market. People are fond of doing things and going to places. People in Calcutta have good taste. They appreciate the fine things.
And, you are launching it with Tarun Tahiliani at The Loft…
I have always loved Tarun since Day One. I actually did my bridal outfit with him. I have been a huge Tarun admirer. I love the intricacy, the ivories, the colours he uses….
He is getting his new spring summer collection 2017 that's inspired by the Mughal summer. It's summery, fresh and floral and spring. On March 11, we are going to have a pop-up of his. It's going to be his womenswear line.. pret and occasionwear line. His pret line will have more casualwear and easy wear. He is also getting his men's clothing. So, there is something for everyone. It is open for everyone. Whoever comes to Quest is more than welcome! The decor will have a lot of lush green and florals. It will look like a different space… very bright, spring summer and fresh.
What does your job at Quest entail?
I started out by just understanding about the mall. I have been helping with the marketing, looking through it… being with Mr (Sanjeev) Mehra and looking through everything, how to make Quest better... how to get new things in and make it more exciting…. The Loft will definitely be my…
Your baby?
Yes! I want to make it fun and exciting. It will be more focused. We are also looking at upcoming designers.
How different is it from what you were doing in Singapore?
I studied entrepreneurship. I was working with my parents in hospitality… restaurants and hotels. This is quite different. I was fond of fashion, but never really got into the fashion aspect I would say.
What is your new job teaching you?
I think it's different here vs working abroad. Also, I don't know Bengali… so, it's a little different.
Are you taking lessons in Bengali, then?
I understand the gist!
Do you remember your first visit to Quest?
That was when I came to Calcutta for the first time… in 2015… which was when I met Shashwat (Goenka, with whom she tied the knot last year). I had come with my parents and we were all really impressed! Great to see luxury doing so well here.
Now that you are here every day, what new things have you discovered about the mall?
I think there is something for everyone here. I think it is a great space to just stroll in on a Sunday. You don't have to come here just to shop.
Initially when you were not involved in the daily operations, which would be your first destination?
In the beginning, after I got married, I was quite done with shopping honestly. So, I didn't come to shop. I would just come to eat… as a family. Or, when my nephew is here, we'll take him shopping for toys.
It's been over a year. Have you settled down?
Everyone in the family is super loving. I have breakfast with them. It's like a family meal. After I go back from work… Shashwat comes a little late… then we all sit and have a meal. It's really nice. Now that I have a good routine going, I definitely feel settled, home wise, work wise.
What do you love about Calcutta?
I love the warmth of the people here. Everyone is so welcoming…
And anything you don't like?
I think the heat of the summer! I do love the winter and Singapore has no winter that way.
What are the places you love going to in Calcutta, besides Quest?
New restaurants! I love going for runs outdoors. I run at home and sometimes at Horti (The Agri-Horticultural Society of India). We went to Threesixtythree° at The Oberoi Grand recently. The sushi was amazing. Even JW (Marriott)… the Asian restaurant (Vintage Asia) we went to, was really nice. I really want to go for a heritage walk in the morning, but I haven't been able to convince Shashwat to come along!
Did you have a Calcutta wish list?
The Sharma Dhaba for the dhaba chai… I have heard so much about it… everyone raves about it. Russell Street of course for chaat, Anamika Khanna… everyone talks about that when you are not in Calcutta. Kookie Jar, of course! All of it has been ticked off.
What are your passions?
I love playing with puppies and listening to good music. I have a toy poodle in Singapore. I miss him but I constantly get videos and photos. I love meeting people and making friends, going out, travelling. I also love cooking. It is a stress-reliever. It's usually Oriental. We make pastas on Sundays… Shashwat and me. We are both foodies and are fond of going to the kitchen and trying a new recipe.
10 ON 10
Fashion faves: Tarun Tahiliani, Anamika Khanna, Shantanu Goenka, Dior, Chanel
Fave Bengali word: 'Eta ki?!' I hear that a lot
Bengali food I tried: Ghoogni and mishti doi
Last place we went to for a holiday: Maldives. We went for our first anniversary
Fave travel destinations: New York. And, London is London
Most likely to rustle up: Oriental food like dim sums and Vietnamese rice rolls, a spicy basil noodle. I love Yauatcha in Quest
Last film watched: Lion. It was a really inspirational movie. I love Hindi movies too. In Singapore, every Sunday my parents and I would be watching a Hindi film. Shashwat was shocked... 'You watch more Bollywood than me!' he said
Fave actor: I love Shah Rukh Khan and Aishwarya Rai Bachchan. Currently, it is Alia (Bhatt)
[t2: She is in our office right now!
Shivika: Oh! Wow! She is so relatable and she is doing amazing films]
An all-weather film: Kuch Kuch Hota Hai
A recent read: Karan Johar's autobiography An Unsuitable Boy
Saionee Chakraborty