By the time Spirited ends you know there is hope for a better future
Sean Anders takes viewers to a musical setting where Will Ferrell and Ryan Reynolds sing and dance as if they have emptied a barrel of espresso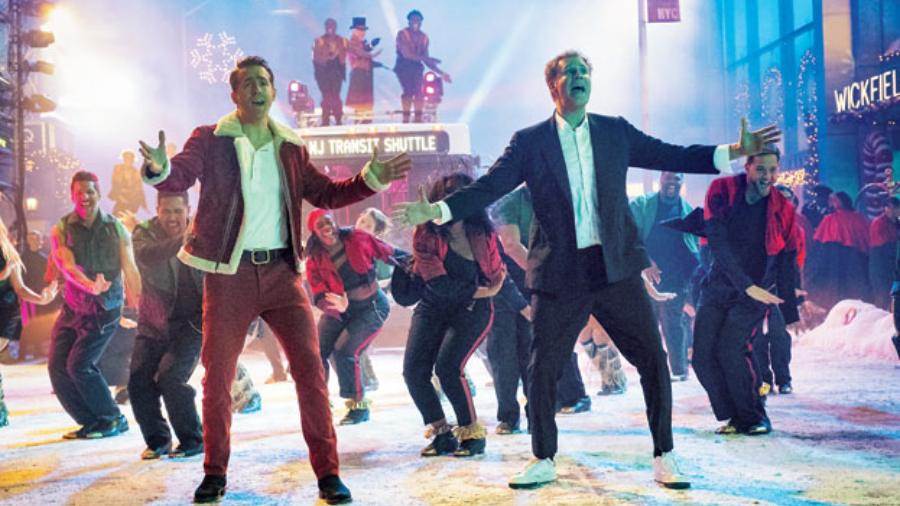 ---
Published 18.11.22, 12:59 AM
|
---
There is always an Ebenezer Scrooge lurking around the corner. Look at Silicon Valley, the land of plenty of bah humbugs. As the clock tick-tocks towards Christmas, it's but inevitable that the Charles Dickens classic A Christmas Carol gives some Hollywood director a eureka moment, which this year has excited Sean Anders of Daddy's Home fame.
To wring laughs from the classic storyline, he takes viewers to a musical setting where Will Ferrell and Ryan Reynolds sing and dance as if they have emptied a barrel of espresso. The result? Spirited, which is streaming on Apple TV+.
Instead of giving Scrooge a run of the film's runtime, it's the Ghost of Christmas Present (Ferrell) and the "unredeemable" Clint Briggs (Reynolds) who remain in focus. Dickens probably never considered his plot in terms of a musical while Ferrell and Reynolds are not singers. But this is the season of miracles. Composer-lyricist Benj Pasek and Justin Paul (La La Land and The Greatest Showman) make the magic happen, leaving viewers as speechless as the time Pierce Brosnan flexed his vocal chops in Mamma Mia! Well, almost. At times you forget that the lead actors can't carry a note in a bucket because of the excellent choice of background dancers and choreography.
In an attempt to invert the novel's plotline, the ghosts become the heroes. The Ghost of Christmas Present is disenchanted after years of de-Scrooging seemingly rotten-to-the-core mortals. Keeping him company are the Ghost of Christmas Past (Sunita Mani) and the Ghost of Christmas Yet to Come (Loren Woods, and voiced by Tracy Morgan). On the cusp of hanging up his ghostly wardrobe, the Ghost of Christmas Present comes upon media consultant Briggs, "the perfect combination of Mussolini and (Ryan) Seacrest". Nothing can stop him from being dastardly, dividing people and families. Jacob Marley (Patrick Page plays the former business partner of the miser Scrooge), who is now tormented by the results of his past penny-pinching existence, warns Present that Briggs is "unredeemable", much like Scrooge, but the advice falls on deaf ears. The Ghost of Christmas Present wants to make candy out of a bitter pill but his time-tested methods slowly fail as Briggs sort of gets into Present's head, turning the tables, delving into his past. The action moves from glitzy New York to Victorian-era England and then back. It's all lovely. It's all jazzed up. But how long can two untrained singers hold a musical together? Not helping their cause are hammy romantic subplots, one involving Present and Brigg's secretary and the other between Briggs and the Ghost of Christmas Past.
Yet, there is something that will make you sit through two hours. Ferrell is Mr Christmas for many because of the enduring film, Elf. You just can't fault his smile, his expressions, his dedication towards a festive season film. As for Reynolds, he is always charming, always romantic. Individually, they put in their best. One can even endure their singing for the first hour, after which there are many samey notes.
At the same time, the heart of the novella remains intact, the story of a skinflint becoming a swell dude. Dickens wrote this classic tale when his popularity was hit after his tour of the United State while his financial situation was far from rosy. He managed to pen some 30,000 words in a matter of weeks even though his publishers acted a bit like Scrooge. Nonetheless, he trundled on to write a story of hope and renewal.
The manner in which hope gets presented in Spirited wins over viewers, despite the bloated runtime. By the time Spirited ends you know there is hope for a better future. About the singing, Cacofonix almost always gets tied up at the end of an Asterix adventure; it's a part of the story but never the main story.
Spirited (u)
Director: Sean Anders
Cast: Will Ferrell, Ryan Reynolds, Octavia Spencer, Sunita Mani, Patrick Page
Running time: 127 minutes