Butta Bomma, Rabbit Hole, Tu Hovein Main Hovan, Bhoothaddam Bhaskar Narayana: New teasers, trailers and posters
Here's what kept the world of cinema and web buzzing today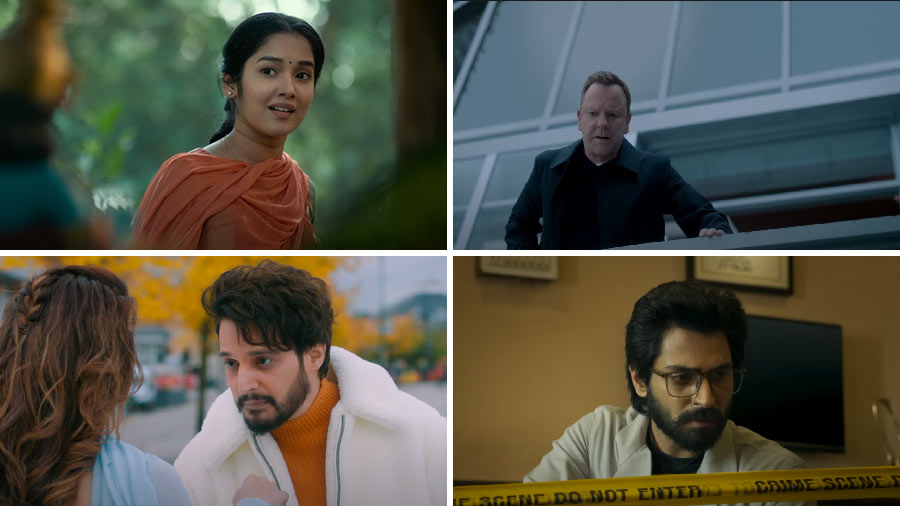 Butta Bomma, Rabbit Hole, Tu Hovein Main Hovan and Bhoothaddam Bhaskar Narayana.
YouTube
---
Calcutta
|
Published 28.01.23, 04:32 PM
|
---
Butta Bomma
Sithara Entertainments shared the official trailer of its upcoming Telugu-language romantic drama film Butta Bomma. Directed by Shouree Chandrashekhar T Ramesh, the film features Anikha Surendran, Arjun Das and Surya Vashistta in lead roles. 
The one-minute-36-second-long trailer shows romance between a rickshaw driver and a young girl as they talk over the phone and go on a date. However, their romance gets interrupted by the presence of a rowdy who has unfinished business with the rickshaw driver.
Butta Bomma is slated for a February 4 release in cinemas. Rabbit Hole
Paramount+ on Saturday released the official teaser trailer of its upcoming American spy thriller television series Rabbit Hole. The show is created by John Requa and Glenn Ficarra and stars Kiefer Sutherland in the lead role. It also features Rob Yang, Charles Dance, Meta Golding, Enid Graham and Jason Butler Harner among others.
In the one-minute-long clip, we are introduced to Kiefer Sutherland's John Weir, who is an insomniac corporate spy framed for murder. He has lost the perception of reality due to his lack of sleep.
Rabbit Hole will be streaming on Paramount+ from March 27. Tu Hovein Main Hovan
The official trailer of Punjabi-language film Tu Hovein Main Hovan has been released. Helmed by Vakil Singh, the film stars Jimmy Sheirgill, Kulraj Randhawa, Anita Devgan, Sajjan Adeeb, Dellbar Arya, Seema Kaushal, Darshan Aulakh and Malkeet Rauni.
In the two-minute-15-second-long trailer, we see a married couple living in a foreign land with kids. It is implied that their relationship has soured over time. As they decide to get separated, other complications surface.
Tu Hovein Main Hovan will hit the theatres on February 10. Bhoothaddam Bhaskar Narayana
The trailer of Telugu-language film Bhoothaddam Bhaskar Narayana is out. Written and directed by Purushotham Raaj, the film stars Shiva Kandukuri, Rashi Singh, Arun, Devi Prasad, Varshini, Siva Kumar, Shafi, Shivanarayana, Kalpalatha, Roopa Lakshmi, Ambati Sreenu, Chaitanya Sagiraju, Satya Srinivas, Prabhakar and Venkatesh Kakumanu.
In the one-minute-21-second-long teaser, we hear a police officer saying that the heads of 16 murder victims were found missing over the last 18 years. Then we are introduced to a detective named Bhoothaddam Bhaskar Narayana, played by Shiva Kandukuri, who will have to unearth the serial killer.
Bhoothaddam Bhaskar Narayana will arrive in cinemas on March 31.