Sahher Bambba makes her debut opposite Karan Deol in Pal Pal Dil Ke Paas
'It's actually beginning to hit me now'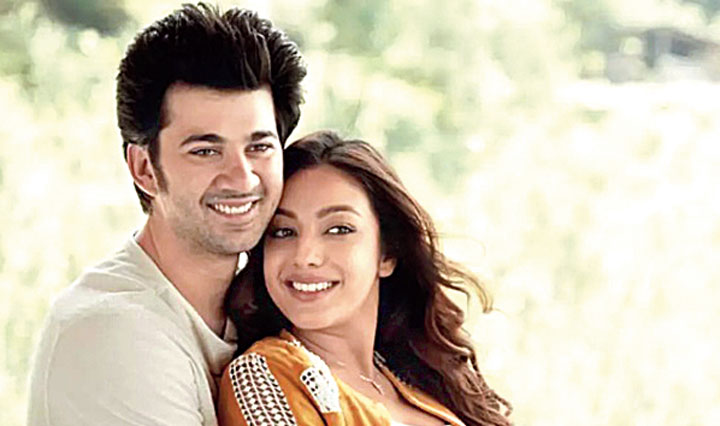 ---
---
Within just eight months of moving from Shimla to Mumbai, Sahher Bambba signed her first Bollywood film. If that's not destiny, I don't know what is. She will make her big-screen debut opposite Karan Deol, in the September 20 release Pal Pal Dil Ke Paas, directed by Sunny Deol.
What made you move from Shimla to Mumbai?
I always wanted to get into acting and there weren't too many opportunities in Shimla. Once I got done with school, I wanted to enroll myself in a college in Mumbai so I could look for acting opportunities as well. Initially, my parents wanted me to go to Delhi because we have family and friends there. But when I told them my plan they were very supportive. I got admission in Jai Hind College to study travel and tourism. It was initially a real struggle because I knew nobody here. I knew what I wanted to do but just didn't know how to go about it... who do I meet, where do I go?
Someone in college told me I should start with advertisements and so I started going to random auditions; I'd travel from town to Aaram Nagar every day. But I never got selected in any of those. So, I thought I'd participate in pageants just to get the exposure, and understand what it's like to face the camera. I participated in a pageant and happened to win that. After that I got a call from Kavish Sinha, who's the casting director, asking if I wanted to audition for this film. And I gave it my 100 per cent. There were a couple of rounds of auditions that happened over a period of a month and then in February 2017, I eventually got the call.
How did your parents react when you told them about this film?
We were all too stunned to react because it was too good to be true. They knew that I was in the best hands possible but at the same time, they did have some issues because we're a conservative Punjabi family. They asked me multiple times whether I was absolutely sure I wanted to take it up. When I told them I didn't want to let go of such a massive opportunity, they were very supportive in the end. Initially though, we were all pretty reactionless.
So when did it really hit you?
It's actually beginning to hit me now, as I'm doing interviews for the film. These last years, I've stayed away from the media. It was a conscious decision on Sunny Sir's part to keep Rocky (Karan) and me away from the media. It was just Manali, mountains and nobody around, so it didn't really sink in then that I have finally got my first film break.
What made you want to become an actor?
As a kid, I was very fascinated by song and dance... I love the quintessential Hindi film. It all started with watching people like Preity Zinta and Madhuri Dixit perform. I was always that kid who was made to dance in the living room and I'd love the attention. That's how it started, and I eventually started developing a love for the characters people played. It was fascinating because there's nobody in my family who's in the film industry and coming from Shimla, I hadn't seen much of the world.
You knew you wanted to act. So did you study acting at all?
No, not at all.
Why not?
Like I said, I didn't know what I needed to do. Eight months into college, when I knew I'd have a few weeks off, instead of going back to Shimla, I had thought I'd join acting classes or a workshop. That obviously didn't happen because I got the film first. But after finishing one schedule in Manali, I did go to (casting director) Atul Mongia and I did a one-day workshop with him, just to understand the craft better.
What was it like to face the camera in that first schedule, before you had learnt any kind of acting?
Surprisingly, I was pretty comfortable with the camera. It was just that I didn't know what to expect. Sunny Sir is such a good director that he taught me every single thing. Even today, he says that he doesn't understand why people make acting so complicated. He tells you to feel it and just do it and that really helped both me and Rocky. He still has some experience because he went to London a couple of years back to learn, but with me, he really had to teach me everything from scratch.
Did you enjoy acting? Was it hard?
The first schedule was entirely shot in Manali, so it was pretty hard anyway, having to trek every day. What I found was that things like crying and being angry were still easier compared to the casual scenes, where you just laugh at something or don't have to say much. Those were the hardest ones. Also, the scenes where you have to just look at the camera while just imagining or visualising something. Just being yourself and improvising is a little tricky.
What's Karan like as a co-star?
He's very focused and somehow becomes even quieter than he normally is. On set, he can get worked up if things are not happening because he just wants to get it right. He can give as many takes as required to get that perfect shot. Off set, he's completely chilled out.
Are you getting used to what's required of you as an actor off screen?
I get told off by people around me all the time because I think I'm a very jhalla person. When the camera is rolling and I know who I'm playing, that's much easier. There seem to be so many dos and don'ts. 'Don't walk into a room like that', 'don't sit like that'. I get ticked off all the time. There are times when I'll tie my hair in a bun and walk out, and I'm constantly told I can't do that.
Have you given up college?
As of now, I've discontinued. But my mom is really keen that I finish my education.