Third-generation Deol: Karan
Karan Deol on being directed by dad Sunny and the best advice he's got from granddad Dharmendra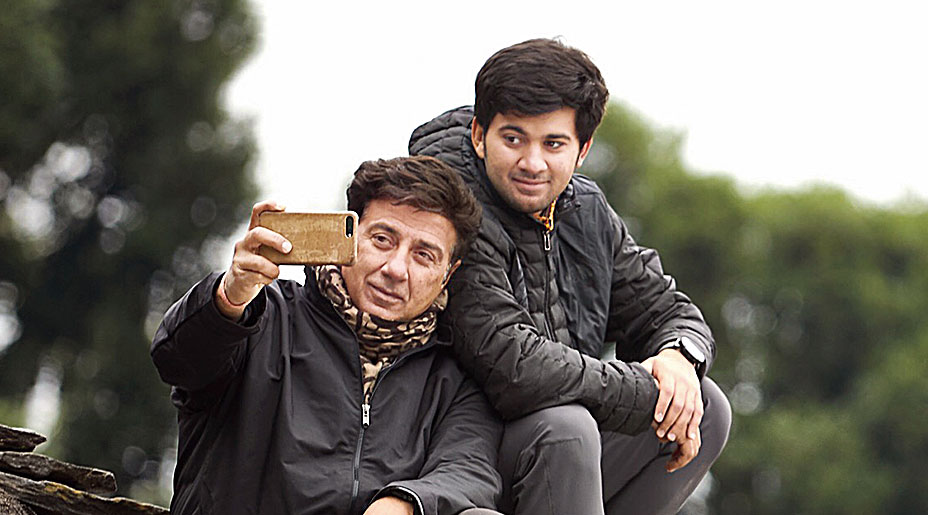 ---
---
Karan Deol, the third generation of the Deols, is waiting in the wings to make his big-screen debut. The film is Pal Pal Dil Ke Paas, a nod to one of his grandfather Dharmendra's most popular love songs. The film, that co-stars debutant Sahher Bammba, marks Karan's dad Sunny's third outing as a director. The Deols' love for action films is reflected in Karan's nickname, Rocky, because Sunny is a huge Sylvester Stallone fan. But much like his father and uncle Bobby, Karan is also making his debut with a romance. t2 caught up with the debutant at his family's office in the quiet bylanes of Juhu in Mumbai to talk about the movies he loves, being directed by his father and living in Manali.
When did you become aware of your family's legacy?
I come from a very grounded background, so to me, they were just granddad, dad and chacha. It was only when we went out and people made a fuss around them or if someone asked me 'You are Sunny Deol's son?' that I would get reminded of their legacy. I used to watch all my dad's movies while growing up. Somehow, I just connected with those characters and went through all his movies on DVD, one after the other, all on my own. He was always busy shooting and I didn't enjoy being on set those days. So, watching him on screen felt like he was there.
Was watching your dad's films a way to connect with him in his absence?
I think subconsciously it was. Dad had to work and do what he did, but staying home and watching his films was a way to emotionally connect. When his character would get hurt, I'd start crying and wonder why someone was hitting my dad.
When you were growing up, Sunny was doing multiple shifts a day. Did you miss having him around?
He'd be away but he'd always make time for the important things. There were many times when mom (Pooja) and I would travel to his shoots. It was sad that he couldn't be there all the time, but I'm lucky enough to have such a close bond with my mom. She was the go-to person for me. Seeing his action movies, growing up, I've always been a little scared of my dad and reluctant to ask him certain things. So whenever I need to tell him something, I'll do it through my mother and she makes sure I get what I want.
When did you figure out that you wanted to be an actor?
When I saw Star Wars. That film with its special effects did it for me. Dad used to have these big LCD disk players, and when he put it on, I was blown away. I watched it again and again, and started buying the toys. With a lightsaber, I would feel like a jedi. That world just made me fall in love with filmmaking. You can tell different stories from different parts of the world and it can all be fictional. You can just go out and make your own thing and you can be anything and play anyone. Doing it right just gives you a different high and a very different feeling of happiness.
When did you tell your parents?
At 18, when I finished school, I went and told mom first. I wasn't sure how dad would take it, so I asked her to be with me when I told him. He came home that evening and when I told him, he asked me if I was sure, because this industry is emotionally and mentally taxing... it's not glamorous. He also told me that there would be ups and downs and during those downs, I'd have to be at my strongest and not succumb to the negativity. That was his only concern but he said he'd support me regardless, if my heart was in it. The next step was telling my grandfather because he's the boss of the house. He had his own advice for me. He said to be honest to myself and that they'd support me in whatever I wanted to do. From that point on, my training started.
What was your training like?
I did different workshops, and trained with (director) Rahul Rawail. I then went off to London for four-five months to do a filmmaking course. After that, I joined YPD 2 (Yamla Pagla Deewana 2, starring Dharmendra, Sunny and Bobby) as an assistant on set. After that, it was a couple of more workshops. As an actor, it's important to do as many things as possible to open up. I was a shy guy, so I needed that. After that, the scripting for this one started and once it was done, I went to Himachal — it's where my character is from. I lived there for three-four months before the shoot and interacted with the locals, grasped that area and what my character's all about.
Do you remember your first day of shoot?
Yes, I do. I had to drive a 4X4 truck because Manali doesn't really have proper roads. You have to hammer down hard on the accelerator for the car to take off and that's when I had to roll down the window and say my lines. If I overshot the mark, I'd go out of the frame. The first time, I stopped before the mark and the second time I overshot it. The third time, the car stopped. My hands were shaking and I was crying because I began to think I wasn't cut out for this. But this relative of mine, Raman, came and calmed me down and said it happens to everybody. The nerves finally went out of the system but that was a very nerve-wracking beginning.
What is your dad like as a director and was it easy for both of you to switch off the father-son and switch on the actor-director equation?
Initially, it was difficult because we both needed to look at things from a different perspective. He did switch off but he became this hard taskmaster, which took me a while to get used to. Until he got what he wanted, he would not leave me. He doesn't believe in complimenting you either — either the take is okay or it's decent. You'd never hear a 'good' or 'very good'. Finally, when I saw the edit, I understood what he wanted and began to trust him completely as a director. I also began to realise that there was no praise because he wanted me to push further.
Your brother Rajvir also wants to be an actor?
Yes, he's three years younger to me. He's interested in a different aspect of filmmaking and I see him as a scriptwriter or a director-actor because his mind works in a different way than mine. He's also done a lot more theatre in school... I was a bit more shy.
You've spoken about being shy and so was your dad. Actors today need to be seen and heard a lot more. Are you mentally prepared for all of it?
I'm getting there slowly. It will take some adjusting to — there's no other choice. You have to be seen. There's social media, events and a lot more happening these days compared to back then.
You've already signed your next film?
Yes, I can't talk much about it, though. It's a comedy and an outside production, so that's another exciting journey for me after this.