Priyanka trolled for smoking
Chopra, who has said she suffers from asthma, came under fire for smoking a cigarette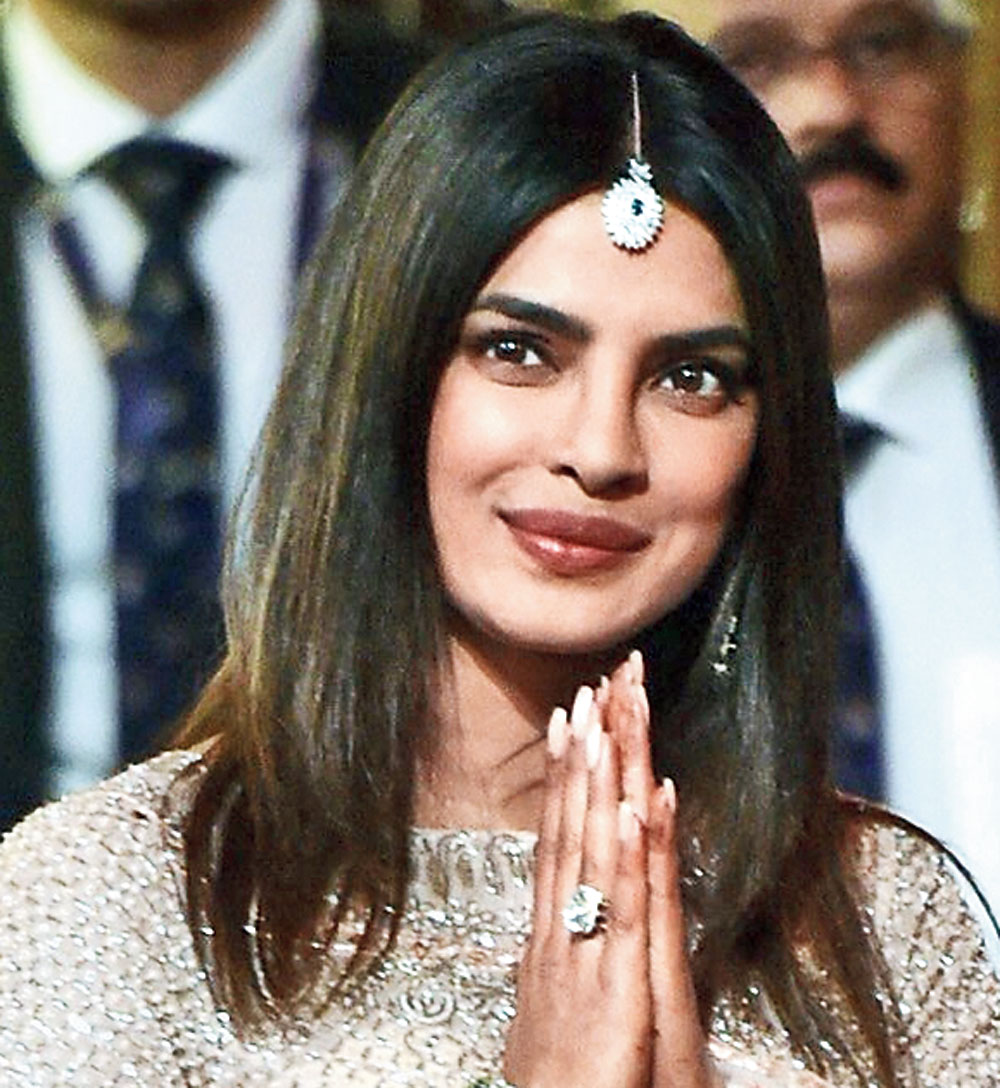 ---
New Delhi
|
Published 21.07.19, 11:40 AM
|
---
A picture of film star Priyanka Chopra smoking a cigarette with her husband, singer Nick Jonas, was enough to rile people on Twitter, who on Sunday went to town calling her out for her "hypocrisy".
The trolls brutally made fun of the starlet's change of stance on smoking, sharing snapshots of her previous tweets in which she had spoken about her asthma and her abhorrence for smoking.
It's your life, It's your choice...

But why this Hypocrisy#PriyankaChopra pic.twitter.com/Qk81lS1qM2

— Conspiracy Theorist (@OnlyMindGames) July 21, 2019
I think she is smoking Patanjali Cigarette.
No Cause. Just have it.#PriyankaChopra pic.twitter.com/VBA8CAubOh

— Rk Sharma (@_the_rk) July 21, 2019
According to 'Asthmatic' #PriyankaChopra 🤔 pic.twitter.com/kSLIoBUPZv

— Satyam Singh (@MyFreakyTweets) July 21, 2019
Trolls also found handy an old Cipla advertisement, in which Priyanka was seen advocating for a cracker-free Diwali. Sharing a snapshot of the advertisement, they further lambasted her.
Priyanka Chopra trying to cure the Asthma she developed on Diwali! pic.twitter.com/ifvKNNiwpE

— Aviral sharma (@sharmaAvl) July 21, 2019
#PriyankaChopra logic:

Firecrackers in Diwali can worsen your Asthma
.
.
.
CIGARETTES CANNOT !!

Me: pic.twitter.com/EYGc1xKT17

— Bhartiya Socrates (@ind_pol_noob) July 21, 2019
I don't understand the outrage of #PriyankaChopra smoking a cigarette and people linking it to Diwali and Asthma

1) Priyanka Chopra cares for Indian Environment so she said no to fireworks in Diwali

2) She is smoking in UK

Her patriotism and Nationalism is Evident! pic.twitter.com/j7eBbls0w5

— Ninda Turtle 2.0 (@NindaTurtles) July 21, 2019
पहले मैं अस्थमा से परेशान थी। कई जगह इलाज कराया, पर ठीक नही हुआ। फिर निर्मल बाबा ने बताया कि दीवाली पर पटाखों के प्रदूषण पर ट्वीट करो और उसमें अपने अस्थमा का कष्ट बताओ, सब ठीक हो जाएगा। मैंने वैसा ही किया बहुत फायदा हुआ है। अब मैं सिगरेट खुल के पी सकती हूँ..#PriyankaChopra pic.twitter.com/8zqojTvJBu

— Naval Kant Sinha | नवल कांत सिन्हा | نول کانٹ سنہا (@navalkant) July 21, 2019
दीवाली के धुएं से हुए दमा को सिगरेट के कश से ठीक करती महान वैज्ञानिक प्रियंका चोपड़ा जी! 🙏 @priyankachopra pic.twitter.com/C0dd7Kat8q

— Sushil Wadiya (@Sushil_wadiya) July 21, 2019
#PriyankaChopra giving comments on diwali to not use firecrackers and all & I have asthma people like me suffer during diwali and blabla

Pic 1. Firecrackers on her wedding
Pic 2. Smoking cigarette

Now this cigarette won't affect you and the firecrackers didn't harm to anyone pic.twitter.com/ZYYm8eRuaO

— Anurag Tiwari (@AnuragT82299142) July 21, 2019
Indian Twitter seems to have some fascination for trolling Priyanka. This was the second time in two days that she was targeted.
A day earlier she was trolled for trying to blow out sparkler candles on her 37th birthday, while her husband looked on.
Basic bitches : I blew candles on my birthday.

Priyanka Chopra 👸🏽: I blew sparklers on my birthday. Now get the fuck outta here, you little hoes. 👑 😎 pic.twitter.com/ZhE0B85PNt

— ʀᴀᴀᴋᴇᴇᴇᴇsʜ🌶 (@SirBrownButt) July 20, 2019
I thought I was dumb,
But then I saw Priyanka Chopra blowing air to the birthday sparkling candles.
I don't feel dumb anymore.

— Avinash Stark (@Black_Wayfarer) July 20, 2019
This is not candle, dumbo. You dont blow sparkle candle @priyankachopra . BTW happy birthday.

— Chetan Arora (@chetanitis) July 20, 2019