Priyanka Chopra's doublespeak needs to be hammered home
Wonder if the animals (and asthmatic humans) breathed pure, fresh air in and around Umaid Bhawan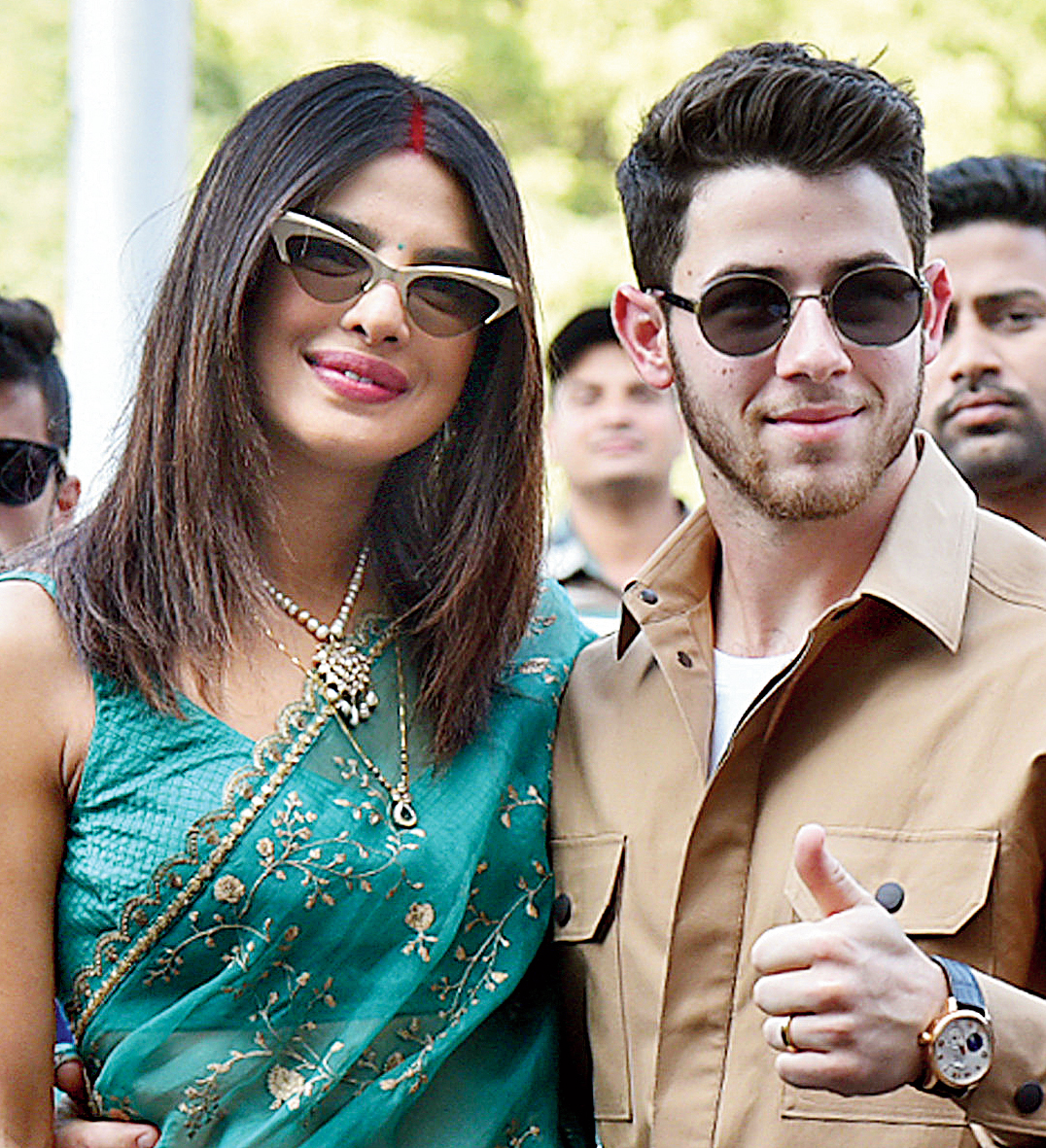 Priyanka Chopra and Nick Jonas
The Telegraph file picture
---
Published 08.12.18, 07:20 PM
---
Cough, cough. Was that the asthmatic bride coughing at Umaid Bhawan in Jodhpur last week? Although much has already been said about it, Priyanka Chopra's doublespeak needs to be hammered home. Celebrities better watch it when they endorse one thought today and do just the opposite tomorrow. Have you seen her Diwali video? She actually brings her asthma into play, exhorts people to let the festival be about lights, laddoos and love and not crackers and pollution, and tops it with, let asthmatics like her and animals breathe freely on Diwali. But what was not acceptable for her in November was perfect in December as her Christian wedding was followed by a long, loud and spectacular fireworks display. Wonder if the animals (and asthmatic humans) breathed pure, fresh air in and around the palace-hotel that evening.

Well, Pri does have something more in common with Shashi Tharoor now. At one time, they were locked in a Twitter skirmish to see who had more followers. Today, they can vie for the title who's the bigger hypocrite. Tharoor too had supported no-crackers on Diwali until the over-attentive social media threw flashbacks of firecrackers burst at some of his celebrations. Celebrities who once glibly got away with their saintly discourses now get caught in their web, thanks to a vigilant social media community that sometimes get it right.
But not always, as the vituperative comments on the recently-released Kedarnath show.
Is this love jihad? A Muslim porter/ guide, whatever you call him, minds his own business. The pujari's daughter, fuming at father, sister, life in general, falls in love with him, chases him and gets him. I'd think it was love jihad (if you believe in such a term) the other way around in Kedarnath. Whatever the other objections may be — that there aren't Muslim porters in Kedarnath or that the film perpetrates only a narrow narrative about the majority religion — the charge can't be stuck to the new film. Of course, despite the censor board raising no controversy over the film, one had predicted last Sunday that Kedarnath will be the beginning of a stormy end to 2018. The fuss the board didn't kick up (times have changed since you-know-who was replaced as chairman) has been taken over by religious and political sections that won't let the audience decide whether they want to stomach this film or not.
But on to better tidings. With the irregular hours that filming entails, most directors tend to put on weight when a movie is being made. But the 6ft 2in Rohit Shetty, who weighs a "muscle-y" 93 kg, was at his fittest during Simmba. It wasn't because he was competing with the testosterone-trio of Ranveer Singh, Sonu Sood and Ajay Devgn shooting with him. Rohit actually managed to go shoot his next chunk of Khatron Ke Khiladi, the fitness challenge that he hosts on television, in between his Simmba schedules. And for the show, he had to be at his trimmest best.
There is something rather interesting brewing in the Singham-Simmba world. Like the Marvel Cinematic Universe, which comprises several superhero franchises and has Iron Man, Spider-Man, Captain America and a host of others who keep the world safe, Rohit is toying with the idea of bringing together his Singham and Simmba franchises in a film. The intense Ajay and the exuberant Ranveer should make a terrific combination provided Rohit has a subject that's strong enough to hold them together. A lot depends on how Simmba fares in the last week of the year.
Meanwhile, the update is that Shah Rukh Khan's Zero, which releases a week earlier, won't have a problem sharing theatre space with Simmba since it has the advantage of a solo run right through Christmas week. By the time Ranveer comes along a week later, SRK would have minted quite a bit. It's only December 28 onwards that the box office will have to say, let-the-better-man win.
Bharathi S. Pradhan is a senior journalist and author